Where Do Sean McVay and Zac Taylor Rank Among NFL Coach Salaries?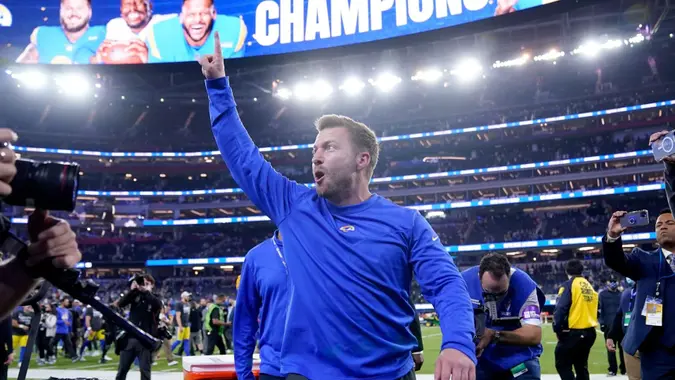 Marcio Jose Sanchez/AP/Shutterstock / Marcio Jose Sanchez/AP/Shutterstock
The old maxim about football says, "It's not about the X's and O's; it's the Jimmys and Joes." In other words, success in the NFL is more predicated on having talented players than great coaching.
With that said, don't overlook that coaching plays an important role. The two coaches in this year's Super Bowl, Sean McVay of the Los Angeles Rams and Zac Taylor of the Cincinnati Bengals, certainly played an important part in leading their franchises to the biggest game of the season.
And both are paid handsomely for it.
Related: How Much Are the Owners of the Rams and Bengals Worth?
Also See: Who Are the Richest Quarterbacks in 2022?
McVay Reportedly Doubles Taylor's Salary
NFL teams don't release coaches' salaries, so official numbers are hard to find, but McVay reportedly makes $8.5 million per year, while Taylor rakes in $4.5 million.
McVay has been coach of the Rams for five seasons, reaching the Super Bowl for the second time. He has led the Rams to the playoffs in four of his five seasons, and at just 36 years old is considered one of the rising coaching stars in the NFL.
Make Your Money Work for You
Taylor, 38, is in his third season as coach of the Bengals, turning the team around from a 4-11-1 season last year. By leading Cincinnati to its first playoff victory since 1990, Taylor also has cemented his reputation as a hot young coach.
Owning It: Jerry Jones, Robert Kraft and 23 More of the Richest NFL Owners
Where McVay and Taylor Rank
Neither is the highest-paid coach in the NFL, however. Not even close. Take a look at some of the coaches with the highest salaries and see where McVay and Taylor rank.
Salary information is taken from reports from NBC Sports Boston and Sportico, so there's a salary range for some.
Bill Belichick, New England Patriots: $12 to $18 million per year. Few would argue that Belichick deserves to be atop this ranking, as he has piloted the Patriots to six Super Bowl championships.
Pete Carroll, Seattle Seahawks: $11 to $14 million. Carroll led the Seahawks to back-to-back Super Bowls in 2013 and 2014, winning one championship, and has taken the franchise to the playoffs in nine of his 12 seasons as coach.
Kyle Shanahan, San Francisco 49ers: $8 million to $9.5 million. The reports on Shanahan's salary vary widely, so we're slotting him here. In five seasons, Shanahan has taken the 49ers to one Super Bowl and another NFC Championship Game.
John Harbaugh, Baltimore Ravens: $9 million. Harbaugh has been the coach of the Ravens for 14 seasons, winning the Super Bowl in 2012 (beating the team coached by his brother, Jim Harbaugh) and going to the playoffs nine times.
Matt Rhule, Carolina Panthers: $8.6 million. Rhule is in his second season as coach of the Panthers, with a 10-23 record.
McVay, Los Angeles Rams: $8.5 million. By reaching his second Super Bowl in just five seasons, McVay almost certainly will be in line for a raise — and a move up this list.
Make Your Money Work for You
Taylor, meanwhile, comes in at 17th on the NBC Sports ranking of coaches' salaries.
McVay and Taylor are both hoping to follow in the footsteps of Tampa Bay Buccaneers coach Bruce Arians, who earned a pay raise after winning Super Bowl LV.
More From GOBankingRates
Make Your Money Work for You