Mike Trout Is Poised to Sign the Biggest Sports Contract Ever — What's the Baseball Superstar Worth?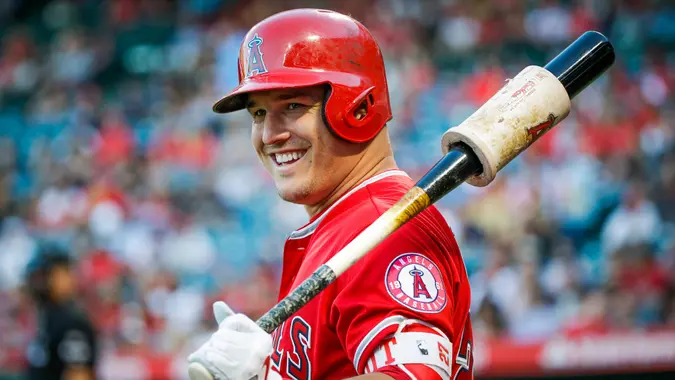 AP/REX / Shutterstock.com
Mike Trout is poised to sign the largest contract in professional sports history.
The two-time MVP began playing professional baseball as a teenager.
Trout's pending contract with the Los Angeles Angels is worth at least $430 million.
Mike Trout and the Los Angeles Angels might seal the largest contract in professional sports history. The two parties are close to inking a 12-year deal worth at least $430 million, ESPN reported Tuesday. For comparison, boxer Canelo Alvarez signed a five-year contract worth at least $365 million in October 2018, which is also among the most lucrative deals the sports world has ever seen.
Trout could be on track to becoming the most well-paid athlete in American sports, but what's he worth? Here's what you need to know about the Major League superstar's finances.
Birthdate: Aug. 7, 1991Net Worth: $45 millionPrimary Sources of Income: MLB salary, endorsementsCareer Highlights: American League MVP in 2016 and 2014
See: See the Wealth of the 22 Highest-Paid MLB Players
Mike Trout Net Worth: $45 Million
Mike Trout is worth $45 million according to Celebrity Net Worth. His current salary stands around $34 million, according to USA Today. With that more than $430 million deal spread over 12 years, that would bump that number close to $36 million.
Trout has a pretty lucrative future ahead of him. In addition to his high salary, he has generated additional income through sponsorship deals with Nike and BodyArmor, according to Forbes.
Check Out: These 13 Athletes Won the Most Lucrative Endorsement Deals
Mike Trout Personal Life
Trout himself, however, doesn't seem to want to live the lavish life that's usually associated with such a large income.
Make Your Money Work for You
"Mike's a really great player and a really nice person," said MLB Commissioner Rob Manfred in 2018. "But he's made certain decisions about what he wants to do and what he doesn't want to do and how he wants to spend his free time and how he doesn't want to spend his free time. That's up to him. If he wants to engage and be more active in that area, I think we could make his brand really, really big."
Check Out: World Series-Winning Teams With the Highest and Lowest Payrolls
See the most and least expensive stadiums for MLB fans to watch a ballgame.
More on Sports and Money
We make money easy. Get weekly email updates, including expert advice to help you Live Richer™.