USC Football Coach Sarkisian Apologizes: Salary at Stake Over Drunk Speech?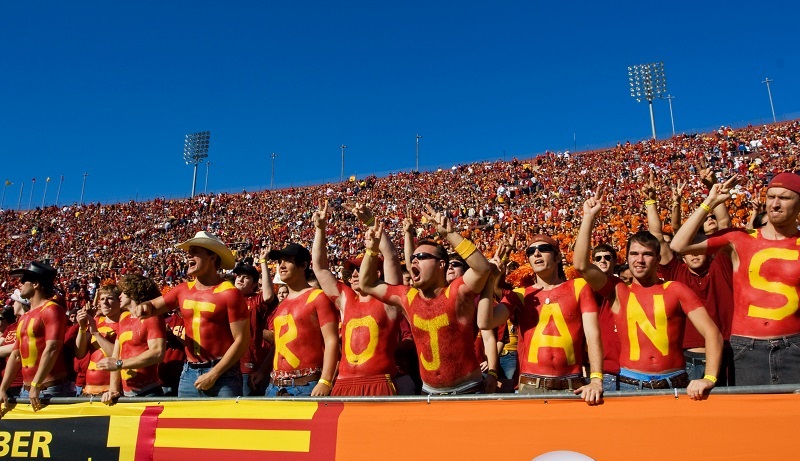 University of Southern California's head football coach, Steve Sarkisian, apologized Sunday for his "behavior and my inappropriate language" during an event Saturday night to kick off the school's football season. When Sarkisian, drunk and slurring his words, took a podium at the Salute to Troy event to introduce the team, he insulted competing college football programs in the Pac-12 and used profanity in front of the crowd.
In his apology released Sunday on USC's sports blog, Sarkisian stated, "I have a responsibility to all [USC fans] and I let them down." He also said that the USC athletic director Pat Haden "talked to me after the event about my actions and I assured him this will not happen again."
Read: Which College Football Team Sells the Most Merchandise?
Is USC Football Coach Sarkisian's Salary on the Line After Bad Behavior?
Before Coach Steve Sarkisian took the helm at USC, he was the head football coach for the University of Washington where he made a salary of $2.55 million, according to some reports.
In the 2014 season, Sarkisian took over as head coach at USC in a return to the school where he had been an assistant coach under Pete Carroll. It's unclear how much Sarkisian is making at USC — as a private college, USC is  not required to release contract information — but it's likely more than what he made as the head coach of the Washington Huskies. The Mercury News estimates that Steve Sarkisian's salary is $3.25 million, and his net worth is estimated at $2.8 million, according to The Richest.
Whatever his salary is, it's unlikely to be on the line after Sarkisian's drunk behavior at the USC event. While Haden was seen berating Sarkisian after his remarks, according to ESPN, it seems that the head coach's assurance that there will be no repeats of his behavior is enough for the athletic director.
"I met with coach Sarkisian and I expressed my disappointment in the way he represented himself and the university at our Salute to Troy event," Haden said in the same statement released by USC. "While the details of our conversation will remain between us, I am confident he heard my message loud and clear."
Steve Sarkisian's Salary Vs. Pete Carroll's Salary and Other Past USC Football Coaches
Gearing up for the upcoming college football season, Steve Sarkisian has a big legacy to live up. Past coaches at USC include giants like Howard Jones, Larry Smith, John Robinson and Pete Carroll. Steve Sarkisian's salary is probably in the neighborhood of $3 million a year at USC, but how does his salary stack up against the paychecks of past USC head football coaches?
Pete Carroll was the head coach at USC from 2000 to 2009 and led the team to much success, including six BCS bowl game wins. During the 2006-07 fiscal year, Carroll was getting a $4.4 million compensation package each year annually from USC, which made him the highest-paid private college employee in the nation, reports the Los Angeles Times.
Currently, Carroll is raking in big money as the head coach of the Seattle Seahawks. He signed a $35 million, five-year deal with the Seahawks in 2010 that added up to a $7 million annual salary. Carroll recently opted to extend his contract to the 2016 season, likely bumping his pay up to $8 million a year, reports entertainment site Heavy.com.
After Carroll's exit in 2009, Lane Kiffin took over as head coach of USC from 2010 to mid-season in 2013. Kiffin made $3.4 million in his final season at the school even though it was cut short after just five games, reports the Los Angeles Times. Interim coach Ed Orgeron filled in for the rest of the season until Sarkisian took over for the 2014 season.
Other past USC coaches have earned big salaries as well. As head coach of USC, John Robinson reportedly made around $500,000 in 1996 — more than $750,000 in 2015 dollars.
USC Football 2014 Season Highlights
The USC football team's first game is against Arkansas State on Sept. 5. As you're waiting for the upcoming 2015 USC football season to start, check out the highlights from the 2014-15 season below.
Photo credit: EpicStockMedia / Shutterstock.com