How Much Is Wayne Gretzky Worth?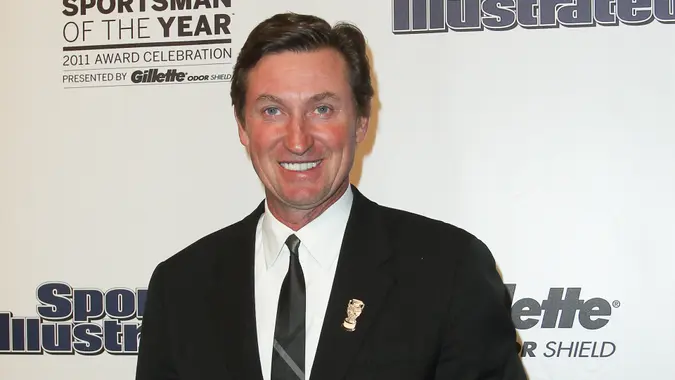 Debby Wong / Shutterstock.com
Retired hockey legend and savvy businessperson Wayne Gretzky, born in Ontario, Canada, in 1961, now has a net worth of $250 million. He was one of the greatest on the ice, earning an MVP award in his first season with the National Hockey League as an Edmonton Oiler and leading the Oilers to four Stanley Cup wins.
But multimillion-dollar paychecks from the NHL don't make up the bulk of his net worth today. Through conservative spending and wise investments, he's become the richest hockey player in the world.
Discover: Maria Sharapova and 45 More Incredibly Rich Retired Athletes
Net worth: $250 million
Date of birth: Jan. 26, 1961
Primary source of wealth: Sports, endorsements
Career highlights: Four Stanley Cup wins
The Great One's Hockey Earnings
Gretzky got an early start in his hockey career, signing with the World Hockey Association (WHA) to join the Indianapolis Racers at just 17 years old and garnering a $1.75 million, seven-year contract.
Big Money:  Biggest Sports Contracts Ever
Across his illustrious 20 season career, Gretzky also played with the Los Angeles Kings, St. Louis Blues and the New York Rangers. He earned $46 million during his time with the NHL, including a two-year, $8 million contract to close out his career with the New York Rangers.
Make Your Money Work for You
He earned another $50 million from endorsements as one of the league's best-known and most-beloved stars.
Who's Richer: These Sports Stars or Their Significant Others?
Sports Endeavors
Early in his post-retirement career as an entrepreneur, Gretzky stuck with what he knew, purchasing a 10% share of the Phoenix Coyotes hockey team in 2000 and coaching the team from 2005 to 2009.
He also bought and sold a fair share of teams at sizeable profits, including the Quebec Major Junior Hockey League's Hull Olympiques and minority ownership in the Canadian Football League's Toronto Argonauts. Gretzky still owns a partnership in First Team Sports and Worldwide Roller Hockey Inc.
See the List: The Richest Athletes in the World
Unlike some athletes, Gretzky spends and invests conservatively. Speaking as a panelist years ago at a TD Waterhouse event, Gretzky said he didn't like having debt and wouldn't put more than 10% of his wealth into any single investment.
Wine, Food and Real Estate
A well-diversified portfolio helps Gretzky hang onto his cash. However, he has increased his net worth by partnering to open a Canadian winery and distillery named Wayne Gretzky Estates. He has also opened restaurants that capitalize on his name and well-known, retired jersey number, 99.
Make Your Money Work for You
Gretzky is also wise about real estate and has turned several Beverly Hills properties at a profit.
More From GOBankingRates
Make Your Money Work for You