U.S. Open 2015: Serena Williams Net Worth Vs. Venus Williams Net Worth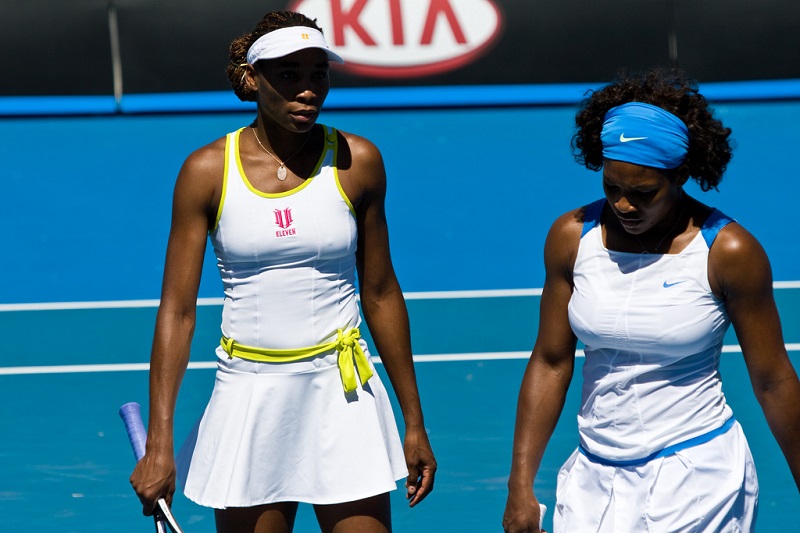 Serena Williams and Venus Williams faced off Tuesday during the 2015 U.S. Open quarterfinals. Although Venus dominated the second set, it was Serena who came out on top and defeated her sister to continue her run at the U.S. Open. In the Serena vs. Venus Williams match, Serena won two of the three sets (6-2, 1-6 and 6-3) and advanced in the competition to the semifinals.
"It's a really great moment," said Serena after the match. "[Venus is] the toughest player I've ever played in my life and the best person I know."
Counting her latest win at the 2015 U.S. Open, Serena has won 16 matches against her sister; Venus has won 11 against Serena, reports CNN. Serena has proven to be successful on the court, but between the two sisters, who's had more financial success? Here's a look at Serena Williams' net worth and how it compares with Venus Williams' net worth.
Serena Williams Net Worth: $140 Million
Serena Williams is a dominate force in professional tennis, and it shows in her net worth and high earnings. To date, Serena Williams' net worth is estimated to be around $140 million, according to CelebrityNetWorth. According to the Women's Tennis Association (WTA), Serena's career total in prize money is a whopping $73.3 million as of Aug. 31, 2015.
Forbes ranked Serena No. 3 on its list of the World's Highest-Paid Female athletes of 2014, with her total earnings coming in at $22 million between June 2013 and June 2014 — $11 million from prize money and $11 million from endorsements such as Nike, Wilson, Gatorade and OPI.
The tennis star shows no signs of slowing down, a determination that has been reflected in her continued high earnings. In Forbes' list of the World's Highest-Paid Athletes of 2015, Serena came in at No. 47 and was one of just two women who landed in the top 50 — the other was fellow tennis star Maria Sharapova at No. 26 — with earnings of $24.6 million. Of the $24.6 million Serena earned, she racked up $11.6 million from tennis winnings and another $13 million from endorsements from the likes of Chase Bank and Pepsi.
With Tuesday's victory, Serena is just two wins away from winning the 2015 U.S. Open, taking home a prize purse of $3.3 million and winning all four majors in the same season — her first career calendar year Grand Slam, reports CNN. The last female tennis player to achieve this feat was Steffi Graf in 1988. But first, Serena needs to win the semi-final match against Italy's Roberta Vinci on Thursday.
Related: Wimbledon Winners Pay $30,000 a Year for a Chance to Win $3 Million
Venus Williams Net Worth: $75 Million
Despite her many impressive feats, Venus Williams' career winnings are less than half those of her younger sister. At a little over $31 million, Venus William's career winnings are behind those of her sister and second-place earner, Maria Sharapova ($35.8 million), according to the WTA.

But, like her sister, Venus also earns money off the court. For example, she has her own line of female active wear called EleVen. And Forbes reports Venus' endorsement partners include Wilson, Kraft, Ralph Lauren, Electronic Arts and Tide — all of which contribute to Venus Williams' net worth of $75 million.
Even though Serena beats Venus in terms of net worth and career earnings, Venus has built a legacy of being one of the most successful players in women's tennis.
Serena Williams Vs. Venus Williams at the U.S. Open 2015
Photo credit: Julie Edgley/Flickr
Editorial Note: This content is not provided or commissioned by the bank advertiser. Opinions expressed here are author's alone, not those of the bank advertiser, and have not been reviewed, approved or otherwise endorsed by the bank advertiser. This site may be compensated through the bank advertiser Affiliate Program.