DIY Halloween Kids Costumes for Under $10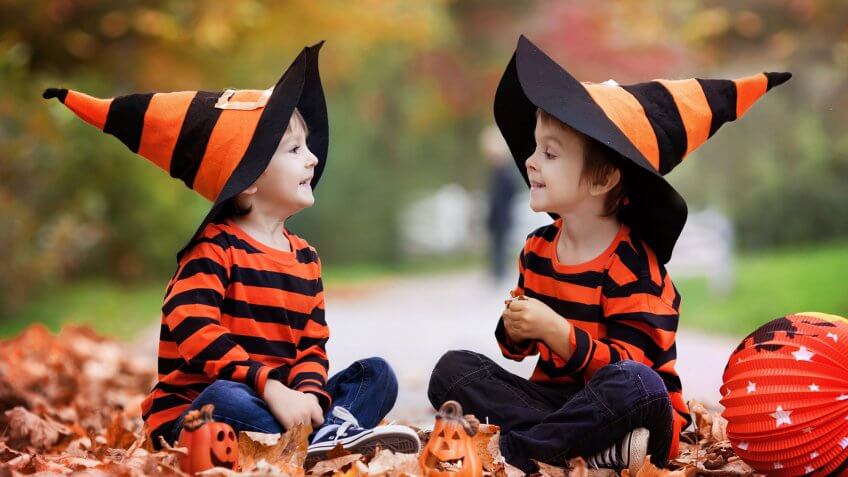 1/10
Show Thumbnails
©Tomsickova Tatyana
The spookiest time of year is back again — and it's out for your wallet. Between tricks, treats and costumes, Halloween spending was estimated to top $6.9 billion in 2015, with adults spending $74 each between costumes, candy and more, according to data from the National Retail Federation.
But if you're hoping to celebrate Halloween on a budget, look no further. Here are nine low-cost Halloween costume ideas for your kids.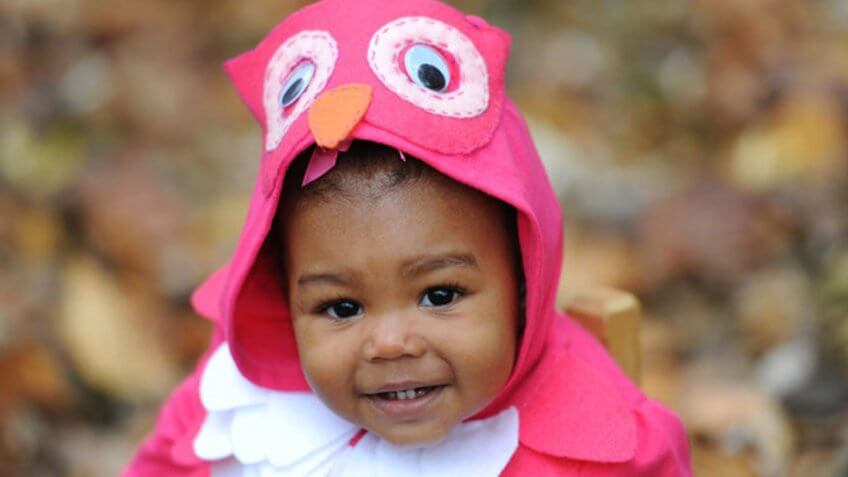 2/10
Show Thumbnails
©MimiCuteLips.com
1. Owl Costume
Mimi Green of MimiCutLips.com created an adorable owl costume for her daughter for less than $15. She used a hooded sweatshirt as the base and felt to create the feathers, which she sewed under each sleeve and on the front of a sweatshirt. You can use hot glue to attach the feathers, she said — just put cardboard inside the sweatshirt so the glue doesn't soak through, and stick the sides together.
She also used felt to create the owl face, which she stitched to the hood of the sweatshirt. To get this costume for under $10, pick up a used sweatshirt at a secondhand store, or use one you already own. Jo-Ann's frequently offers 40 to 60 percent off coupons for regular-priced items, too, and felt only costs $5.99 per yard, or $2.99 when on sale.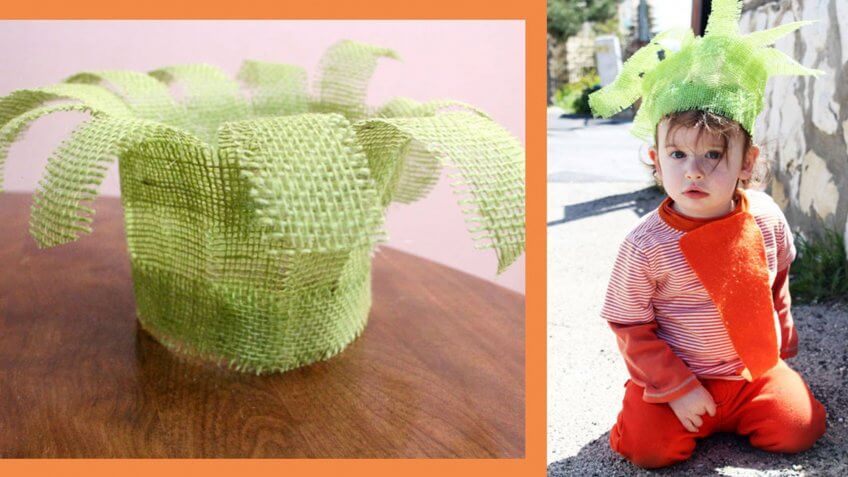 3/10
Show Thumbnails
©MomsandCrafters.com
2. Carrot Costume
The carrot costume Menucha Citron of MomsandCrafters.com made for her son didn't require any sewing — just hot glue. She glued an orange piece of felt cut in the shape of a carrot to a shirt and paired it with orange pants. For the carrot top, she made a hat out of green burlap ribbon, using hot glue to hold it together.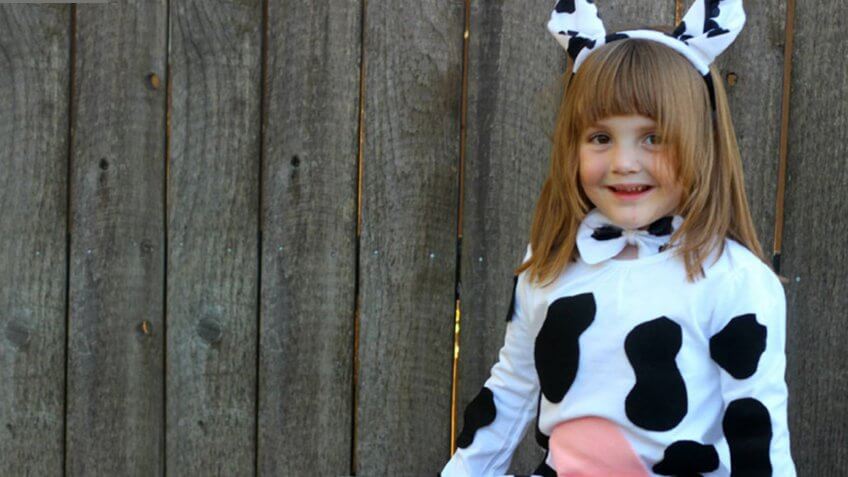 4/10
Show Thumbnails
©LynnaeMcCoy.com
3. Cow Costume
Lynnae McCoy transformed her daughter into an adorable black-and-white cow on a budget using a long sleeve white shirt, black leggings and felt bought at Walmart.
She used fabric glue to attach the black felt cut into spot shapes and pink felt for the udders. She found cow ears and a tail at Walmart to complete the look — but you can make one with felt to save on the cost.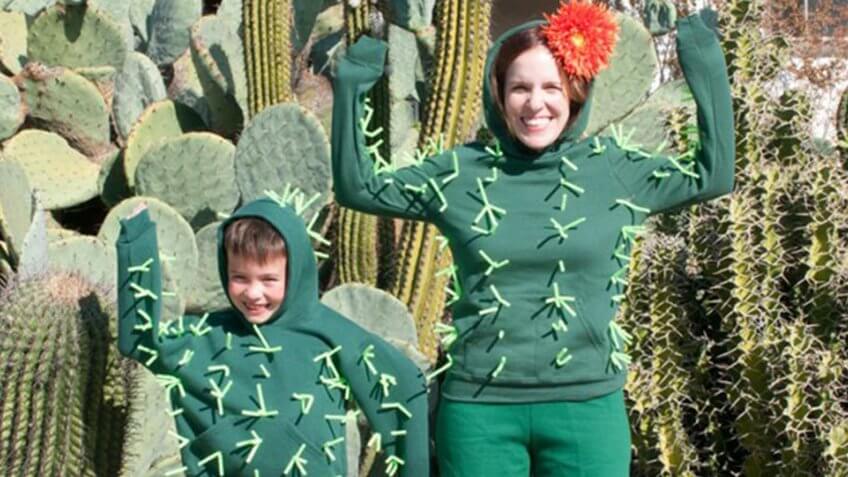 5/10
Show Thumbnails
©The Chic Site
4. Cactus Costume
If you're trying to save this fall, look to this cactus costume from Rachel Hollis of The Chic Site. The blogger often relies on her DIY skills to make Halloween costumes for her boys. She once made cactus costumes for her and her son. All it took to make this clever costume: a green sweatshirt, sweatpants and pipe cleaners. Hollis cut the pipe cleaners into 2-inch pieces and glued them onto the sweats in groupings of one to four.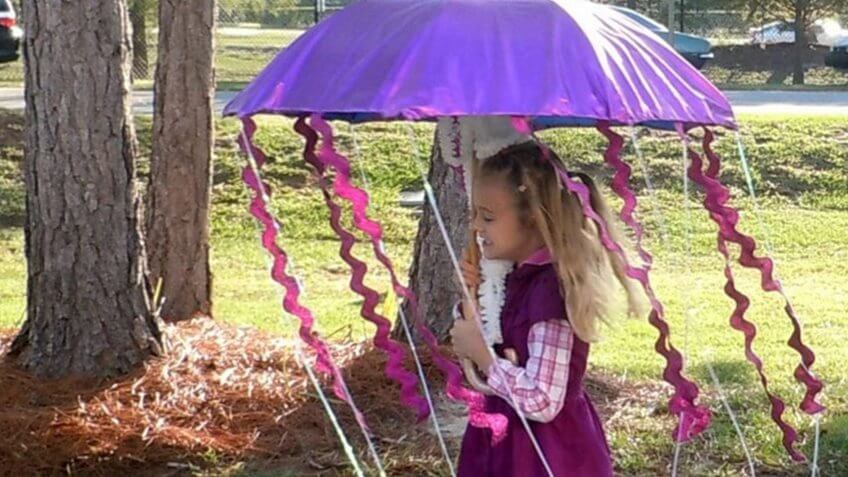 6/10
Show Thumbnails
©Erin Burt
5. Jellyfish Costume
If your kid wants to be a marine biologist when she grows up — as Erin Burt's daughter does — then a jellyfish is the perfect costume. And it certainly looks a lot cuter than the real thing.
Burt glued pink material to an umbrella and then attached ribbon with hot glue to create tentacles. She dangled frilly white ribbon from the center of the umbrella to create the jellyfish's "oral arms," as Burt's daughter told her they are called. Then, her daughter held the umbrella over her head while trick-or-treating to give the illusion that she was a jellyfish.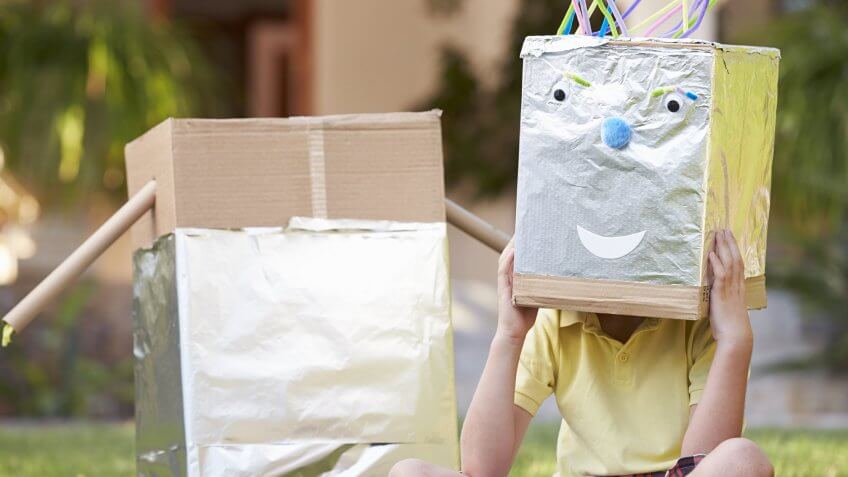 7/10
Show Thumbnails
Monkey Business Images / Shutterstock.com
6. Robot Costume
What little boy wouldn't love to be a robot for Halloween? Jamie Roubinek of Roubinek Reality was able to make her son look like one mainly with things she found around the house.
She used two boxes covered in foil to create a robot body and head, then added an old CD, bottle caps, solo cups and printouts of gauges found online to accessorize. Dryer duct found at a home improvement store was used to cover her son's arms and legs, and foil was wrapped around his shoes.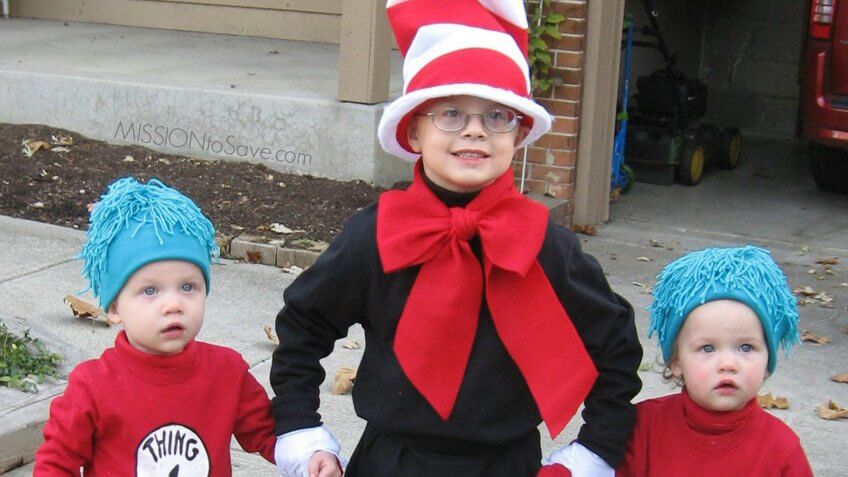 8/10
Show Thumbnails
©Missiontosave.com
7. Cat in the Hat Costume
Mary Hoover of MissiontoSave.com relied on Dr. Seuss for inspiration for costumes for her three sons. She turned her oldest into the Cat in the Hat using a black sweatshirt and sweatpants bought at a thrift store, white gloves, red felt for a bow, and a red and white hat that she bought but said could be made using felt if you sew.
Read: 13 Children's Books That Teach Money Lessons
She dressed her younger sons as the Cat's sidekicks — Thing 1 and Thing 2 — using red sweatsuits purchased at a thrift store, blue ski hats and blue yarn. She used white paint and a marker to create the Thing 1 and Thing 2 labels on their tops. Hoover said the yarn could be sewn or hot glued onto the caps to create hair.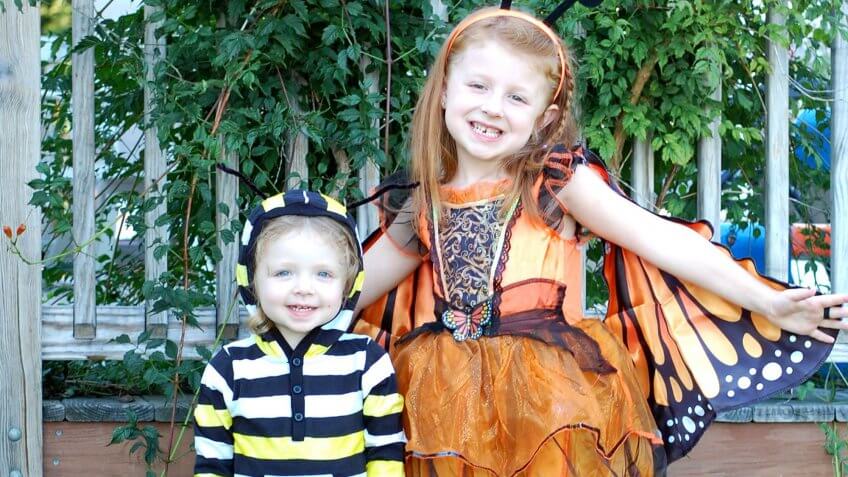 9/10
Show Thumbnails
©Happydealhappyday.com
8. Caterpillar Costume
Maura White bought a monarch butterfly costume for her oldest daughter and wanted a costume for her toddler that would complement it. However, she couldn't find a monarch caterpillar costume, so the frugal mom behind Happy Deal Happy Day opted to make one.
She found a black and white romper on Amazon then used fabric markers to color every other stripe yellow. Then, White fashioned antennae out of black pipe cleaners attached to a black headband.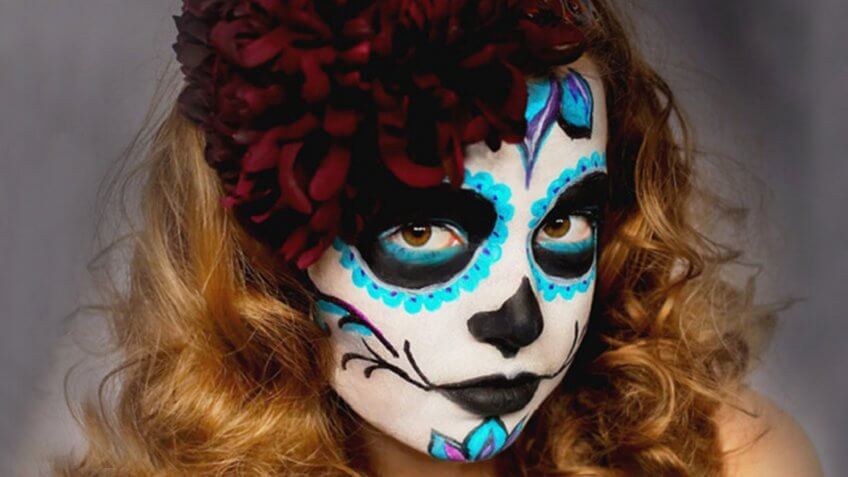 10/10
Show Thumbnails
©Kleinworthco.com
9. Day of the Dead Costume
Here's an easy costume for under $10. Gina Kleinworth was inspired by sugar skulls used in the Mexican celebration of the Day of the Dead and decided to create a similar look on her daughter's face for Halloween. This Day of the Dead costume only requires face paint — and a very steady hand. She added a large flower to her daughter's hair to complete the look.
You can find step-by-step instructions for creating a Day of the Dead face at her blog, Kleinworth Co.