12 Days of Finance: Who Is the Most Popular Personal Finance Expert of 2012?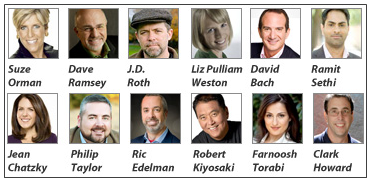 We want to know: Who is the top personal finance expert of 2012? Some may judge a person's expertise by the number of best-sellers they've written, or even the number of Twitter followers they have, but GOBankingRates is going straight to our readers for the answer. We know all of the biggest names in personal finance provide their followers with great tips and ideas, but whose advice is so compelling, so engaging, that they can boast having the largest and most loyal fan base?
Voting for the 2012 contest is closed, but you can vote for your favorite personal finance expert of 2015.
How It Works
Each day, beginning Dec. 1, we will publish the bio of an expert featured in our poll, along with the ability to vote for that person as "most popular." There are 12 experts in all: Suze Orman, Dave Ramsey, David Bach, Ramit Sethi, Robert Kiyosaki, Clark Howard, J.D. Roth, Jean Chatzky, Philip Taylor, Farnoosh Torabi, Ric Edelman, and Liz Weston.
Robert Kiyosaki – now an expert contributor to Go Banking Rates – was our 2011 winner. Who will come out on top in 2012?
Voting closed on December 31, 2012 at 11:59 pm.