Guess the Net Worths of NBA Draft Prospects Like Andrew Wiggins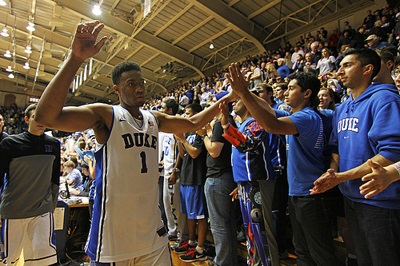 NCAA basketball fans are anxiously waiting to see which of their favorite collegiate athletes will be drafted into the NBA today. Previously unable to enter endorsement contracts for third-party brands, these collegiate athletes have the opportunity now to score both big salaries and even larger endorsement deals if chosen in the 2014 NBA draft.
The Law of the Land: NCAA Basketball Endorsement and Payment Rules
Student-athletes who are representing a college or university are not permitted to contract with third-party brands or endorse products. Instead, they are compensated via scholarships that cover a variety of expenses, including tuition, housing and textbooks.
"The countervailing voices of this notion that student-athletes are being taken advantage of has been the dominant theme and had played out pretty loudly in a variety of outlets," said Mark Emmert, president of the NCAA, at the IMG Intercollegiate Athletics Forum, according to ESPN. "The reality is schools are spending in between $100,000 and $250,000 on each student-athlete."
The NCAA January 2013-2014 Division I Manual explicitly states the following:
During the playing season, a student-athlete may appear on radio and television programs (e.g., coaches' shows) or engage in writing projects when the student-athlete's appearance or participation is related in any way to athletics ability or prestige, provided the student-athlete does not receive any remuneration for the appearance or participation of the activity. The student-athlete shall not make any endorsement, expressed or implied, of any commercial product or service. 
Although a wider range of media activities is permitted during the off-season, NCAA basketball players are still not permitted to accept payment for their participation in them.
It's financially tempting to turn pro at an earlier age — and March Madness 2014 standouts like Andrew Wiggins, Jabari Parker and Marcus Smart have a lot to look forward to when they hang up their college jerseys.
Precedence for a Big Payout
The sponsorship and endorsement opportunities available to professional athletes are substantial — often dwarfing the salaries themselves. Some of the decade's greatest NBA all-stars, like Kobe Bryant, got a jump-start into this new-found bankroll early on.
By bypassing the college basketball route, Bryant not only signed onto a Lakers contract valued at about $3.5 million after being traded from the Charlotte Hornets, but also locked in a six-year, $48 million Adidas endorsement in 1996.
Subsequent endorsement partnerships, including McDonalds ($10 million; 2001) and Nike ($45 million; 2003), have helped drive Kobe Bryant's net worth up to about $200 million.
The Mamba might have gotten a head-start by diverting from the NCAA basketball track, but the latest crop of college players are no doubt hoping to enhance their worth on and off the court, as well.
NCAA Basketball Has Brands Reaching For Their Wallets
Promising student-athletes who've shown their talent throughout March Madness 2014 have a lot of cash to look forward to if the spotlight continues to shine on their careers after college basketball.
Andrew Wiggins' Record-Breaking Shoe Endorsement
DraftExpress.com predicts that Andrew Wiggins will be the No. 1, first round NBA draft pick in 2014. As a starting small forward for the University of Kansas Jayhawks, Wiggins caught the attention of the NBA's general managers, but also Adidas. The footwear and athletic apparel company has reportedly offered Wiggins a record-breaking shoe endorsement worth $180 million for a span of ten years. LeBron James currently holds the record for the largest shoe endorsement with Nike, valued at $93 million.
But the $180 million deal is allegedly just in preliminary talks, as Nike is expected to counter with a bigger endorsement deal before Wiggins enters the NBA. Opendorse has named Andrew Wiggins the "most marketable" player coming out of the NCAA at the moment, which might be a positive omen for more endorsement opportunities to pad his bank account in years to come.
According to Bleacher Report, NBA executives reportedly believe that Wiggins will be a max contract player, meaning he'd be offered the highest potential salary as dictated by NBA regulations.
Jabari Parker's Early Taste of Sponsorships
Scouts aren't the only ones keeping a close eye on Jabari Parker; brands are investing serious money to associate their products with this rising star, who's projected by DraftExpress.com to be the No. 2, first round pick in the 2014 NBA draft. The starting forward for the Duke basketball team just finished his freshman year, but he's had his fair share of the limelight already.
While playing for Simeon Career Academy during his high school years, Parker and the Simeon basketball program were provided Nike goods thanks to a four-year deal between the athletic brand and the school. The goods, which included shoes and apparel, were valued at $26,000 per year.
In return, Nike got nearly $1 million worth of brand exposure, in addition to "the exclusive right in perpetuity" to include video of Parker's high school games in future Nike campaigns, according to The Chicago-Sun Times.
Marcus Smart Knows What's Priceless
While student show-stoppers who are looking to go pro can't wait to complete their required one year of college play and advance on to the NBA, Oklahoma State guard Marcus Smart made the decision to pursue a sophomore year in college for the 2013-2014 season. The decision cost him about $10 million, "guaranteed money" that many other rookie draft picks of the season took advantage of.
On the other hand, Gary Parrish of CBS Sports sees the delay to advance to the NBA as an opportunity for Marcus Smart to hone his skills, and generate more excitement — and therefore, more endorsement deals — leading up to the 2014 NBA draft. DraftExpress.com projects Smart will be the No. 6, first round pick today.
At the moment, the salaries of all three future NBA players are yet to be determined, but it's clear that these student-athletes will find their savings accounts lined with pay from both the NBA and future brand partnerships.
Photo credit: Adam Glanzman