RetailMeNot.com and 7 Other Ways to Save Money on Gift Giving this Christmas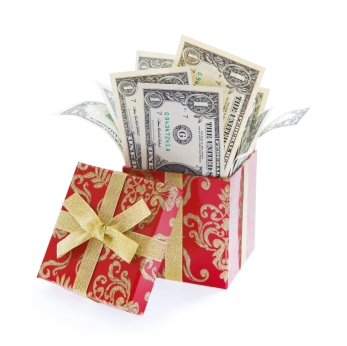 As the holiday season shifts into high gear after Thanksgiving, it can be easy to get caught up in the spirit of the season and fall victim to Christmas debt. When you go out, retailers all play festive music and decorate their stores to the nines. They arrange their stores to put you in the right mood to give and to spend.
If you're not careful you can end up giving yourself a bunch of holiday debt to pay off in the new year.
Instead of falling victim to the rampant consumerism this year, be aware of your spending habits and save by implementing these 8 tips:
1. Set a Christmas budget early in the year.
One thing that has helped our household remain debt free after the holidays is to set a Christmas budget early in the year (usually in January) and save up money throughout the year to have the cash on hand to buy our gifts–instead of using credit.
Did you know that only 13 percent of consumers actually save money throughout the year in anticipation of the holiday season? Buck the trend, figure out how much you'll need and save up in advance.
2. Take advantage of cash back and perks programs.
Take advantage of online shopping to use cash back websites like CashCrate.com, Ebates.com, FatWallet.com and a variety of others to get some cash back on your purchases. On top of that, you can also get cash back if you use certain cash back credit or debit cards.
3. Research your purchases and use coupons and discounts.
Always research your purchases ahead of time to find the best deal on the product, whether online or at a traditional retailer. Before you make a final decision, also search out and factor in coupon codes and other discounts that you can get by buying online. Check sites like RetailMeNot.com for coupon codes.
4. Negotiate prices.
Something a lot of people don't realize is that you can negotiate on price at a lot of stores. Consider going to the store and paying cash–and only offering a set amount. Often they'll accept your offer, especially on higher ticket items.
5. Draw names for big groups.
If you have a big family or big group of friends, buying gifts for everyone can be cost prohibitive. Instead, try drawing names and setting a limit on how much everyone can spend. You'll save a lot of money this way!
6. Be more creative and frugal with your gift giving.
While it would be easy to just buy something expensive for someone and be done with it, it's often better to come up with a more frugal and creative Christmas gift. Think about gifts that you can make, gift packages that you can put together yourself for less or more creative gifts that won't cost as much as alternatives.
7. Stick to your planned spending budget.
When you're out shopping and find something that is just "perfect" for your loved one, you may be tempted to go over your pre-set spending limit. Don't! Stick to your limit!
8. Next year, shop early.
While it's too late for this year, next year you can save by shopping end of year clearance sales after Christmas. A lot of stores will put some of their Christmas items on sale after the holidays, so stock up for next year!
What tips do you have to curtail holiday spending and avoid Christmas debt?