Amazon, Walmart and Macy's: Retailers Offering the Biggest Savings on Popular Christmas Gifts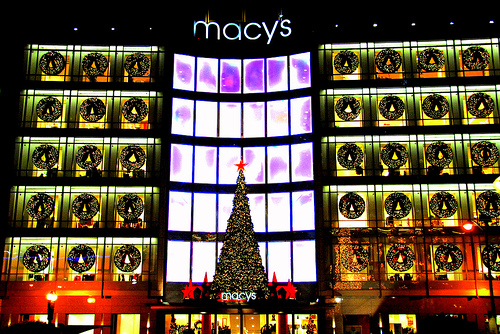 Christmas 2012 is nearly upon us, which means it's time to purchase those gifts you weren't lucky enough to find on Black Friday and Cyber Monday. You'll be excited to learn that many retailers are still offering discounts. Even better, some continue to reduce prices on popular Christmas items.
Saving money is extremely important, so as you bring your Christmas shopping to a close, take time to examine who is offering the products with gift potential that can also reduce costs for you.
Retailers Offering the Best Christmas Deals 2012
Most retailers are offering discounts on items now until Christmas. Some deals come and go, which makes it a bit tricky to pinpoint the best ones. As you're searching for some items to gift this year, here are some retailers to keep in mind:
Amazon.com
Top Deal: Samsung Galaxy III, 4G, 16GB ($49.99)
Everyone who is not looking for the latest Apple iPhone is hoping to snag the Samsung Galaxy III. The phone is listed at a top price of $699.99 (no contract), but is now being offered by Amazon at $49.99 with a contract and $589.99 with no contract.
Costco
The Costco warehouse is currently running its 24 Deals of Christmas promotion, which promises discounts on 24 popular Christmas gifts. The promotion started on November 26 and will end on December 19.
Top Deal: Dell XPS 8500 Desktop ($899.99)
While this may not exactly make the list of most popular Christmas gifts, this deal on the The Dell XPS 8500 Desktop is hard to miss! The computer comes with 16GB memory, a 2TB hard drive, Windows 8, Bluetooth 4.0 and the full version of Office Home & Student 2010. Its regular price is $1,299.99, but while supplies last, Costco is offering the desktop at a $400 discount.
Macy's
Currently, Macy's is in the midst of The Perfect Gift Sale, which means discounts are being offered on everything from apparel and jewelry to fragrances and bed & bath items.
Top Deal: Monster sweater sale (40% – 50% off)
Just about anyone can use a beautiful new sweater. Macy's is offering discounts on tons of sweaters to help men, women and kids keep warm this winter. Also, Macy's is offering free shipping if you spend $50 or more online.
Target
In the spirit of the holidays, Target is offering a number of discounts, including deductions on sleepwear and free shipping on select toys.
Top Deal: KitchenAid mixers
Currently, Target is offering what it says are "the lowest prices of the season on KitchenAid mixers." While they may not be the lowest found anywhere online, they are indeed discounted nicely (averaging 20 percent), providing the opportunity to dish out some great Christmas gifts this year.
Walmart
As with every year, Walmart is expected to offer the best Christmas deals 2012. Currently, it is offering a number of Ultimate Online Specials, one of which can provide customers with great savings.
Top Deal: Sceptre 32″ Class LCD 720p 60Hz HDTV, X322BV-HD ($179.98)
While supplies last, Walmart is offering the Sceptre 32″ Class LCD 720p 60Hz HDTV, X322BV-HD at a significant discount. The TV has a list price of $399.99, which means customers are saving slightly over $200. Not bad!
Multiple Retailers
Many retailers are aware of the popular items that consumers are looking for and are offering similar deals at their locations. Here is a one to consider when shopping this year:
Amazon Kindle Fire HD ($199)
The Kindle Fire HD was deemed the #1 most gifted product on Amazon. Of course, its predecessor, the Kindle, is also a hot item. Currently, the Fire HD, starting at $199, can be found at a number of retailers, including Amazon, Staples, Radio Shack and Office Depot.
Ralph Lauren Polo Gift Set ($79)
Another popular Christmas gift that is being offered by multiple retailers is the Ralph Lauren Polo Gift Set, which includes  a 4-ounce Eau de Toilette Spray, a 4-ounce After Shave and 2.1-ounce Deodorant. Macy's, J.C. Penney, Nordstrom and Belk are all offering this gift set for $79.
Furby ($54)
Furby was an electronic robotic owl-like creature that was hugely popular in the late 90s. He has made a comeback and is again a must-have this holiday season. A number of retailers, including Toys R Us, Walmart, Target and Kmart are all offering Furby for $54 this year.
How to Save Money on Innovative Christmas Gifts
If the popular Christmas gifts listed above don't work for you, but you still want to avoid spending too much on gifts, here are six tips to help you achieve your goal of saving money:
1. Make a Gift Basket
If you have an idea of what your loved one is looking for in a gift, you may not need to sift through a ton of Christmas deals to save money. Gift baskets are always great do-it-yourself options that show that your thought does indeed count.
2. Think Practically
Rather than trying to impress with the latest cologne or jewelry, consider opting for practical gifts like groceries or diapers. You're sure to find coupons for these items, which can help you save money on something you know is absolutely needed.
3. Provide Your Services
Rather than relying on money to bring cheer this year, consider providing your services instead. You could clean a friend's house, mow the lawn, or volunteer to take the kids for the day. Taking the initiative to show you care can mean a lot to your loved ones this year.
4. Buy Some Lottery Tickets
At a gift exchange for my job, I once received the best gift ever: 10 scratch-off lottery tickets. While I didn't become a millionaire, I did win about $10 and had a blast dreaming about what I could do with the money if I won big.
5. Use Dollar Stores for Stocking Stuffers
Sometimes getting a ton of fun gifts in a stocking is just as fun as getting one big gift. If you're short on cash, consider visiting a dollar store to find several much-needed knick-knacks to add to someone's stocking.
6. Purchase a Gas Card
Another great gift idea that you know will get plenty of use is a gas card. Making this thoughtful purchase guarantees that you won't waste your money this year, because even a $20 can be a major contribution.
The key to purchasing gifts this Christmas is knowing how to save money on items that you know your friends and family absolutely want and need. If you can remain thoughtful while seeking out cost-effective gifts, you're sure to put a smile on your loved one's face.
(Image: tinou bao)