Atlanta Ranks No. 6 on Affordable Summer Vacation Destinations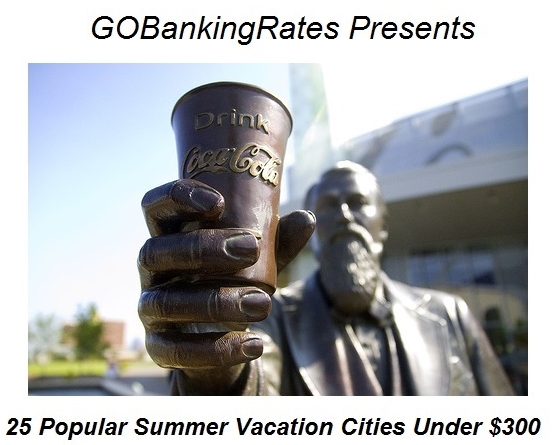 If you're looking for a cheap summer destination with more activities available than you can do in a single week, look no further than Atlanta. It's a family-friendly city that's easy to navigate and offers up fine dining, plenty of shopping and southern charm alongside metropolitan sophistication.
What's more, getting there won't hit your savings account that hard. GOBankingRates surveyed the 100 most popular summer vacation destinations, and found that Atlanta ranked No. 6 for affordability.
According to airfare data from CheapOair, an average round-trip ticket to Atlanta costs $270.65. (The most affordable destination on the list, Myrtle Beach, S.C., ran up an average ticket price of $234.57.)
>>>Read the complete results of the study here.
GOBankingRates also investigated affordable local attractions and events to help travelers get to know the city without taking a huge hit to their travel budget. Luckily, Atlanta has a lot to offer in the way of thrifty hotspots.
Affordable Attractions in Atlanta
The Georgia Aquarium
Host to 100,000 animals and over 500 different species, the Georgia Aquarium is one of the largest public exhibits of its kind in the world. Visitors should make sure not to miss out on the Ocean Voyager tunnel exhibit — an underwater walk-through that contains 6.3 million gallons of water and four whale sharks. Tickets cost $35.95 for adults and $29.95 for children under 12, although many hotels in the area offer package deals that will lower those prices.
The World of Coca-Cola
This permanent exhibit for one of the world's best-known brands offers up something for everyone. Visitors can enjoy learning about the history of the company, check out artifacts and watch the bottling process — and, of course, sample more than 100 flavors at the Taste It! beverage lounge. All visitors leave with an 8-ounce keepsake bottle of coke. Admission is $16 for adults and $12 for children.
Six Flags Over Georgia
No family vacation is complete without at least one roller coaster ride, and this legendary theme park has 14 thrill rides to choose from. From family rides to dining and shopping, Six Flags is the ultimate family destination on a budget. Tickets for adults start at $39.99 when ordering online — up to $20 off the door price.
Photo credit: audrey_sel