Baltimore Ranks Among the 10 Most Affordable Cities for Summer Travel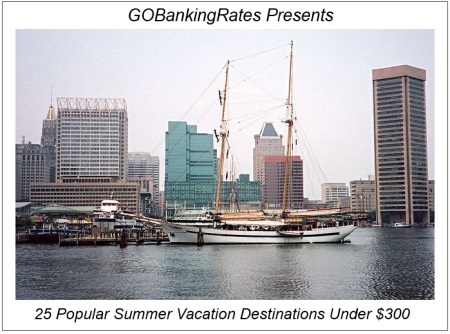 Now that the weather is warming up, it is time for travelers to finish planning their summer vacations. Although it might seem like the opportunity to save money has passed, even late planners can make their trips affordable this summer.
GOBankingRates conducted a study of the most popular cities for summer vacations, ranking the most affordable under $300. Baltimore ranked No. 8 on the list, with round-trip flights as low as $272.83, according to data collected by CheapOair.
>>>Click here to see the complete list.
Airfare tends to be the priciest part of a trip, but activity costs can easily add up too. Here are three popular and affordable attractions in the Baltimore area.
3 Inexpensive Baltimore Activities
The Walters Art Museum
The Walters Art Museum is a top-rated attraction in Baltimore, and the best part is that general admission is free. The building is beautiful and holds a varied art collection.
Every Thursday night, the museum holds Constellation Night from 5 to 9 p.m.
Oriole Park at Camden Yards
Baseball fans will love getting a closer look at Oriole Park. Park tours cost $9 for adults, $6 for children and seniors, and are free for kids under 3.
On this tour, visitors will get to see the dugout, the press level, the jumbotron control room and the exclusive suite level. They will also hear how Camden Yards fits in with the history of the B&O Railroad, Baltimore's famous Inner Harbor and Babe Ruth.
If vacationers decide to catch some live baseball while in Baltimore, they can find game tickets for as low as $10.
Fort McHenry National Monument and Historic Shrine
Travelers can get a history lesson while enjoying Baltimore's scenery by visiting Fort McHenry National Monument, the historic fort that inspired the penning of the U.S. national anthem. The cost of entrance is $7 for adults, and children age 15 and under get in for free.
For those looking for a fun and affordable way to spend their summer vacations, Baltimore offers history and activities for the whole family, with opportunities to save money throughout the trip.
Photo credit: Gabriele Zanatta via Wikimedia Commons