Bill Gates Pledges Biggest Humanitarian Donation Ever at $50M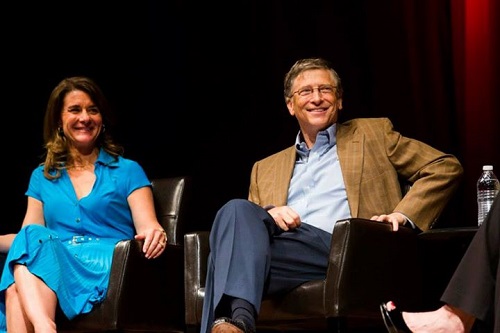 As the Ebola outbreak worsens in West Africa, the Bill and Melinda Gates Foundation announced that they will donate $50 million toward emergency efforts to combat the disease, reports the Associated Press. This will be the group's largest single donation to a humanitarian effort.
Bill Gates tweeted about the outbreak on Wednesday, "By fighting Ebola now, we can make sure it doesn't become endemic in W Africa."
Paul Allen, the co-founder of Microsoft Corp., also pledged $9 million to support U.S. support efforts in the Ebola outbreak, reports Reuters.
$50 Million Donated to Help Emergency Response to Ebola Outbreak
So far the Ebola outbeak has killed over 2,000 people in Guinea, Sierra Leone, Liberia, Nigeria and Senegal, making it the largest-ever outbreak of the disease, which has no known cure, vaccine or treatment. The outbreak could continue to spread to 22 countries in West Africa, and worsen exponentially in areas that have already seen infection.
Of the $50 million pledged, $10 million has already been dispersed, with $5 million each to the World Health Organization and UNICEF as they work to provide medial care and containment for Ebola, according to a statement from the Gates Foundation.
"We are working urgently with our partners to identify the most effective ways to help them save lives now and stop transmission of this deadly disease," said Sue Desmond-Hellmann, CEO of the Gates Foundation. "We also want to accelerate the development of treatments, vaccines and diagnostics that can help end this epidemic and prevent future outbreaks."
This Donation by the Gates Foundation Is Unique
The Bill and Melinda Gates Foundation was founded by the tech billionaire and his wife, and has given $30 billion since 1997, mostly to global health and development, reports the Associated Press. The foundation reported an endowment worth $40 billion as of March 2014.
In the past, the Gates Foundation focused on curable and preventable diseases that result in millions of needless deaths each year, such as malaria, according to Bloomberg. The $50 million is not only the largest donation the foundation has ever made to a health issue, it is also different in that it will be going to combat a disease that has, so far, affected very few — but could be devastating were it to become a true epidemic or even pandemic.
Photo credit: The Bill and Melinda Gates Foundation via Facebook