Celebrate Teacher Appreciation Day with These 9 Deals and Freebies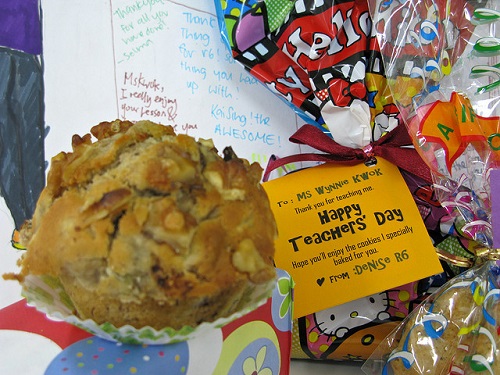 National Teacher Day 2014, also called Teacher Appreciation Day, is today — and it's a time to thank all of the amazing educators that have enriched our lives and the lives of people we love.
What is Teacher Appreciation Day?
Teacher Appreciation Day is part of the nationally recognized National Teacher Week.
The week is celebrated during the first week in May, and National Teacher Day is celebrated on the Tuesday of that week. This year, Teacher Appreciation Day 2014 falls on May 6.
As early as 1944, teachers called for a national day to honor educators. In 1980, the National Education Association (NEA) lobbied congress to create such a day, and March 7, 1980 was observed as National Teacher Day that year. The organization continued to celebrate the day in March each year until deciding in 1985 to change the event to the beginning of May. To this day it is not a federally recognized holiday.
To acknowledge these everyday heroes, many companies are offering Teacher Appreciation Week freebies. Below are nine of our favorites, along with some retailers that offer teacher discounts year-round to help educators save money.
5 National Teacher Day Freebies
These Teacher Appreciation Day freebies include great offers from restaurants that are footing the bill to treat educators on the house. When it comes to saving money, you can't do better than free!
Some deals might only be offered in certain regions or at participating locations, so make sure to check with your local store to verify the deal. In addition, most of these deals will require proof of service, which can include a school ID, a recent pay stub with ID or a home school affidavit — contact the companies for more details on their requirements.
Applebee's: At participating locations, all educators, including retired teachers and homeschoolers, can get a free dinner from a selection of six entrees. Proof of service is required, such as a school ID or yearbook photo. This deal has already been confirmed at 38 Wisconsin locations — check with your local Applebee's.
Buca di Beppo: The Italian restaurant is celebrating Nurse and Teacher Appreciation Week by offering a buy-one-get-one-free deal for lunch entrees from 11 a.m. to 3 p.m. This coupon is valid through May 9 and can be used by educators and civilians alike.
Chick-fil-A: Select locations are offering teachers and other school faculty and staff a free Chick-fil-A chicken sandwich on May 6 from 10:30 a.m. until closing. This deal has been confirmed for San Antonio locations — check with your local eatery.
Chipotle: With a valid school faculty ID, buy a bowl, burrito, salad or order of tacos and get a second order of equal or lesser value for free. Offer is good May 6 only, from 4 p.m. until closing.
McDonald's: At Arizona locations, teachers will get a free extra value meal with a school ID on May 6 only. Plus, the first 100 teachers at each location will get a free small McCafe beverage keytag, which is good for a free small coffee with each McDonald's visit through August 31.
4 National Teacher Day Deals and Discounts
Many stores are offering teachers and educators their thanks in the form of special National Teacher Day deals and discounts. Here are our favorites.
A.C. Moore: Teachers get 20 percent off an entire purchase with proof of service, such as school ID or pay stub or home school affidavit, through May 10.
Barnes & Noble: Teachers and educators can join the B&N Educator Program to get 20 percent off classroom-related purchases. During educator appreciation days, the discount is bumped up to 25 percent.
Jo-Ann Fabric and Craft: Its Teachers rewards discount card offers savings year-round, and teachers can get a coupon for 20 percent off a purchase by signing up.
New York & Company: Through May 7, teachers can get new work clothes at a discount of 30 percent in stores with a school ID or online with code 1810.
In addition to these deals, many retailers offer teachers year-round discounts, including: Ann Taylor Loft, Apple, AT&T, Banana Republic, Best Buy, Crayola, Dell, Home Depot, HP, The Limited, Michael's, Office Depot, Office Max, Sony, Sprint, Staples and Verizon.
Photo credit: Steel Wool