Congress Is Trying to Destroy Credit Unions and the #DontTaxMyCU Campaign Aims to Stop It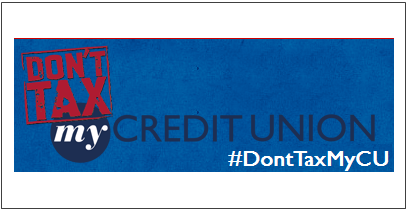 Ah, Congress. Only 5 percent of Americans approve of it according to the latest poll numbers. And as they continue their push to tax credit unions, Congress is likely losing a good portion of the few fans it had.
Currently, the American Bankers Association (ABA) and Independent Community Bankers of America (ICBA) are urging Uncle Sam to eliminate the tax-exempt status of credit unions. These financial institutions, which currently serve 96 million members, have enjoyed tax-exempt status throughout history. As not-for-profit institutions, they exist to serve members, not shareholders. Also, they have traditionally worked with underserved markets, including the poor, and are often run by volunteers.
Yet, all that could change if bankers are successful in lobbying for credit union taxes — but that won't happen if the Don't Tax My Credit Union campaign gets its way.
Related: 5 Credit Union Myths Busted
Why the Push to Tax Credit Unions?
The ICBA is a bit more discreet with its tactics. In a June 20 letter to the House Ways and Means Committee and Senate Finance Committee, ICBA President and CEO Camden R. Fine framed the tax-break as a disservice to taxpayers. Fine noted, "The credit union tax exemption comes at a significant cost to taxpayers. The most comprehensive estimate to date, done by the independent Tax Foundation, valued the tax subsidy at $31.3 billion over 10 years."
He ultimately requested hearings on the matter to "examine the cost of the credit union subsidy to American taxpayers and whether it has become outmoded given the fundamental transformation of the credit union charter."
But, let's be real. As with most other business-related issues, this is about the bottom line. One type of business (banks) believes another (credit unions) has an unfair tax advantage and wants to level the playing field to boost its profits.
How Would Increased Taxes Affect Credit Unions?
While it is understandable that banks want to play on a level playing field, consider the impact federal income taxes would have on credit unions. Jonathan Weber, founder of tax resource portal Tax-Rates.org, states, "Subjecting credit unions to corporate taxes will effectively pass on these taxes to the depositors in the form of lower interest on their savings accounts."
Alternatively, Weber notes, "To preserve interest rates, some credit unions will be forced to raise loan rates or otherwise raise lending profit margins like by decreasing high-risk lending."
And that's not all. Credit unions could soon find themselves between a rock and a hard place, just as many for-profit institutions did when they raised fees in response to the Dodd-Frank Act. According to Weber, "Many credit unions may be forced to implement service fees on checking accounts or certain types of transactions, similar to the fees currently collected by many for-profit banks."
Andrew Schrage, co-owner of Money Crashers Personal Finance, echoes this sentiment, stating, "The benefits of preserving the tax exemption are geared toward credit union members, who generally enjoy better interest rates, reduced fees, and cheaper financial services options than those offered at traditional banking institutions. Should these taxes be implemented, the credit unions would surely pass the increased costs along to customers."
Don't Tax My Credit Union Campaign Fights Back
The banking lobby isn't the only group with a dog in this hunt. That's because credit unions and their members have decided to fight back via the Don't Tax My Credit Union campaign.
According to its website, "DontTaxMyCU" is a "national campaign dedicated to ensuring Congress doesn't raise taxes on 96 million credit union members nationwide and preserves financial choice for American consumers."
Essentially, the group wishes to maintain the exemption from federal income taxes credit unions have enjoyed throughout history. It claims that a tax will "imperil the credit union movement that so many have come to depend on for real financial choice."
In a nutshell, this is a group using its collective power to lobby Congress in favor of maintaining the credit union tax exemption. The campaign has gained the support of the Credit Union National Association (CUNA), as well.
How You Can Help #DontTaxMyCU
Credit union members and others who wish to maintain the current tax advantage can contact their congressional representatives to voice their opposition to such a tax. Don't Tax My Credit Union has a form letter available on DontTaxMyCreditUnion.org for those who don't have the time to write out their own thoughts.
You can also visit USA.gov and click the "Contact Government" tab in the upper right portion of your screen and then click the "Contact Your Elected Officials" link. You'll find links to contact information for every representative and senator in the ensuing pages.
Industry lobbying is nothing new. However, the latest push to end the tax advantage credit unions have enjoyed throughout history could drain money from the wallets of 96 million Americans. Those who wish to preserve the tax break can send a form letter to Congress via Don't Tax My Credit Union's website or contact their Congressional representatives independently to voice their concern.