There Is a 79 Percent Chance Your Credit Report Is Wrong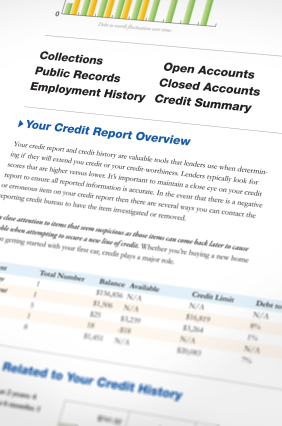 While New Jerseyans can still take heart that the average statewide FICO ranking, according to a recent national survey, holds at a healthy 680 (second highest in the U.S.), local residents shouldn't forget to check their own credit reports for errors, mistakes and other overlooked problems that could negatively affect their own credit scores.
Credit reports are not the perfect examples of accuracy we may think they are — according to an advocacy watchdog group, four in five credit reports contain egregious errors.
Several studies by the National Association of State Public Interest Research Groups have revealed that over 79 percent of all credit reports contain at least one type of erroneous flaw, and one quarter of those contain mistakes so serious that an individual's credit line could be ruined beyond repair. What's worse, the PIRG has contended, is that consumers are not often aware of these errors and find themselves perplexed when banks, credit unions and other lenders deny them lines of credit.
Combined with typographical mistakes, clerical oversights, outdated info, or worse yet, crimes like identity theft, many modern consumers aren't well informed over what a credit report entails — a detailed list of one's borrowing and payment history — and why they should pay more attention to it and avoid hurting their credit score.
Numbers Can Lie
A recent study by the PIRG contended that mistakes in credit reporting abound, often to the detriment of the consumer. Among them, 54 percent included incorrect personal details, like inaccurate birth dates, addresses or Social Security numbers. Thirty percent, according to the study, listed closed credit accounts as remaining open and overdue.
Twenty-two percent of credit reports were documented as listing some loans twice — giving the appearance of making a consumer owe twice as much money. And 8 percent of reports didn't list major loans or lines of credit that have been paid off to show a consumer's borrowing reliability.
Identity Theft
Current U.S. Census data, through the Consumer Sentinel Network, notes that 6,807 New Jersey residents claimed they were victims of identity fraud in 2010. The Washington Post reported last year that nationwide losses stemming from identity theft fell in 2010 to $37 billion, down from $56 billion in 2009, but the news isn't exactly optimistic.
Many people are not aware until it's too late that their credit card or Social Security numbers have been stolen, their personal information hacked and a thief gone on a spending spree through their bank accounts.
Although the 2006 state Identity Theft Protection Act provides some protection, consumers still bear the brunt of resolving the problem with law enforcement and creditors.
There are a myriad of reasons why we should be paying more attention to our credit reports.
5 Reasons to Pay More Attention to Your Credit Report
1. Stay current.
It's free and you're legally entitled to it — start by verifying your official credit report and score through all three bureaus, TransUnion, Experian and Equifax. Devote time to checking it for your credit and lending history, and pay close attention to any discrepancies you may find.
Are there any outstanding charges? Foreign data or numbers that don't add up? Question any inaccuracies you may find, and get an updated report annually.
2. Take it to the bank.
If you've got doubts over your credit report's validity, report it to each credit bureau, and don't hesitate to approach your bank, creditor or lender about it. Get them to investigate: You may find that your report, through some accounting misstep, contains someone else's poor credit history, or lists unpaid bills or delinquent accounts that were resolved years ago.
They could be attributed to human error — CBS cited a credit bureau spokesperson who said that up to 30,000 data processors file 4.5 billion updates monthly to credit reports, leaving the door wide open to mistakes and crossed wires. But if left unchecked, banks and lenders won't know the difference, and you'll be stuck with high interest rates on your home or auto loans, or declined outright.
3. More than mistaken identity.
It may not become apparent until checking your credit report that you've become the victim of identity theft. The New Jersey Division of Consumer Affairs says it's as simple as inadvertently giving away your personal financial information away over the phone or online. ID theft can compromise credit scores and consumers may not even realize it.
The Department of Consumer Affairs says that if you suspect yourself a victim of theft, request though your credit reporting agency to place a security freeze on your credit report. Keep records of bank statements containing purchases you didn't make, or dispute. And file and receive copies of police reports if you believe to be the victim of fraud.
4. Your job may depend on it.
It's become more and more common for prospective employers to check a candidate's credit score before hiring them. And without given a reason, you could lose out on your next job opportunity on account of misplaced errors on your credit report. By staying on top of your credit report and keeping track of your financial history, you'll make the impression on your future employer you were meant to make — as a financially responsible person.
5. It's easy with credit report monitoring.
Credit monitoring services do the work for you. By keeping a running track of your report and history, credit monitoring is like a blanket covering your report. Members of said services are provided immediate e-mail updates if anything suspicious shows up on their reports, helping their credit reputations stay clean.
The best monitoring services will check your credit from all three bureaus and charge minimal fees. But critics, however, claim that their ID theft protection is lacking, and that despite their low-cost — about $10-$30 a month — the service isn't worth it when some vigilant (and free of charge) self-monitoring can be just as effective. Which, for all intents and purposes, is what consumers should be doing anyway, no matter which avenue they take.
However, if you don't want to spend the time manually reviewing your credit reports, or wish to review them more often than once per year, credit monitoring services are the best choice.
It's important to keep track of our own credit histories. Being denied that mortgage, auto loan or apartment lease on account of theft or reporting errors can cause damage to more than our FICO scores. With a little bit of vigilance, knowledge can be your most powerful asset in ensuring that your credit history is healthy — and most of all, that its information is yours.