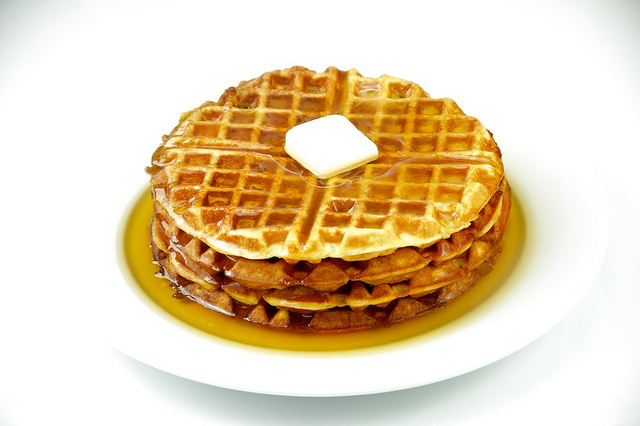 While some people have a love affair with fluffy pancakes, others prefer the crispy consistency of a waffle — and for good reason. These golden, honeycombed delights offer the perfect balance of flakiness and moistness, making them a yummy morning, afternoon or nighttime treat.
The waffle is so popular that it has been granted its own official holiday — National Waffle Day 2013 — which falls on Aug. 24. There are plenty of ways to not only enjoy the holiday, but also relish in saving money on great waffle-related deals. How will you celebrate?
About Waffles and National Waffle Day
The waffle comes in an assortment of shapes, sizes and flavors, making it one of the best-tasting and most versatile batter-based delicacies.
But when and why were waffles created? History has it that waffles got their start in the 1300s in Greece, when individuals cooked flat cakes between two metal pans.
Waffles evolved when those who made their cakes from a mixture of flour, water or milk, and eggs (known as wafers) began stamping them with various designs, including family crests and landscapes.
The Dutch were also said to enjoy what they called wafles. Colonists introduced them to the New World in the 17th century and eventually added the extra "f."
But it wasn't until Aug. 24, 1869, that Cornelius Swarthout patented the waffle iron. National Waffle Day was created to celebrate this patent.
Saving Money on National Waffle Day 2013
For instance, La Quinta Inn & Suites is offering a unique promotion. Individuals who go to the Waffle Wisdom tab on the company's Facebook page and share a Waffle Gram with friends could win a one-year supply of New Carbon waffle mix and a waffle maker. Entry to the contest is available through Aug. 24th.
Waffle Day Restaurant Deals
Restaurants are also offering discounts on waffles that could spare your bank account (courtesy of BeFrugal.com):
Bob Evans Restaurant: Enjoy a fantastic buy-one, get-one-breakfast-entrée-free deal with the purchase of two drinks with this coupon. Participating locations only. See offer for details. Expires Aug. 30.
Carrows: Belgian waffles offered starting at $7.29 from Carrows. Participating locations only. See offer for details. Expires Aug. 31.
Denny's: Take 20 percent off your next meal with this coupon from Denny's. Valid with a purchase of an entree at participating locations. See offer for details. Deal expires Aug. 26.
Waffle House: Waffle House is offering a free waffle, Monday through Friday, at participation locations. See this Waffle House coupon for additional details on the offer. Expires Sept. 6.
Waffle Mix and Waffle Maker Discounts
Here are some great ways to enjoy waffle day by making your own tasty treats, courtesy of BeFrugal.com:
Crate & Barrel: Customers can take $10 off the Cuisinart Waffle Maker (now only $49.95), and get a waffle cookbook for only $16.95. Offers expire Aug. 31.
Gettington: Gettington is offering 10 percent off waffle makers and other kitchen appliances when customers like and share Gettington on social media. Offer expires Aug. 31.
JC Penney: Take up to 45 percent off select waffle makers at JC Penney. Offer expires Aug. 31.
Macy's: Shop during the Macy's sale and find great savings on waffle makers. Offer expires Aug. 31.
QVC: Find waffle makers and other kitchen appliances with QVC. Expires soon.
Target: Target customers can take advantage of waffle makers for as low as $24.99. Offer expires Aug. 31.
Walmart: Walmart is offering waffle mix for as low as $2.38 and waffle cookbooks for 40 percent off. Offers expire Aug. 31.
Waffle Day Recipes
Need some recipes to make your waffles that much tastier? Here are a few to enjoy:
Still looking for ways to enjoy National Waffle Day? Jon Lal, founder of BeFrugal.com, suggests looking for grocery coupons and weekly ads online. You could also check your local Sunday newspaper's coupon inserts to find ways to save money on waffle-related items on this special day.
Photo: TheCulinaryGeek