Ditching Meat on 'The Other Independence Day' Helps Save Money on Groceries Too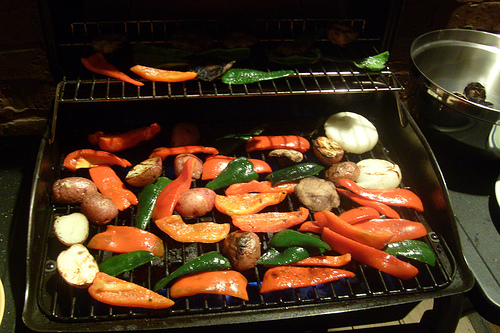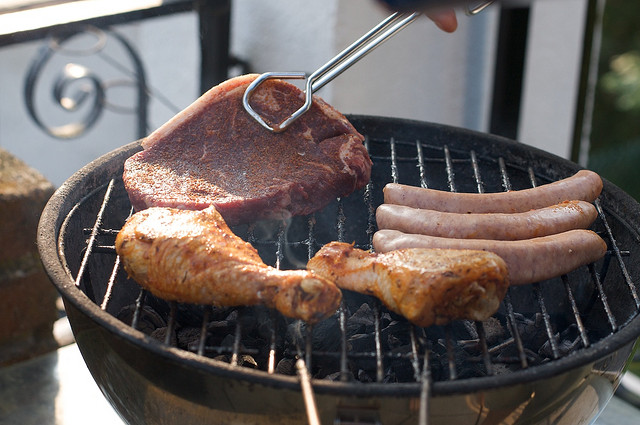 Independence Day, as we all know, celebrates the United States' gaining its freedom from the Kingdom of Great Britain more than two hundred years ago. The traditions of this holiday include blasting fireworks and eating yummy barbecue.
But did you know that the July 4th holiday also doubles as Independence from Meat Day? That's right! If you're a vegetarian, vegan, or simply want to save money by avoiding the high cost of meat this holiday, there are some exciting ways to have a mouthwatering and meatless meal this holiday.
About Independence from Meat Day
According to the Hearth, Patio and Barbecue Association, July 4th is the most popular holiday for barbecuing, followed by Memorial Day and Labor Day. And the most popular foods to cook are burgers, steak, hot dogs and chicken.
Of course, this means that July 4th is not only the biggest holiday for barbecuing; it's the biggest for eating meat.
It's for this reason that the the Vegetarian Awareness Network in Tennessee strategically placed its own Independence from Meat Day holiday on July 4th. If people have been looking to try out the benefits of being a vegetarian, or have been inquiring about the vegetarian/vegan movement, Independence from Meat Day is the perfect time to try something new.
What Are the Benefits of Being a Vegetarian?
There's no doubt that the Vegetarian Awareness Network is garnering the attention it desires with its unique holiday. So what could be the benefits of not eating red meat — or any other meats — if you have been doing so most of your life?
First, let's look at the definition of being a vegetarian. According to the Boston University School of Public Health website, the classic definition is "a person who does not eat meat (including fowl) or seafood, or products containing these foods." The university defines vegans as "vegetarians who do not eat meat, fish, dairy or eggs."
In years past, the American Dietetic Association (ADA), shared doubts that maintaining a vegetarian diet was nutritionally sound. But by the early 2000s, the association changed its opinion, sharing if a vegetarian (or vegan) diet is appropriately planned, it can absolutely be nutritionally sound and even help reduce the risk of certain diseases.
One reason the Boston University School of Public Health gives vegetarian diets credit for being nutritionally sound is their restricted nature. Because they tend to have higher proportions of whole grains, nuts, fruits and vegetables, dieters are gaining higher amounts of dietary fiber, vitamin C and E, magnesium, potassium and antioxidants. They are also getting fewer calories, saturated fats, cholesterol and long-chain n-2 (omega 3) fatty acids.
However, there are also some downsides to an all-veggie diet, depending on how it is structured. The School of Public Health found if vegetarian diets restrict dairy or egg consumption, for instance, dieters take in lower amounts of vitamins B-2 and D, as well as calcium. The lack of calcium, in particular, may put individuals who do not take adequate supplements at risk for bone fractures.
Overall, however, studies have shown that vegetarian diets may lower the risk of certain chronic diseases, including diabetes, hypertension and cardiovascular disease.
Save Money on Groceries and Skip Meat with These Great Recipes
If you have decided that you are interested in skipping the meat this 4th of July and also want to save money on groceries, you are in the right place. But first, let's look at great tips on how to save money on food when you want to purchase fruits and vegetables, as opposed to meat:
Visit farmers markets: One of the best ways to stick to your budget while shopping for produce is to visit a farmer's market. Not only is the food you're going to find there grown locally and fresher, but the lack of shipping costs results in vendors selling food at a lower cost.
Buy in bulk: Buying produce in bulk can be counterproductive because items spoil before you have a chance to eat them. But if you're planning to prepare all of your food for the July 4th holiday, then having food go bad is no longer your concern — making bulk buys a bonus for your wallet.
Purchase generic condiments and extras: Of course, veggies and fruits won't be the only items you purchase for your holiday meal. You'll still need mayonnaise for potato salad, seasonings for your proteins and other flavorings. When buying these items, try your best to purchase the generic versions to spare your savings account.
(Image: Flickr user Zenia)
Meat-free Recipes to Celebrate Independence from Meat Day
Grilled White Pizza (by Bobby Flay)
For some reason, the words "Grilled White Pizza" and "Bobby Flay" sound like a great combination. It probably has something to do with Flay's great reputation as a chef.
But after eyeballing the ingredients for this recipe, which include grated parmesan, drizzled extra-virgin olive oil, oregano leaves and fresh basil, it may be the thought of combining these ingredients, adding them atop pizza dough and grilling that makes our mouths drool.
Grilled Portobello Mushrooms with Hummus and Feta Cheese (by Michael Chiarello)
The entire title of this recipe sounds like a visit to an amazing restaurant. Luckily, you can make this fantastic recipe at home with large Portobello mushrooms, hummus, feta cheese, sea salt, olive oil and crusty bread cut in four sections.
After popping the stems on the mushrooms, drizzling them with olive oil and cooking over a hot fire for four short minutes then adding them to bread with cheese and hummus, you'll have some of the most amazing mushroom burgers you've ever tasted.
Creamy Dijon-Dill Potato Salad (by Dave Lieberman)
You can't have a barbecue without a great side dish and Dave Lieberman has one that is sure to make your crowd happy. His Creamy Dijon-Dill Potato Salad combines Yukon gold potatoes, celery, mayonnaise, red onions, fresh dill, vinegar, lemon juice and Dijon mustard to create an amazing side certain to spice up your meal.
Barbecued Succotash (by Rachael Ray)
If you're a succotash fan then your friends and family may absolutely love Rachael Ray's Barbecued Succotash. This quick and easy grilled dish is made from frozen corn, black beans, red bell pepper, red onion, extra virgin olive oil and smoky barbecue sauce.
The meal remarkably only takes five minutes to create and is certain to spare your bank account.
Veggie Kabobs with Herb and Garlic Marinade (by Bobby Flay)
Bobby Flay's Veggie Kabobs with Herb and Garlic Marinade have a great reputation for tastiness. It could have something to do with the potatoes, tofu chunks, bell pepper chunks, pineapple chunks, red onion chunks, white button mushrooms, zucchini, cherry tomatoes and maple syrup/lime marinade. This recipe will not only be a winner at your holiday barbecue, but a staple in your vegetarian recipe book for years to come.
What's great about celebrating Independence from Meat Day is that you can not only take advantage of the benefits of being a vegetarian, but you can also learn more about how to save money on groceries. There's no doubt that these two concepts make a winning combination!
(Image: Flickr user Patrick)