Farnoosh Torabi: "2015 Is the Year to Invest in Yourself"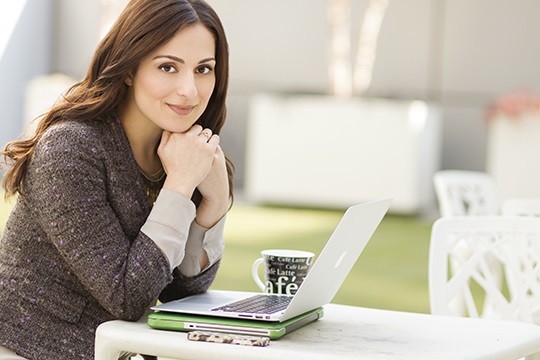 All December long, GOBankingRates is profiling the biggest personal finance experts and asking readers to vote for their favorite in the fourth annual "Best Personal Finance Expert" competition. Our editorial board, in partnership with writers and editors at the biggest publications in personal finance, nominated 12 finalists, including today's featured expert: best-selling author, television host and money strategist Farnoosh Torabi. We asked Farnoosh to share her No. 1 tip for financial success in 2015. Voting for the 2014 contest is closed, but you can vote for your favorite personal finance expert of 2015.
Farnoosh Torabi's impressive resume allows her to reach a wide audience, giving practical financial advice suited for everyone from college students to executives at Fortune 100 firms. Torabi aims "to help people take control of their finances so they can live their richest, happiest lives," with the financial guidance she provides.
Torabi's newest book, "When She Makes More: 10 Rules for Breadwinning Women," hit shelves this year and is a No. 1 Amazon seller; her other titles include best-sellers "You're So Money" and "Psych Yourself Rich." Torabi also shares her expert advice through frequent appearances on TV shows like "The TODAY Show," and is a contributing editor of Money Magazine.
Vote for Farnoosh Torabi as the "Best Personal Finance Expert" of 2014
Find out more about the "Best Personal Finance Expert" finalists>>
Farnoosh Torabi's Money Advice for 2015
We asked Farnoosh Torabi what she thinks Americans should do to be financially successful in 2015. Here's what she said:
"Make 2015 the year that you choose to invest in your personal self-development and hop out of your comfort zone," Torabi said. "Learn something new, travel, take risks and practice your negotiating skills."
Investing in oneself is central for American workers to gain a much-needed edge in a job market that is going to become increasingly competitive, according to Torabi. Being proactive now is vital to ensuring your career, earnings and financial success in coming years.
"Over the next five years we're going to see dramatic shifts in the job market and economy," Torabi said. "… Rather than react to the changing times, plant some seeds now so that you can be proactive and stay in control of your career and remain competitive. This will mean investing in yourself."
Torabi also listed three specific trends she expects to see in the next five years:
"Sectors like health care and education will take off even further."
"Employers will hire fewer full-time workers and more contract employees."
"More women-owned businesses will flourish."
With these big, sweeping changes ahead of American workers, those who invest in themselves now will gain the work experience and skills needed to stay ahead of the curve in coming years. That's why Torabi encourages people to invest in their personal development and professional growth in 2015 and beyond.
Those who are interested in learning more should follow Torabi on Twitter @FARNOOSH and her website, http://farnoosh.tv/.