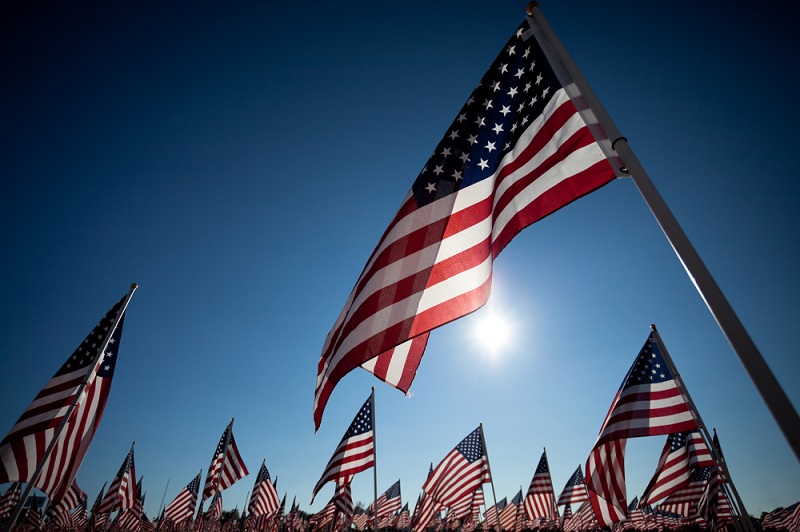 With today being Memorial Day, Americans are paying observance to those who have made the ultimate sacrifice. To commemorate the holiday and the men and women who continue to protect and preserve the nation's freedom, GOBankingRates partnered with San Antonio-based Air Force Federal Credit Union to compile a guide of the best military discounts to ensure that veterans, as well as active duty and reserve members alike, are saving money year-round.
"In these difficult times and economic hardships, our men and women of the military have a thankless job of protecting our freedom," said Danny Sanchez, VP of marketing at Air Force Federal Credit Union. "The organizations that support the military community with discounts understand that this is a great way to honor them. This is just a small 'thank you' and repayment for their service and sacrifice."
Related: 6 Financial Tips From Military Experts to Service Members
Who Qualifies for Military and Veteran Discounts?
Individuals who qualify for military discounts are those who have served in a service branch of the United States Armed Forces in the past or present. Military service branches include:
U.S. Army
U.S. Navy
U.S. Marine Corps
U.S. Air Force
U.S. Coast Guard
Some specialized military programs that provide exceptional savings include active reserve members as well. With regard to who is considered a "veteran," Rod Powers of About.com said:
"In actuality, there is no standardized legal definition of 'military veteran' in the United States … Whether or not one is considered a 'veteran' by the federal government depends entirely upon which veteran program or benefit one is applying for."
Qualifications for retail discounts for military members and veterans are fairly general, with few exceptions attached to certain discounts.
Read: 4 Best Credit Cards for Military Service Members
12 Military Discounts That Save Money
Many brands and retailers offer military discounts and perks to those who are associated with the Armed Forces. Most of the time, a military ID or Veterans Identification Card (VIC) is sufficient proof to qualify.
Here is a list of the leading discount programs available nationwide:
Technology
Apple. Using Apple's military discount can result  in huge savings. For example, the 13-inch Macbook Pro retails for $1,099, but with a military discount, you can enjoy savings of around $100. The brand provides customers with a military discount as long as they are a current, former or retired member of the U.S. military, in addition to family members. Discounts apply to pricier Apple items such as the iMac and MacBook Air.
AT&T.  Military service members, as well as veterans and Department of Defense agency employees, can save big with a 15 percent discount on qualified monthly service charges by shopping online.
Dell. In an effort to help military service men and women stay connected to their families back home, Dell is currently providing savings coupons of 15, 20 and 30 percent off select PCs and tablets, which could amount to a lot of savings. The offer, however, ends on May 28, 2015.
Transportation
Greyhound. Getting from point A to B costs money, but Greyhound's discount for active duty and retired armed service members helps riders financially with a 10 percent discount. Greyhound also provides the option for service members and veterans to travel anywhere in the continental United States for a maximum round-trip fee of $259.
AMTRAK. Similar to the Greyhound service, AMTRAK also gives active duty members and their families a 10 percent discount on the lowest available rail fare for most trains.
Entertainment
Disneyland Resort. Fondly dubbed "the happiest place on earth," Disneyland Resort is a hot spot for entertainment at any age, it can be pricey compared with other theme parks. The park honors military personnel through its discounted three-day Disneyland Resort Park Hopper tickets. Through January 2017, the park is offering passes for $79 per day for a three-day, one-park per day ticket. That's a total of $237. But retired and active members of the Armed Forces receive reduced pricing of $132 and save $105. Plus, they can visit both parks each day of the ticket.
The Armed Forces Vacation Club. This club acts like an exclusive into the best deals when traveling. The military-based organization provides a fixed week-long stay price for military personnel and their families to locations within the United States and internationally. Pricing starts at $349 for a seven-day stay with many locations to choose from.
Public Zoos. Coming in at an honorable third place on the list of military discounts under entertainment are public zoos, which offer discounts of up to 100 percent in some areas. "The military discount I always make sure to take advantage of is the one from the San Diego Zoo," said U.S. Navy member Francis Alindogan. "I love visiting the panda exhibit, so having free, year-round access to the park is a great perk."
Home Improvement
Lowe's Home Improvement. This national hardware store makes it affordable to obtain one's dream home with 10 percent off for active service members, immediate family, retired veterans and VA recipients. The discount is just enough to help finance one's summer projects.
Keep reading: 30 Ways to Spend Your HELOC at Home Depot
Financial Services
United Services Automobile Association (USAA). USAA  provides the most tailored insurance policies for military personnel, including auto, home and health insurance. Since the association is targeted specifically to members of the military, its rates are hard to match.
Air Force Federal Credit Union. Air Force Federal Credit Union has a top auto loan rate starting at 1.49% APR, which amounts to an estimated monthly payment of  $17.31 per $1,000 borrowed for 60 months.
Geico. The insurer offers a discount of up to 15 percent on a total insurance premium for active duty, retired and National Guard and reserve members. This offer gives a long-term advantage to those who hold an insurance policy with Geico year after year.
Military discounts can result in thousands of dollars saved if used simultaneously or throughout the year. These are just a few of the many benefits of serving the country and its citizens.