Despicable Me 2 Highlights These 5 Major Savings Considerations for Parents Who Adopt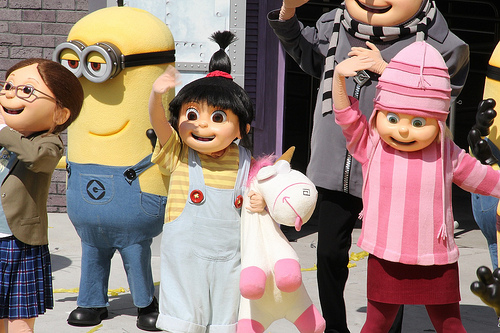 Despicable Me 2 looks to pull at the heartstrings of audiences everywhere this summer during it's theatrical release on July 3.
With a grumpy villain turned lovable adoptive father as the film's main character, it's no wonder audiences fell in love with Gru and his three adorable adoptive daughters Margo, Edith and Agnes in the first Despicable Me movie, which grossed close to $550 million worldwide in 2010.
In Despicable Me 2, we see Gru more at ease with balancing the responsibilities of parenthood, as well as various tasks that come with adopting a child. At least, until he's called upon by the Anti-Villain League to spy on a new super-villain looking to spread chaos and destruction.
While both Despicable Me movies show-case the benefits of adoption for both parents and children alike, have you ever wondered what the average cost of adoption comes out to be? GoBankingRates.com recently examined the five major savings considerations for those pursuing an adoption. From the adoption process itself to education and general living expenses, adults who decide on adopting a child should prepare to save (and spend) a fair bit of money.
1. Adoption Process With An Agency
In the first Despicable Me movie, viewers saw the relatively short adoption process Gru went through in order to become father to Margo, Edith and Agnes. This included a background check (that listed his fake profession as a dentist), a list of forged personal achievements, and a sad tale about his non-existent deceased wife.
In reality, the adoption process for a new parent is long, thorough and potentially expensive. While the cost of adoption varies according to fees and services offered by adoption agencies, expenses can range from $10, 000 to $25, 000. The  average cost of adoption usually covers home study, counseling for both birth parents and prospective adoptive parents, as well as medical expenses and foster care if needed. Usually adoptive parents can pay agency fees in stages, and agencies typically ask for no more than two-thirds of the fees to be paid before placing an adopted child with a family.
Adoptive parents can potentially save money by taking advantage of a maximum non-refundable adoption tax credit of $12, 970 from the U.S. government, and there are also a few non-profit adoption agencies that only charge court filing fees of a couple hundred dollars throughout the adoption process.
2. Independent Adoption Process
Of the estimated 30,000 infant adoptions that take place in the U.S. each year, at least half are independent adoptions. While adoptive parents can have more control over the search process, they can also incur more costs and obstacles with state laws that govern the legality of independent adoptions.
The average cost of an adoption process that's independent of an agency can be over $15, 000. This usually covers legal expenses, arrangements with the birth mother, screening resumes and placing advertisements. Paying independently for the birth mother's or child's medical expenses can also drive the cost of an independent adoption closer to $35, 000.
3. Transportation Costs When Adopting a Child
From round-trip plane tickets and filing government documents for two different countries, to international adoption agencies and over-seas lodgings, the cost of adoption overseas will likely increase from $10,000 to around $30,000.
4. Foster Adoption
One of the best ways to save money during an adoption is by adopting a child from the U.S. foster care system, which is often completely free of cost for the adoptive family. While many parents and families across America help foster children as they await adoption, they also have the unique opportunity to connect with the child themselves and decide to adopt them permanently.
As a foster parent, you receive a monthly check to cover the cost of raising a child, including medical assistance. Some states will also provide adoptive parents with a monthly stipend to help with the child's health insurance when they go through the United States foster care system, and many adoption agencies allow foster families to complete one home-study for both foster care and adoption at no cost to the family.
5.  Cost of Raising a Child After Adoption
In both Despicable Me movies we see Gru experience some of the domestic costs of adoption, like creating a suitable home for his three new daughters to live in. Adoptive families will find the average cost of raising a child to be over $13,000 a year, according to estimates from the USDA. This estimate includes food, housing, clothing, healthcare, childcare and education.
Many families adopting a child from foster care will receive a tax credit of up to $10,000 with a modified adjusted gross income of up to $150,000, regardless of actual adoption expenses.
The federal government additionally mandates states to provide monthly non-taxable adoption subsidies for special-needs children who meet federal and state guidelines until the age of 18. This average monetary subsidy can be around $300 a month and cover medical assistance, psychological counseling, daycare and tutoring.
(image: insidethemagic)