Study: 63% of Holiday Shoppers Haven't Saved a Dime for Gifts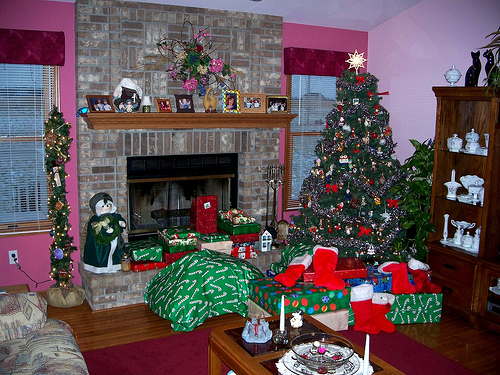 With a sluggish economy, recent government shutdown and overall sense of uncertainty surrounding the financial futures of Americans, the upcoming holiday season is likely inspiring more stress than excitement among shoppers.
In its annual survey of holiday shoppers, the National Retail Federation found 29 percent of respondents said the recent political gridlock in Washington around U.S. fiscal concerns would "somewhat or very likely" affect their holiday spending plans. Even so, based on survey responses, the NRF still projects 2013 sales to grow by 3.9 percent to $602.1 billion with the average shopper spending $536.86 on gifts alone.
However, we conducted our own set of surveys to find out how much U.S. adults are spending and saving for gifts in 2013 — with much less optimistic results for retailers and shoppers alike.
Holiday Spending and Saving Survey Results
The first survey polled respondents on projected holiday spending on gifts specifically. Surprisingly, more than 40 percent said they did not plan to buy gifts at all this year. The second most common response was "Less than $500."
Survey 1: How much do you plan to spend on holiday gifts this season?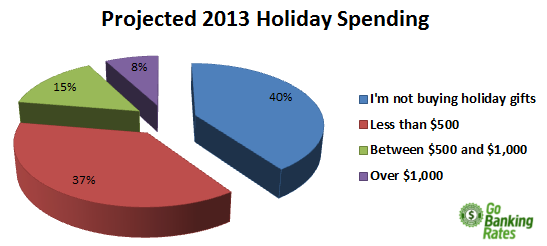 I'm not buying holiday gifts (40.3%)
Less than $500 (37.4%)
Between $500 and $1,000 (14.6%)
Over $1,000 (7.85%)
The second survey, run separately from the first, polled respondents on holiday/Christmas budgets set aside for 2013 gift shopping. A whopping 63.1 percent admitted they had not allocated any savings toward a holiday gift shopping budget.
Survey 2: How much money did you save for your holiday gift shopping?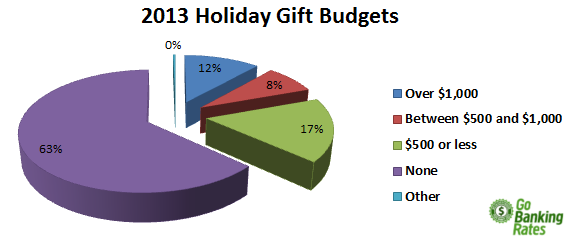 Over $1,000 (11.6%)
Between $500 and $1,000 (7.9%)
$500 or less (17.1%)
None (63.1%)
Other (0.3%)
Additional Key Findings
18-24 year-olds picked I'm not buying holiday gifts more than those aged 55-64. (47% vs. 34.1%).
55-64 year-olds picked "Less than $500" more than those aged 25-34 (44% vs. 30.3%).
Men picked "I'm not buying holiday gifts" more than women (46.2% vs. 34.7%).
Men picked "Over $1,000" 2x more than women.
Mixed Results Around Holiday Spending
Contrary to National Retail Federation survey responses regarding general sentiment about the state of the economy, Deloitte's 2013 Holiday Survey discovered a rise in consumer confidence in their finances and the economy. In fact, Deloitte predicts a significant 12 percent rise in total holiday spending over 2012, based on its survey results.
Additionally, both wealthy and non-wealthy households are predicting higher spending in comparison to last year; households with under $100k in income plan to spend $854, up from $790 in 2012. Households with income of more than $100k plan to spend $1,329, up from $1,229 in 2012, according to the survey.
These results are inconsistent with National Retail Federation holiday spending statistics for 2013. According to its latest survey, the average holiday shopper will spend a total of $737.95 on gifts, décor, greeting cards and more, which is about two percent less than the $752.24 they actually spent last year. Projected spending breaks down as follows:
$415.50: Parents and other loved ones
$72.14: Friends
$23.59: Co-workers
$25.63: Pets, community members and others.
The survey also found consumers will about $100 on food and candy, $28 on greeting cards and $21 on flowers, on average.
For further insights into these findings, please click here.
About the GoBankingRates Holiday Spending & Saving Survey
The survey was conducted through Google Consumer Surveys. Each survey randomly polled 1,500 visitors to third-party websites primarily pertaining to News, Arts & Entertainment and Reference.
Image: Grandpa and Grandma T.