How to Tell if Your Accountant Is Growing Your Savings Account or Stealing from It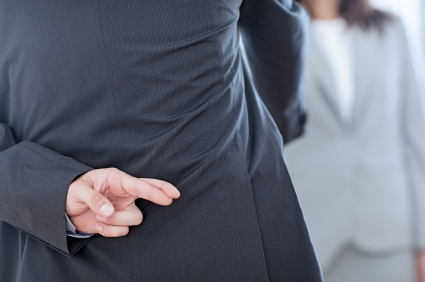 Do you enjoy paying taxes? Probably not.
Americans spend 7.6 billion hours complying with the IRS tax code. By the IRS' own estimates, the IRS tax code is 3.7 million words long, although even they aren't sure exactly how long it is. In fact, the CCH Standard Federal Tax Reporter, which summarizes administrative guidance and judicial decisions for tax professionals, contains 25 volumes and takes up nine feet of shelf space.
With the enormous complexity of federal income taxes, 60 percent of Americans hire a professional to complete their tax return. Most are honest, but there are a few bad apples to avoid. Let's take a look at how to tell if your accountant is helping your savings account or or committing tax fraud.
How to Avoid Preparers Who Participate in Tax Fraud
#1. Determine their Qualifications
Be sure that your preparer has a personal tax identification number (PTIN). This is required of all paid tax preparers.
While not mandatory, it is also helpful if your tax preparer is an attorney, certified public accountant (CPA) or enrolled agent. Each can represent you during an audit of current and past tax returns. Also, a CPA has passed a state's accounting exam and an enrolled agent is either a former IRS agent or has passed a comprehensive IRS exam, making either option a relatively safe bet.
By going with one of the mentioned professionals, you'll limit the chance of fraudulent accounting.
#2. Do They Keep Up With Tax Laws?
According to the IRS, an average of over one change is made to the tax code every day. Ask the preparer how he or she monitors changes in the tax code. If they mention continuing education or seminars, that's a good sign that they can help, rather than hurt, your savings account when filing your taxes.
#3. Get an Estimate
Have the tax preparer provide an itemized estimate of all expenses before you make your decision, and settle on a tax return preparer.
#4. Perform Final Research
If you're strongly considering hiring a preparer, check him or her out with the Better Business Bureau at BBB.org. Look for any red flags of accounting fraud, such as a laundry list of complaints.
Also, email the IRS Office of Professional Responsibility at opr@irs.gov, and give them the full name and business address of the preparer to confirm that he or she is in good standing.
Warning Signs of Fraudulent Accounting
#1. Promise of an Inflated Return
An accountant who promises a larger return than anyone else can get you could simply know the tax code like the back of his hand. Then again, he may also be bending the rules, leaving you to deal with the legal aftermath.
#2. "Sign Here — I'll Take Care of the Rest"
You wouldn't sign a blank work order at an auto repair shop, so the same should apply at tax time. Never sign a blank tax return, as the preparer could fill in whatever he or she wants and you'll ultimately be held accountable for any misrepresentations.
#3. Holds Tax Refund in Business Account
Your tax refund should go directly to your home, savings account or other bank account. As such, if a preparer insists on depositing your tax refund money in his or her account first, walk away.
Final Tip to Avoid Tax Fraud
Read your return! I once had to sign a 15-page lease agreement. The landlord looked puzzled and a bit irritated that I actually wanted to read it. Perhaps he was used to residents just signing the agreement in the modern era of short attention spans, but I read it nonetheless. After all, using the excuse that the landlord gave me a dirty look wouldn't work well, if I ever challenged the lease agreement in court.
Read every word and number on everything you're asked to sign, and ask any questions you may have before putting pen to paper. Additionally, be sure that both you and the preparer sign all required forms and request copies of the documents for your records.
If you come across something that is blatantly tax fraud, report it by completing IRS forms 14157 and 14157-A.