New ABC TV Series 'How to Live With Your Parents' Offers 5 Real-Life Tips for Saving Money by Moving Back Home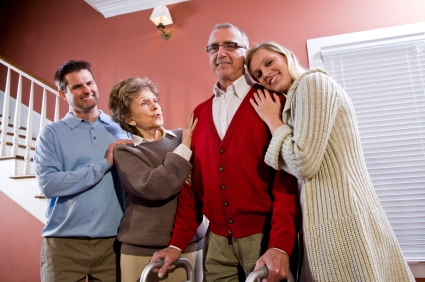 When life gets hard the easiest place for you to turn to is family, especially your parents. This was especially true during the Great Recession when millions of college graduates and career professionals alike were faced with financial instability, many of whom chose to move back in with parents to save money.
The same is true for Polly, the protagonist in the new ABC TV series, How to Live with Your Parents (for the Rest of Your Life), which airs later tonight.
Each episode of the show may include some outlandish moments, but the living arrangement that Polly (played by Scrubs actress Sarah Chalke) is faced with is a reality for many adults in the country. USA Today reveals "the number of young adults ages 20 to 34 who live with their parents jumped from 17% in 1980 to 24% in 2007-09," during the recession.
Having to move back into your parents' home is probably an unfavorable option, but doing so can make saving money incredibly easy, especially when you're in a financially vulnerable position.
#1. Ditch the Rent or Mortgage Payment
Reducing your bank account by as much as $1,061 every month can produce a lot of financial anxiety month over month. According to Realtor Magazine's assessment of a Lending Tree survey this figure is, in fact, the average monthly mortgage payment. But renters don't have it all that great, either — the Los Angeles Times reports that the average renter paid $1,008 in the first quarter of 2012.
In an ABC TV series video clip of How to Live with Your Parents, Polly hands her stepfather, Max, a wad of cash saying, "My rent… which I would like you to give me back." And even though Max responds with, "You don't really understand how money works, do you?" he makes a motion to give Polly back the rent money as she requests. Generous parents are at times willing to let their unemployed children live in their home rent-free until they get back on their feet, or at least have their adult children pay a reduced rent payment that won't break the bank, like a mortgage loan might.
#2. Save on Utilities without Using Candlelight
When it comes to other seemingly small household costs, knowing when to give in and learn how to live with your parents can be a frugal move. The American Coalition for Clean Coal Electricity reveals that the average American family, whose net income is $53,229, spent $6,088 on energy in 2012, or 11 percent of the household's budget just on these daily utilities. That's a significant expenditure that now, thanks to the saving money examples seen in How to Live with Your Parents (for the Rest of Your Life), you no longer need to shoulder.
This includes internet connection bills, heating and cooling, as well as gas and electricity. Also, while the ABC TV series may not state this advantage outright, another possibility when faced with the challenge of saving money is to join your parents' family plan to cut the price of mobile use.
#3. Stop Eating Like a College Student
The U.S. Department of Agriculture shares that in 2013, a family of four can spend anywhere from $636.30 with a thrifty budget to $1,256.90 for a liberal budget on groceries each month.
For Polly and her daughter, Natalie, access to organic groceries is possible, as Polly works at a high-end organic market. While Polly may receive a discounted rate due to her employment, you might not be so lucky — but at least you have the freedom to raid your parents' refrigerator cost-free.
#4. Access to On-Call Babysitter
Typically, when all else fails, parents will turn to their own parents when they need a babysitter in a pinch.
Under normal circumstances, this may be a one-off occurrence when your primary sitter is unavailable or cancels at the last minute. However, saving money on a sitter when you're already living with your parents is even more convenient, as the new ABC TV series demonstrates when Polly's friend says, "What's the point of living with your parents if you can't use them for unpaid labor?"
This is a great point seeing as Care.com estimates that babysitting costs are about $10 per hour, and an additional $2 to $5 for each additional child — that's about $400 a week for five eight-hour days.
#5. Live-In Property Caretaker
The financial benefits involved in living with your parents aren't reserved exclusively for you. Your parents also have a chance at saving money by having you there as a live-in property caretaker.
So in the event your parents want to travel the world like Polly's mother, Elaine, you can stand in to guard the home, water the plants and feed the dogs. Your parents save as much as $150 a day for a live-in sitter, according to Bright Hub, and you get to live comfortably for less. It's a win-win.
Learn more savings tips from How to Live with Your Parents (for the Rest of Your Life) by watching the ABC TV series pilot which airs today, at 9:30 P.M., 8:30 P.M. central time.
Follow me on Twitter: @Go_Jenn