Save Up Series: How Much Should I Save for My Child's Education?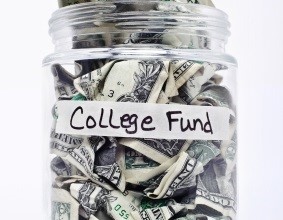 With the costs of higher education generally increasing six percent every year — more than the annual rate of inflation — the question on many parents' minds is: How much should I save for my kids college education?
Of course, it all depends on when your student is planning to begin attending school. However, there are some valuable cost projections, tax-advantaged programs and a variety of scholarships to help junior make it to graduation.
The College Board estimates the average four-year college tuition costs today and in 18 years.
Note that when you're calculating how much you should be saving for college, these estimated tuition costs do not include room and board, books and supplies. Depending on the student's course of study and choice of school, these extra costs can add a substantial amount to the yearly cost of college.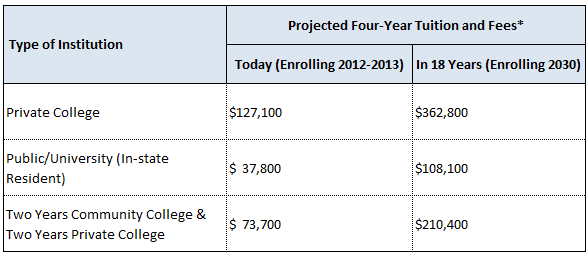 *Based on average tuition and fees for 2012-2013 and assumed to increase 6% annually.
Cost of College: Taking Advantage of Federal Tax Breaks
The federal government can help take the bite out of the "how much should I save?" question by providing a number of tax-advantaged programs, including:
Qualified Tuition Programs (529 plans)
With these plans, your earnings grow tax-deferred and the distributions are tax-free if you use them for qualified post-secondary education costs.
There are two types of 529 plans: Prepaid tuition plans and savings plans. As the name implies, prepaid tuition plans let you pre-pay tuition based on today's current rates and then use the distributions when your student is ready to attend school. These plans are currently available in 11 states.
Coverdell Education Savings Accounts (ESA)
Like a 529 Plan, an ESA provides tax-deferred earnings and tax-free distributions for qualified expenses. However, an ESA is not administered by a specific state. You can also use tax-free funds in an ESA to pay for primary and secondary school expenses.
Individual Retirement Accounts
While most financial advisors do not recommend dipping into your retirement accounts before you're of retirement age, if you need a way to supplement your other college savings, then IRAs can be a resource. Generally, you would pay a 10 percent tax penalty if you withdrew money from your retirement accounts before age 59 ½. If you use your retirement funds for qualified post-secondary education costs, this penalty will be waived. However, you may still have to pay federal and state taxes on the withdrawals.
American Opportunity Tax Credit
You can claim up to a $2,500 tax credit for a dependent child's college tuition and fees. The credit is available through 2017, and phases out if your income is between $80,000 and $90,000 (or between $160,000 and $180,000 for married taxpayers filing jointly). Your child needs to be pursuing a degree program for at least half-time to claim the credit and you can only take advantage of it for four tax years per student — even if it takes your student longer to graduate.
Related: The Truth About Saving Money for College
Additional Ways to Save for College
If you need to jump-start the ways you save for college or supplement what you've built over the years, there are several avenues to help with higher education expenses.
Scholarships – There are a full range of scholarships available to help pay for college, including merit, academic, athletic and needs-based scholarships. Check with the high school counselor, your employers,  local philanthropic organizations and the academic institutions your student wants to apply to for scholarship opportunities. You can also find scholarship information on FastWeb.com, CollegeBoard.com and Scholarships.com. 
Work-Study Program and Part-Time Jobs – Your child can help carry the burden of paying for college tuition by applying for the Federal Work-Study Program or possibly taking on a part-time job while in school. One of the benefits of work-study is that it offers flexible hours to ensure that your child still has enough time to study. Additionally, if you apply for financial aid the following year, the money earned through the work-study program isn't included in determining financial need. Check with the school's financial aid office to see if your student will qualify.
Knowing how much to save for college isn't easy, but with some careful planning, you can build an educational opportunity that will last a lifetime.