How to Start Your Post-College Savings Account by Taking Advantage of Alumni Discounts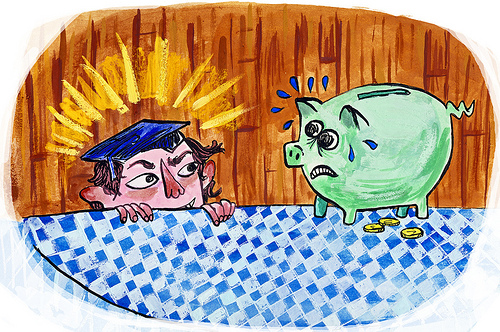 2013 college graduates are entering the workforce with $35,200 in debt, on average, according to CNN Money. Even worse — 50 percent of the surveyed graduates did not even realize how much student debt they accumulated. With this amount of student loan debt, college grads should be on the lookout for any alumni discounts from their alma mater.
Along with the commencement ceremony and a diploma, college alumni often receive alumni benefits for a lifetime. The money you earn and save from the following discounts is the perfect opportunity to start your own post-college savings account.
How to Find Alumni Perks & Benefits
Some alumni perks are instant while others may be useful further along in a college alumni's life. The first step to receive alumni discounts is to register with your college or university's alumni association. If your college does not have a website, calling your alumni association will ensure that you are able to register and find out what alumni discounts are available.
Five Colleges with Outstanding Alumni Benefits
GoBankingRates has taken a snapshot of the kinds of discounts America's colleges and universities are offering their recent and established college alumni.
#1. DePaul University – Auto Insurance
According to DePaul University's website, one of its many alumni perks is discounted auto insurance. Graduates can lower than their auto insurance premiums by as much as eight percent using their alumni discount. Offered through GEICO, current customers can have their policies reviewed. Graduates with competitors' policies can switch to GEICO for the discount.
#2. University of Connecticut (UCONN) – Discounted Event Tickets
Graduates of the University of Connecticut can enjoy a variety of alumni discounts. Alumni perks include discounts up to half-off ticket prices to Broadway shows, sporting events and other cultural performances. Alumni discounts include special offers for Amazon, Netflix and cheap movie theater tickets. Car rentals at selected Avis and Budget locations give UCONN college alumni discounts up to 25 percent.
#3. University of California, Los Angeles – Financial Products
Graduates can take full advantage of their financially-focused alumni benefits. College alumni can start saving right away with the BankAmericard Cash Rewards credit card for UCLA Alumni. After qualifying purchases card holders will receive $100 and are able to keep earning cash with select purchases.
Alumni can also open a new savings account, with some of the best interest rates for savings account through Merrill Edge Investments. You can open up a savings account with Bank of America and start investing for the future with a Merrill Edge investment account. UCLA alumni benefit because both accounts are linked together and can be managed through a single account.
The University of California also offers financial alumni perks to save on medical costs. If LASIK vision enhancement surgery is needed, alumni can take advantage of a generous 20 percent discount.
#4. Oberlin College & Conservatory – Gym, Event & Hotel Discounts
Alumni perks include free gym access, which can really add up. Dailyfinance.com puts gym fees from $9.95 for a week, with about $20 down to nearly $65 per month and $160 down. Alumni discounts include reduced prices for theatrical and concert performances. Up to 20 percent off stays at the Wyndham Hotel Group's hotels is also available to alumni. Discounts are effective upon booking online or over the phone.
#5. Georgetown University – Alumni Checking Account & Credit Card
Offering its college alumni great alumni perks, Georgetown graduates can take advantage of its namesake checking account and credit card. Handled by Bank of America, both financial options enable alumni to grow their post-college savings with benefits including:
Online and smartphone banking – saving you time and money
$100 cash-back after certain purchases
Two and three percent rewards for grocery and fuel purchases
10 percent bonus when the cash back option is redeemed into a Bank of America account
Over time, the added cash back can add up and compound with Bank of America's competitive saving accounts that feature the best interest rates for savings account anywhere.
(Image courtesy of: SimpleIllustrations)