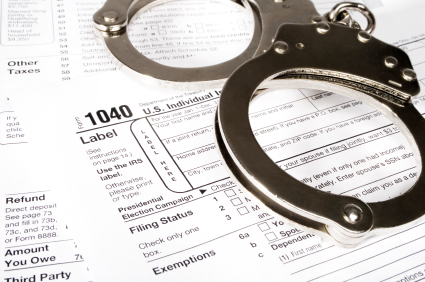 With the 2011 tax deadline just around the corner, the IRS has taken time to release its list of common scams that taxpayers try each year. The "Dirty Dozen" are attempted by filers more than any other scams, so the IRS wants to warn taxpayers they're looking out for these fraudulent tax strategies, as well as detail the consequences of getting caught to dissuade potential scammers and help them avoid penalties and even imprisonment.
"Dirty Dozen" Tax Scams
Here is a list of the top 12 tax scams the IRS hopes you will avoid (as a criminal or victim) this year:
Hiding money offshore: The IRS urges those with an unclaimed offshore bank account, brokerage account, credit card or even insurance plan to come forward voluntarily by the end of August to limit criminal prosecution.
Identity theft and phishing: Since there are thousands of criminals looking to steal your identity so that they can file a fraudulent return and collect your refund this year, it's important to refrain from sharing your personal information in e-mails, phone calls, faxes or through social media.
Unlawful tax preparation: Another issue some filers face is working with an accountant or tax preparer that takes advantage to get a cut of the refund. If you're getting promised a much bigger refund than expected or the preparer seems shady, it's good to decline the service and work with someone else.
Filing misleading or false forms: As a taxpayer, it's important you avoid filing misleading or false forms. The refund could be large but penalties for getting caught are larger, too.
Arguing with the IRS: If you are being convinced by a tax preparer to argue with the IRS to get a portion of the amount you owed back, the agency advises that you do so carefully. Sometimes the preparers are scam artists looking to get a cut of the money. But the extra attention could get you audited or worse.
Inflating your withholding credit: The IRS warns you could be fined up to $5,000 this year if you exaggerate your withholding when reporting nontaxable Social Security benefits.
Exaggerating charitable donations: If you try to overvalue items you give away when reporting them on your return (especially for non-cash donations like furniture), the IRS will be pulling out their own calculator to do the math, so make sure your calculations are accurate to avoid problems.
Suspicious retirement plans: The IRS watches for taxpayers who abuse retirement plan arrangements by exceeding contribution limits or not reporting early distributions and is ready to penalize for such actions.
Disguising your company: If you own a corporation or other business entity but are hiding it to underreport income, come up with fictitious deductions or take part in money laundering, the IRS is working with state and local governments to find you this year.
Giving yourself a pay cut: The IRS says some people file Form 4852 or a "corrected" Form 1099 to fraudulently lower their taxable income to zero. The repercussion for getting caught for this crime is a $5,000 fine.
Abusing trusts: If you are transferring money into trusts to reduce your taxable income, deductions for personal expenses or estate taxes, you're setting yourself up for a heap of trouble if caught.
Claiming gas costs: The IRS warns taxpayers not to try and claim the fuel tax credit simply because gas prices are high. Getting caught for this crime could result in a $5,000 fine.
Additionally, remember the tax deadline has been extended to Monday, April 18 this year to celebrate a Washington D.C. holiday the previous Friday. If you can't file by the deadline, learn how to get a tax extension to avoid penalties.