Jeff Yeager: The Ultimate Cheapskate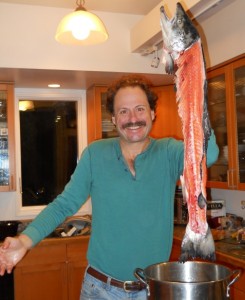 This post is part 4 of our 12 Days of Finance series. If you haven't voted for your favorite expert yet, make your top choice known below!
What sets Jeff Yeager apart from the other experts on our top 12 list? Well, to start, he's the only financial guru to answer his own phone when we called. Actually, Yeager really enjoys phone time with fans:
"For that matter, tell your readers that they can call me anytime (on their dime, of course), if they want me to talk cheap to them, and you're welcome to publish my phone number for that matter (301-292-0811 — seriously).  Suze Orman top that!"
And then there's the wine box bladder pillows, pantyhose soap-on-a-rope and other interesting money-saving ideas Yeager is known to concoct.
The Ultimate Cheapskate
So why is Jeff Yeager so cheap? He challenges the conventional wisdom that happiness is achieved by accumulating "stuff" and instead, enjoys life by living on less–a lot less. Yeager's frugal lifestyle even earned him the title of "Ultimate Cheapskate" on the NBC Today Show, courtesy of Matt Lauer.
But this guy doesn't just talk the talk. Pictured above, you'll find Yeager "starting a typical day…getting ready to make salmon chowder out of this fish carcass, which I bought at the fish market, THREE for $5!"
While many experts push the idea that financial well-being centers around the ability to amass more wealth, Yeager encourages others to make the most of what they have and live comfortably on any income. Yes, he offers some off-the-wall solutions to accomplishing this, but the heart of the message is that you don't have to be "rich" to live richly.
As Jeff puts it "It's about a quality of life you cannot buy, a sense of satisfaction you cannot fake, and an appreciation for others that gives life value. It's also about helping save the planet and sharing with those in need. Living on less can be funny, but it's not a joke."
Is Jeff Yeager your favorite personal finance expert? Vote in our poll now!

How Jeff Yeager Established Himself as a True Expert
Jeff Yeager worked as the CEO and senior executive for non-profit organizations in the Washington D.C. area for over two decades. He then switched gears and launched a career as a writer, public speaker and media personality in 2004.
Jeff Yeager has authored two books on frugal living: The Ultimate Cheapskate's Road Map to True Riches –the #1 personal finance book on Amazon.com–as well as The Cheapskate Next Door. Yeager has also appeared on numerous national news shows and writes for AARP,  WiseBread.com, PlanetGreen.com and TheDailyGreen.com.
Whether or not you agree with his extremely frugal approach to finance, or the wacky humor he employs when delivering his message, you can't ignore Jeff Yeager or the huge amount of money he inspires others to save.