Jim Cramer Names Three Bank Stocks Ready to Rally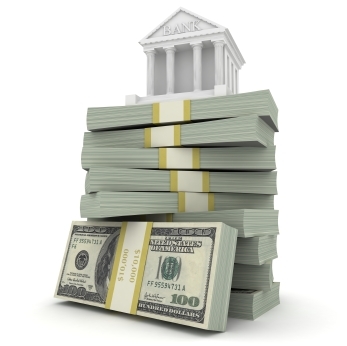 As interest rates continue to rise, regional banks in particular stand to make substantial profits. According to CNBC's Mad Money expert Jim Cramer, a combination of higher interest rates on U.S. Treasury bonds and loans combined with and relatively low deposit rates allows banks to profit from the net interest margin.
While the market increases the yields from U.S. Treasury bonds, regional banks can now place that extra money back into the Treasury bond market in order to receive greater returns.
"Banks will now make bigger profits, simply by turning the lights on and capturing that increased spread between your CD versus higher yielding Treasurys," explained Cramer, according to Yahoo Finance. "Largely these banks make their money from three areas: fees for services, loans, and certificate of deposits."
Although the spread between what regional banks are paying depositors through certificate of deposit rates and what they're earning on U.S. Treasury bonds isn't exceptionally large, it is growing consistently bigger.
"It's especially the case with the five-year Treasury, where banks are now making almost double the money on that note than what they're paying you for five year CDs," Cramer said.
RF, KEY, HBAN – All Set to Rally According to Cramer
investors
 should keep their eye on as interest rates continue to increase is Regions Financial (RF). Over the last month and a half, Regions Financial held up very well during a huge sell-off in the stock market, meaning they retained a high volume of shares not on the market. This demonstrates not only shareholder confidence in Regions Financial stock, but also in their potential profit and business performance. Also, many big institutional investors may actually be accumulating shares of Regions Financial and thus driving up the value of its stock.
KeyCorp (KEY) is another regional bank where there have been big surges in volume of stock all year, indicating big institutional investors are buying up shares. The CNBC Mad Money host predicts an increase in stock value and trading by the end of the year for KeyCorp, a vote of confidence regarding high profit returns and business performance for the regional bank.
Stock with Huntington Bancshares (HBAN) has also shown extraordinary strength relative to regional banks in general. The stock could be drawing strength from big institutional buyers while potentially increasing in value as the year goes on.