Happy Birthday Justin Bieber: Pay Close Attention to the Biebs If You Want More Money In Your Savings Account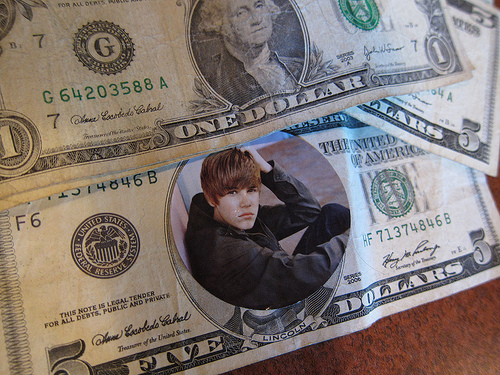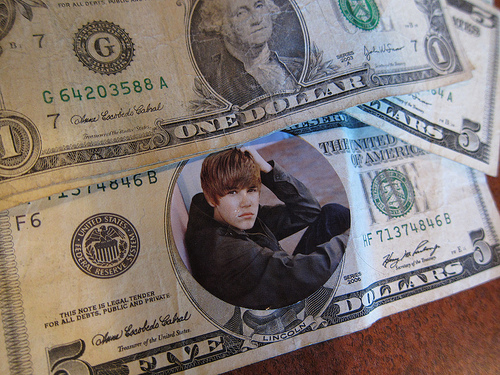 Sometimes making these financial decisions is easier than it seems, which is why it helps to find a financial guru to help you out. You may be tempted to seek advice from the top experts in the business about how to save money, but before taking that step, consider making Justin Bieber your personal financial advisor.
Justin Bieber Makes Forbes' Celeb 100 List
When the media isn't zeroed in on his latest music release, or paying attention to his current love affairs, the public is simply fixated on the rapid rise of Justin Bieber.
Making an abrupt splash on the music scene only four short years ago, Bieber seems to be everywhere doing just about everything — raking in tons of cash, in the process.
There's no doubt that he's currently one of the most successful teens in the world. According to Forbes Magazine, he's earned more than $108 million over the past two years, making him one of the world's highest-paid entertainers. In fact, Bieber was ranked third on Forbes' annual Celeb 100 issue for the second year in a row.
Not bad for a young man on the rise. But even better, Justin Bieber already shows all the signs of being financially responsible, making him a great candidate to serve as your financial guru.
4 Reasons to Use Justin Bieber as Your Financial Advisor
You're probably wondering how an 18-year old can qualify as your financial advisor in 2013. Here are four reasons Justin Bieber is one of the most financially-savvy entertainers today, and why he can help you prepare your finances for the New Year:
1. He Makes Informed Financial Decisions
The fastest way to lose money you're trying to save money is to use it to purchase items you don't like or understand. This is true for something as simple as purchasing a tech gadget to something a bit more complex like investing in the stock market.
In a recent Forbes Magazine article, he shared, "I'm not going to invest in something I don't like; I have to believe in the product." In Bieber's case, the investments he's referring to are private tech startups.
Like Bieber, if you take time to investigate and build confidence in items before parting with your money, you decrease your chances of making poor financial choices.
2. He Knows How to Grow Money
The concept of saving money for many involves placing money into a savings account until it's ready to be spent. But in actuality, saving money can translate into growing money if a person understands how to use banking and investment options available to them.
Justin Bieber not only creates music and invests in over a dozen tech companies, but has also created a very successful biopic, Never Say Never, that pulled in $30 million, and premiered a fragrance,  called Someday, that helped rake in $60 million in retail sales during its first six months on the market.
By following his lead on a smaller scale, you can save money in various types of accounts, like certificates of deposit and money market accounts, and purchase other investments you believe will bring in great returns. Choosing various ways to manage your money can help you save and grow it in 2013.
3. His Lavish Items Are Still Economical
Anyone who has been following entertainment news probably knows that Justin Bieber has been driving around in a blinding, all-chrome sports car. While it looks as though he's probably wasting his money filling up this massive machine at the pump, he's actually busy teaching consumers another financial lesson.
The vehicle is called a Fisker Karma and while it looks very impressive, it actually is a hybrid sports car. It offers an all-electric range of 32 miles, along with an additional 20 miles per gallon (MPG) after the battery is drained. Not bad when saving money is a goal!
4. He's Not Afraid to Be Frugal
Some people don't know that, prior to driving around in his shiny Fisker, Justin Bieber drove an all-black Smart Car (he slyly changed the letters on the back to read "Swag Car"). This eco-friendly vehicle choice is incredibly inexpensive, particularly for someone with Bieber's income.
But his frugal choices don't end there. When his relationship with on-again, off-again girlfriend Selena Gomez was active, their dates were far from lavish. In fact, they've been seen hanging out at arcades or strolling hand-in-hand along the beach, eating $2 ice cream cones.
There's no doubt that this young talent has found ways to enjoy his success to the fullest, while remaining financially responsible.
So as you work on your budget for 2013, consider following his lead by taking time to examine how your money is being spent, finding unique ways to help your money grow, purchasing quality items that still save you money and opting for frugality whenever possible.
(Image: waitscm)