Kevin Ware's Horrific NCAA Tournament Injury Reminds Us All About the Importance of an Emergency Savings Account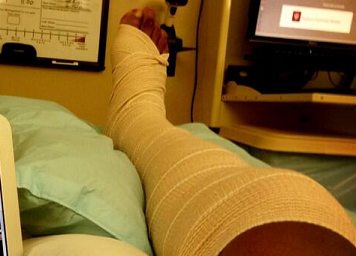 Social media and sports enthusiasts were in a panic when Louisville Cardinals basketball guard, Kevin Ware, sustained a major injury during an Elite Eight NCAA March Madness tournament game against Duke University on March 31. Damage to his right leg occurred when Ware jumped to block a three-point attempt; upon landing, his entire body weight (175 lbs.) was awkwardly put on his right leg, causing his tibia to fracture through his skin.
After a 2-hour surgery and some time to recover, Kevin Ware was released from the Methodist Hospital of Indianapolis to rejoin his teammates in the Final Four. While it's fortunate that physicians believe he will fully recover without further complications, a different kind of complication arises for many athletes who encounter sports injuries: The hospital bill.
Regrettably, not all athletes and their families have sufficient savings account funds in the event of such an accident.
The Student-Athlete and Sport Injuries
It's no secret that medical bills are on the rise. In fact, Sarah Kliff of the Washington Post states that "the average emergency room visit now costs 40 percent more than a month's rent." With such a shocking financial obligation to contend with and the dread of a student-athlete potentially losing his or her athletic scholarships as a result of being put on the side lines to recover, sports injuries can be disastrous on savings funds.
John Infante of Athletic Scholarships, however, expressed that the likelihood of University of Louisville administrators cutting off Ware's scholarship and having him shoulder the entirety of the hospital invoice is low.
"It is highly unlikely that any athlete at Louisville ever pays any of the out-of-pocket costs associated with an injury suffered while representing the school," said Infante. "Most deductibles, co-pays, and other fees are likely handled directly by Louisville. The UL athletic department also requires student-athletes to fill out a form authorizing the athletic department to file insurance claims on the student-athlete's behalf, including against the athlete's own primary insurance policy."
Travis Waldron of Think Progress, who investigated claims protections of a student-athlete explains that while Ware will likely be taken care of, "other athletes have lost scholarships when getting hurt and have shouldered some health costs because other schools' policies aren't as comprehensive."
For students who must absorb the bill, the costs of sports injuries — whether for a simple sprained ankle or for intensive surgery — can result in financial hardship if an emergency savings account isn't in place.
Importance of an Emergency Savings Account
It's not just basketball players like Kevin Ware who can face emergency medical bills, or any other major unexpected costs for that matter, which stresses the importance of setting aside money for such a scenario.
Here are some easy ways to get started with growing your savings account reserves:
Direct Deposit: Saving money can be difficult if you feel like you need to actually go through the motions to save. Instead, set up automatic withdrawals from your checking account to your savings account. Banks and credit unions often provide this service at no extra charge.
Round up Transactions: Certain financial institutions like Bank of America provide unique savings approaches, like rounding up every checking account transaction to the nearest dollar and allocating the extra change into your savings account.
Find Stuff to Sell: While this option takes a bit more work on your end, selling valuables that have collected dust in your home can lead to a significant amount of cash into your emergency savings account.
(Photo: Kevin Ware Twitter)