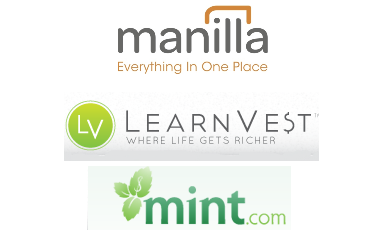 Note: As of July, 2014, Manilla is no longer available.
Whether you have no problem staying within budget or regularly feel the crippling effect of over-swiping your credit cards, you can compare top financial tools online to learn how to cut expenses and save money.
A few sites that have recently received acclaim as top budgeting and organizational tools are Mint, LearnVest and Manilla. A common factor that all three share is that they are free to use and take only a couple minutes to set up and personalize. So in order to compare the top financial tools available on the web, I surrendered my deepest, darkest financial data to each website in hopes of finding a money management tool that aligns with my financial goals.
Read: 10 Best Free Apps for Managing Your Bank Accounts
Your Money on a Deeper Level: Mint Review
Since Mint's early beta stages in 2007, it has partnered with most major financial institutions and service providers, making it extremely convenient to link online bank accounts for the full scope of the ins and outs of your money. Those who enjoy visuals and are looking to gain perspective across a wide range of spending categories might find Mint ideal.
Mint Features
The registration process was straightforward and user friendly. Upon logging into Mint, users are sent to their account overview pages, which provide a snapshot of recent updates from each major category. The following are the features shown on the overview page:
Financial Accounts: This window provides a quick rundown of all the financial accounts that users have linked to their Mint accounts. As an avid online banking customer, this feature was definitely an improvement to my old habits of toggling between four different websites just to understand how much money I have to my name.
Alerts: Users can set custom alerts on a variety of items such as recent deposits, excessive withdrawals or transactions and bill payment reminders via email or text message. This function is a great way to track unusual charges within accounts as well.
Budget: The budget feature of Mint is one that I found to be extremely useful. All transactions between all accounts are aggregated into your most used categories like clothing and accessories, fast food, restaurants and gas for a neat, clean view of your spending habits.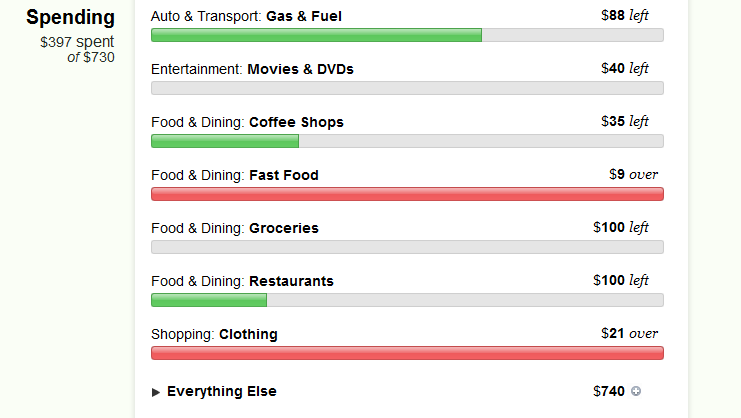 Users can allocate budgets for each category and Mint tracks each budget monthly. Users who are looking for areas to cut expenses can benefit from Mint's clear bar graph layout.
Keep reading: How to Create a Budget You'll Actually Stick To
Goals: This feature allows users to set financial goals (e.g., pay off student loans) for a specific date. Once the goal is established, Mint provides users with a payment plan to make them happen.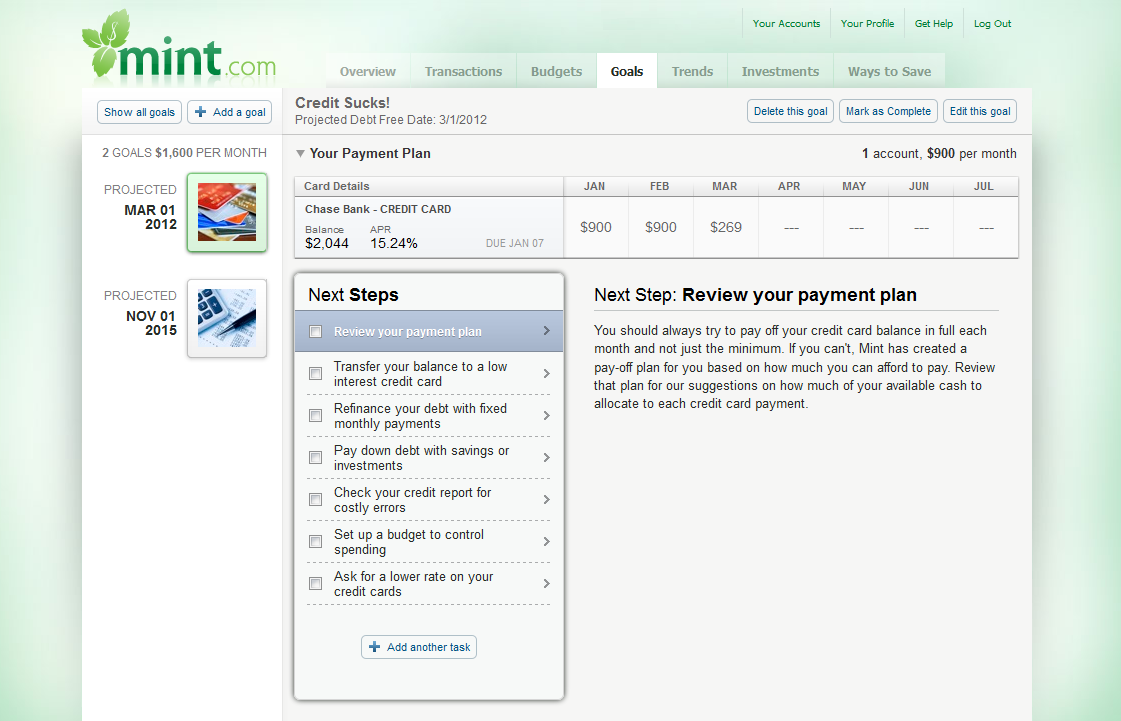 As a young professional, I found this function of Mint to be among my favorites. It clearly outlines the projected monthly balance of each goal, including interest charges, so you know exactly what to expect in terms of goal expenses in the future. As you can see, I have pretty aggressive goals to become debt free.
Trends: The Mint trends application is the most engaging component of this financial tool. This is where spending habits are identified, organized and compared. From the various categories that expenses fall into, purchases are further segmented into specific purchase types within the umbrella category.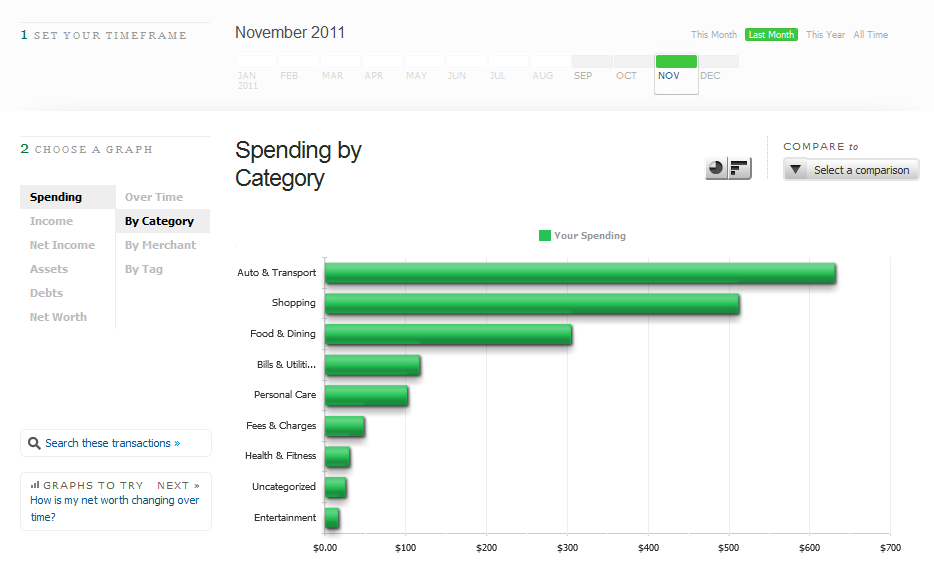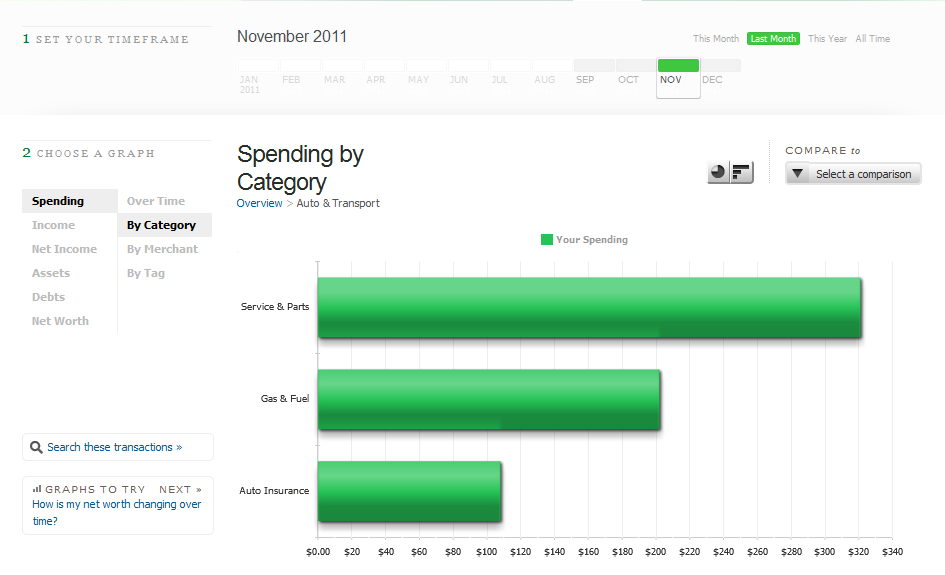 For example, after clicking on "Auto & Transport," users are brought to a more precise graph of the types of purchases within that label. Upon clicking on "Service & Parts," you will be directed to a list with all transactions reflected in the graph.
In addition to providing visuals on monthly spending habits, Mint also allows users to compare how they spend against state and national averages. One interesting fact I learned was that my Chick-fil-A purchases last year were greater than the U.S. average. Uncovering interesting (or concerning) data like this is what makes the Trends feature so appealing.
These are only a reflection of the major functions Mint offers and depending on your level of interest or goals, there is a greater range of functionality with other features like investments, ways to save money and multiple-income settings. Even as a regular internet user, I was hesitant to provide my sensitive financial information. However, Mint assures users that the site is secure, noting that it practices bank-level security measures to protect consumers from fraudulent activity.
Despite the security assurance, Mint might still not be suited for everyone, especially those who just want a quick and basic budget assessment.
LearnVest Review: Money Management Bootcamp
While Mint is considered a financial tracking tool, LearnVest is more of an online coach.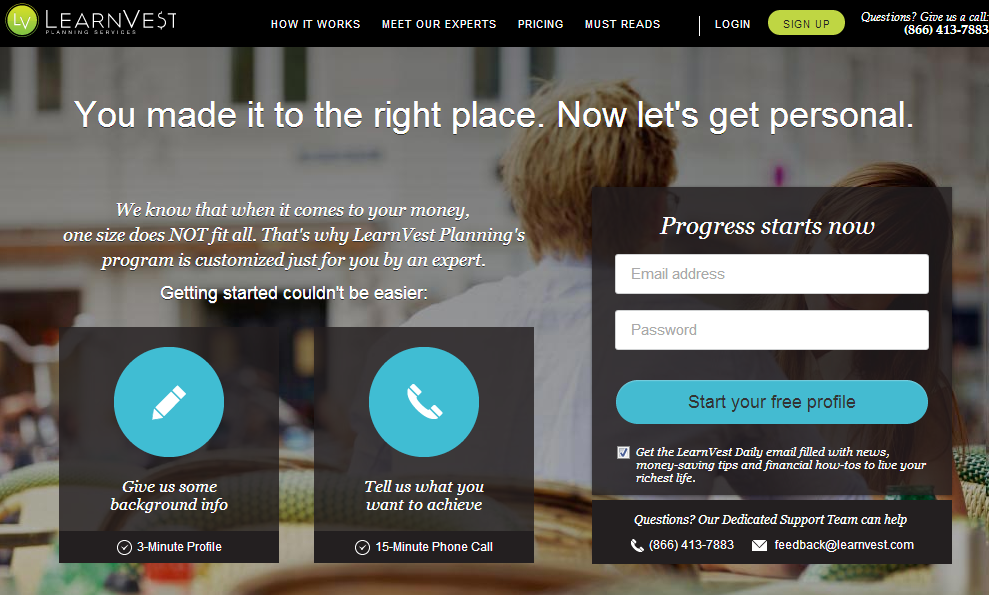 LearnVest Registration Process
After supplying my basic information to LearnVest, I received access to newsletter e-mails, a Knowledge Center which acts as an introductory hub for all personal finance information, and free "boot camp" programs.
Different newsletter categories are available, as well, providing information on a wide variety of topics like savings, family and style.
Boot camps are three to 10 day programs which focus on financially related subjects like becoming a parent, shopping for clothing and navigating one's career. These resources are helpful for college-age adults and young professionals who are interested in getting a handle on their futures and finances.
LearnVest goes one step further in financial education by connecting users with certified financial planners (CFP) who answer questions and perform a free evaluation. For those who are interested in working one-on-one with their assigned financial planners, a variety of service bundles are available to help young adults accomplish their life goals.
In addition to the free service, LearnVest offers a paid-for service that comes with a customized program based on your financial life, step-by-step tips for making progress, as well as on-going support from a dedicated financial planner, simple to-dos and tools, articles and classes to get the most out of the planner's advice. Pricing is $299 for a one-time setup fee and $19 each month after that; however, LearnVest allows users to split up the initial payment to two payments of $149 or three of $99 to help them get started.
LearnVest Budgeting Layout
LearnVest, at its root, is still a financial budgeting tool and resource. The main view, called the "Financial Inbox," separates all transactions listed into category folders. Like Mint, users can allocate customized budget maximums for each category. They can also add new category folders onto the list for regularly used expenses not reflected.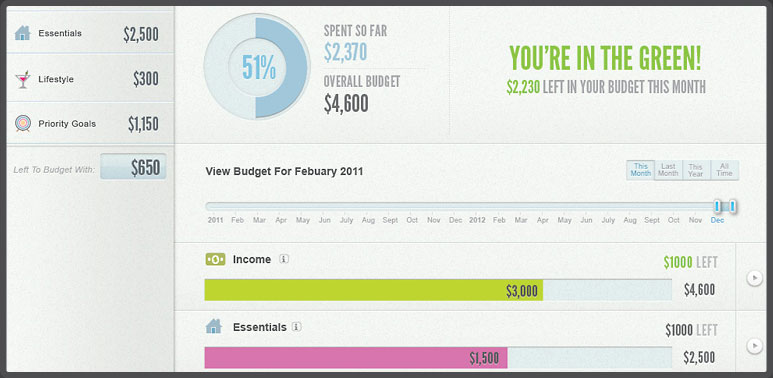 The "Budgeting Tool" menu is where users identify what bills and other expenses are regularly deducted on a monthly basis, in addition to setting specific spending caps on expense categories. As LearnVest users spend money using their debit or credit cards, every transaction gets categorized into a lifestyle expense or auxiliary category.
A feature that I especially enjoy is the ability to track cash expenditures as well by manually entering them into the appropriate folder. While this method does require some diligence in ensuring cash updates are made regularly, it's a nice way for users to realize the full scope of their spending.
Overall, LearnVest is a helpful financial tool to understand how your money is going in and out of your accounts. Resources like the boot camp programs and planning services are also great ways for young adults to understand how their money, expenses and debt affect them in their professional lives. Depending on your needs, LearnVest might be an ideal option to manage your finances.
Bill Management: A Manilla Review
Environmentally friendly households and internet savvy consumers alike can turn to Manilla for a simple and straightforward way to monitor monthly financial obligations. This online financial tool is wholly dedicated to providing users with an easy and clear way to oversee bill statements electronically.
People are often reluctant to go paperless with their bills and statements, many times because they don't want sensitive financial information transmitted via email.
That's where Manilla comes in. Their service allows consumers to store an unlimited number of electronic statements from different service providers. Manilla lets you manage all of your bills and accounts in one secure place, helping you simplify and organize your daily life.
Read: How to Overcome Your 6 Biggest Digital Banking Fears
Signing Up With Manilla
Registering on Manilla was a quick and painless process, taking just over one minute to complete. Upon sign up, users must link their service provider accounts to their Manilla accounts.
The process is easy to follow, and its service provider list has grown since its beta stage. A unique feature that is available with Manilla is the ability to track coupons and rewards, in addition to monthly bills.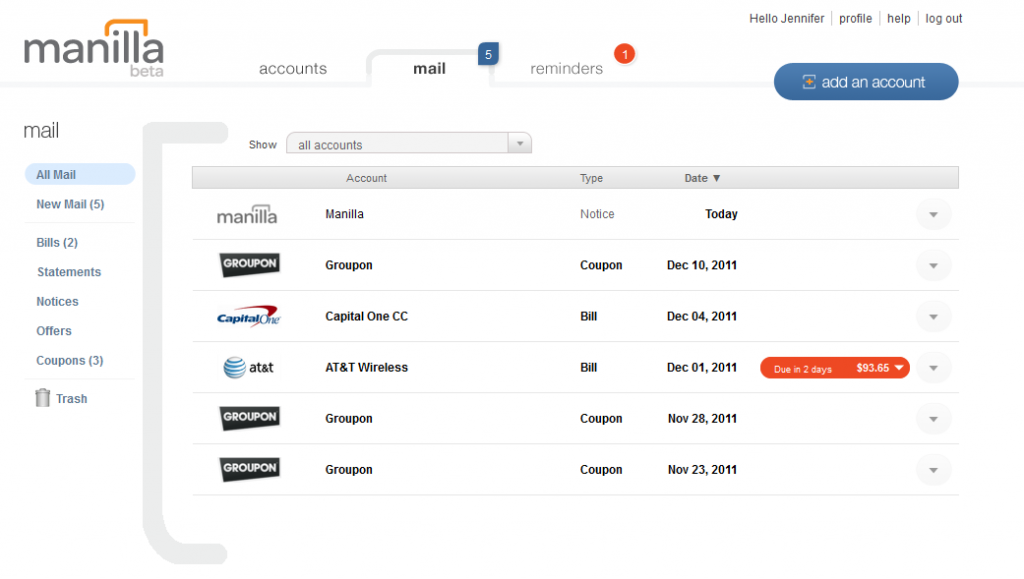 As an aside, a curious observation I made was that magazine subscriptions had such a dominant place in the website. It made me wonder just how many subscriptions belong to individual households — then I realized the value of this category when factoring in entertainment subscriptions like Netflix.
One of the major value propositions for businesses to partner with Manilla is that they get cross-sell and upsell opportunities in a closed environment protected from competitors. Another major incentive is to encourage consumers to go paperless. For this reason, upon linking my accounts, I had to formally agree to cancel paper statements completely and on the spot.
This was not a problem for me, as I already conduct bill payment transactions completely online, but users who were hoping to get the best of both worlds might want to take note of this requirement. Keep in mind that if you do need a paper copy of your bill or statement, you can easily download and print it whenever you need it.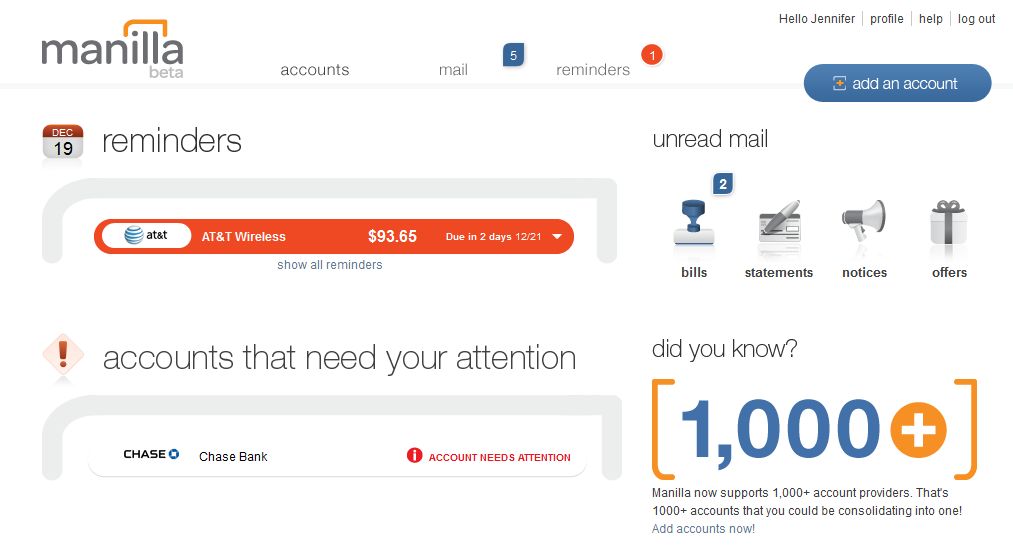 The Manilla interface is clean and simple, and the user homepage provides the bare necessities of managing your bills. Bill payment reminders are clearly labeled, alerting users when bills are coming up.
As specifically a bill payment product, it can be a useful tool for many busy households as more major service providers join the Manilla network.
At the conclusion of my trial run with Mint, LearnVest and Manilla, there was a clear winner for my needs. Mint provides the financial outlook capabilities that I, as a young professional, am interested in exploring. While Mint works for me, it doesn't necessarily mean it'll be optimal for you.
It's important to know what you're looking to gain before you compare top financial tools. Doing so will give you greater clarity on what functions would be most beneficial in managing your money.