Can You Buy a March Madness Victory? (Infographic)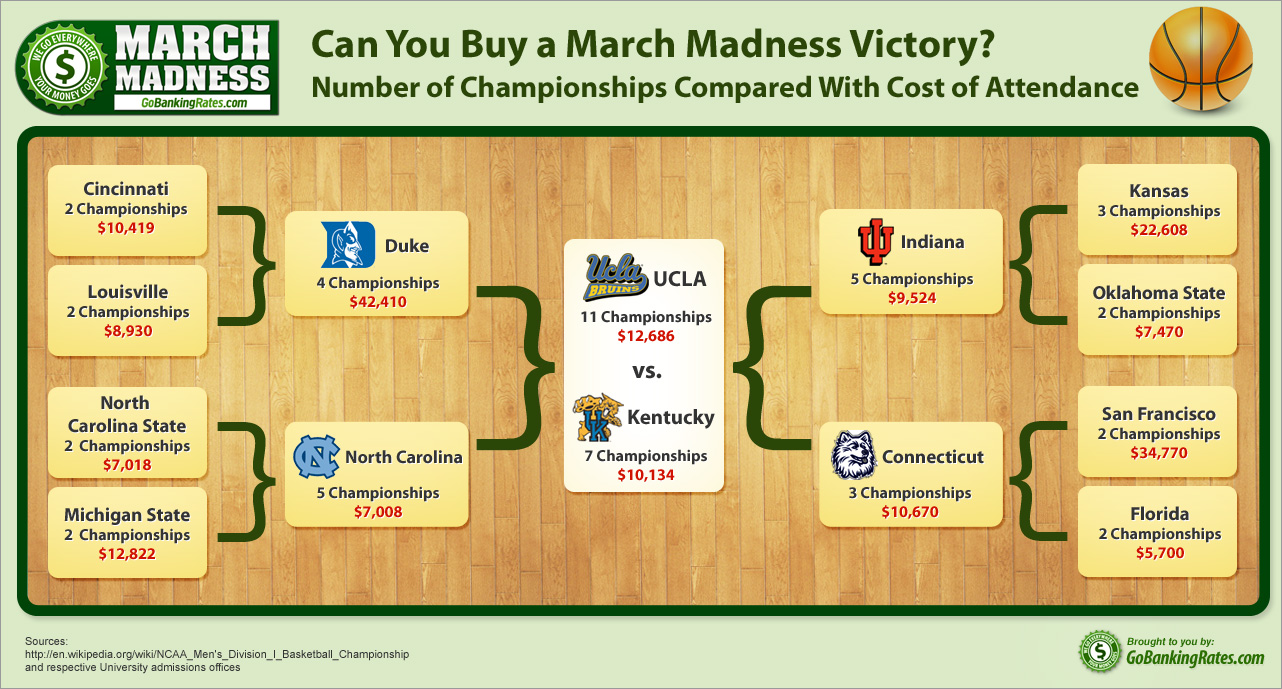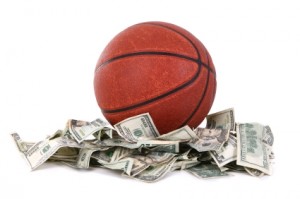 It's March Madness 2012, and Go Banking Rates couldn't let this season go by without creating a bracket…with a financial spin. With the cost of higher education rising every year, we wondered whether there was correlation between the numbers of NCAA Men's Basketball Championships and the cost of attendance at these elite universities.
You won't find March Madness 2012 teams like Murray State and Creighton on our bracket. The Bruins, Wildcats, Tar Heels, Blue Devils and the rest of the teams in the Go Banking Rates bracket have storied basketball programs that have raised their respective schools to legendary status. Every school with 2 or more championships is listed on our bracket, along with its average cost of in-state tuition and fees.
Love this infographic? Click to see all of our recent infographics.
(Click Image to Enlarge)
Share this infographic on your blog or website and tell us your thoughts. Just copy and paste this code snippet:

What we found was that these elite schools don't necessarily charge more for their basketball greatness. In fact, only 2 of the 14 schools are private — Duke and the University of San Francisco. The rest of the schools are public universities that provide affordable options for in-state students.
Least Expensive March Madness Title: Florida
The cheapest price tag on our bracket comes from the 2-time champion Florida Gators, who also boast a world-famous football program (the college home of Tim Tebow) in addition to the basketball team. All this costs Florida residents just $5,700 in-state tuition and fees per year. So if you're a big NCAA fan, University of Florida might just be the best sports program for your buck.
The University of North Carolina at Chapel Hill is also a smart buy. The Tar Heels hold 5 NCAA titles and tuition and fees cost just $7,008 per year. UNC-Chapel Hill is also one of the country's oldest and most prestigious universities, so you'll be getting a top-tier education along with the college hoops.
March Madness Title with the Biggest Price Tag: Duke
If you're looking to cheer on the Duke Blue Devils from the student section, it's going to cost you more than any other team on our bracket. A whopping $40,575 will cover just your tuition and fees. Remember, that doesn't include room, board, books or your student season ticket. Duke University ranks 5th on our bracket with 4 March Madness victories.
Of course, no name is more synonymous with March Madness than the UCLA Bruins. The "Wizards of Westwood" have brought home 11 NCAA titles, far more than any other university. But the tradition of basketball excellence at UCLA, along with their strong academic reputation and location in West Los Angeles makes it one of the most expensive public universities on our bracket. Weighing in at $12,686 per year, it's the second-priciest public school on our bracket after Michigan State.