Are March Madness Universities Charging for Athletics or Academics?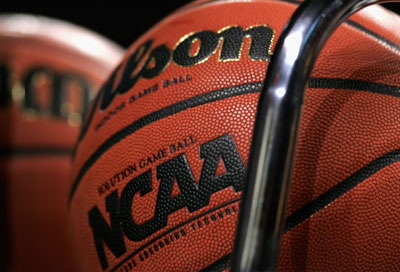 Photo: Roland Martinez
It can't be denied that even the most casual of fans is caught up in the hoopla of March Madness, that feverish admiration for all things college basketball. As the National Collegiate Athletic Administration's (NCAA) Division I Men's Tournament enters the mid-month in the thick of three-pointers, slam dunks and full court presses, 68 of the best teams from some of the best universities across the country pit themselves against each other in a race to the Final Four championship.
And though the "Big Dance" comes only once a year, the intense passion and verve for college sports endures year-round. But can the same be said for academics? After all, it's the reason universities are here to begin with.
It's also one half of a years-long athletics vs. academics debate that's almost as competitive as any basketball tournament. Do universities place more emphasis on sports than studying? Are schools — particularly those competing in the NCAA — allocating more money from student loans and tuition checks to their respective sports programs, and how are students affected by it?
Are March Madness Participants Paying to Play?
The Knight Commission on Intercollegiate Athletics discovered in its 2010 study that colleges have placed in recent years a greater and greater emphasis on spending generously for its athletics programs, seemingly at the expense of curriculum. According to the New York Times earlier this year, the commission reported that the 10 biggest-spending athletic departments allotted an average $98 million in 2009 — $29 million more than in 2005.
What's more alarming, notes the report, is that college sports spending, at that point, began to double and triple the amount dedicated to academics. This was true for various Big Ten schools; according to the Times, Penn State University doled out an average of $111,620 per student for athletics. Academic spending per student, just $18,406.
The Wall Street Journal called the disparity a "spending gulf," and also noted that in the Knight Commission's findings, it summed up the median spending for every student athlete averaged from four, to as much as 11 times, more than that spent on students for academics and education.
Also citing a new Duke University public policy study, the Times noted a 25-year period until 2010 when average public university salaries increased 32 percent for professors and 90 percent for school presidents. Football coaches received salary increases of an astounding 650 percent during that time.
It's ironic for Duke and other universities, which share a significant relationship between the cost of in-state tuition and fees per student for a full school year, and its number of respective titles from the NCAA championships.
(Click Image to Enlarge)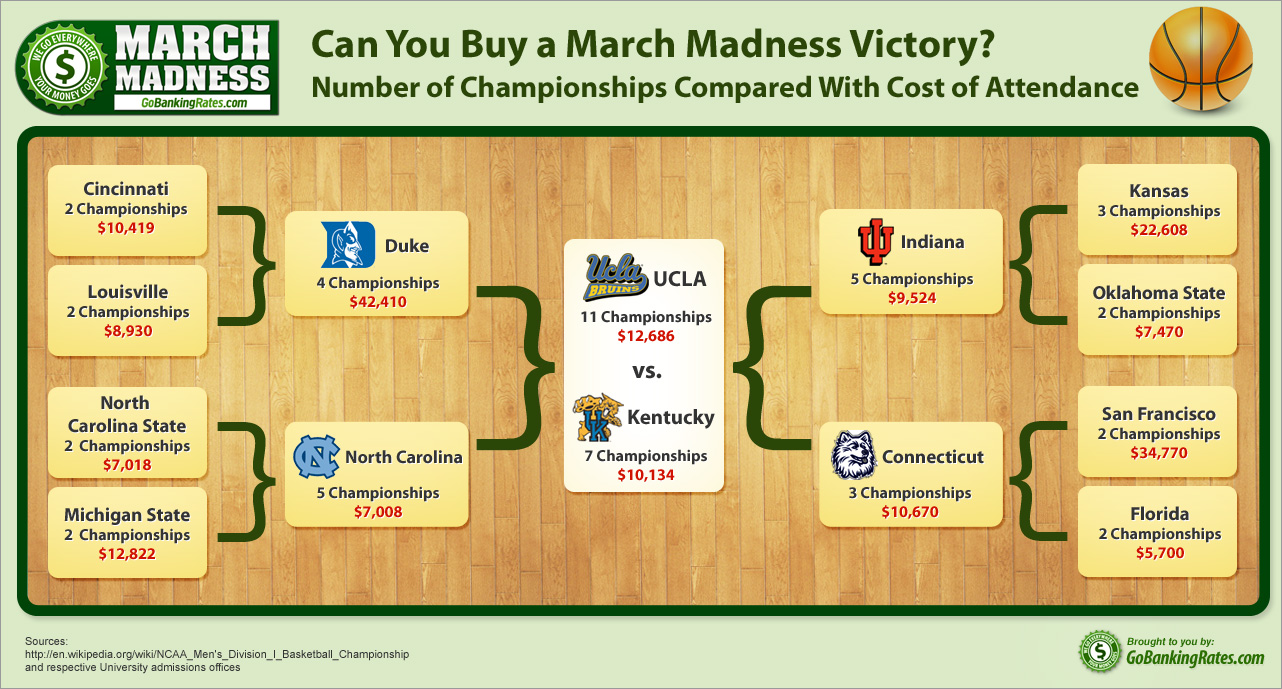 These statistics dispute the Knight Commission's study from 2010 and reveals a surprising notion: Pricier universities hold fewer NCAA championships than more affordable major colleges. The NCAA numbers vary, but shows that costlier Duke — ranked number 10 on U.S. News' National University Rankings — and San Francisco universities haven't received as many basketball accolades as schools with cheaper tuition rates, like UCLA, or the University of Kentucky.
Sporting Scholars: The Academic Progress Rate
Some may call the disparity between collegiate spending for athletics vs. academics more than just a bit wide, and they may balk at the scholarship advantages student athletes are exposed to. Northern Illinois University pointed to a recent USA Today article estimating the median value of an athletic scholarship for a Division I men's basketball player at $120,000 per year.
Is it worth the cost? College sports are an important asset to keeping school spirit, and arguably, academic performance, alive. The Washington Post recounted last year an NCAA policy called the APR, or Academic Progress Rate index, which tracks student athlete progress towards graduating.
Effectively mandating that students perform as well hitting the books as they do on the court, an APR score of 925 out of 1,000, according to the Post, equates the example of half of a team's members in line to finishing school.As recent as last year, the report said, just 10 of 68 teams in the 2011 March Madness tourney were on track to graduate.
The U.S. News University directory reported last week that APRs will become more stringent in upcoming school years. NCAA officials recently enacted rules requiring all NCAA teams to reach a 930 APR by the 2015-2016 school year in order to be a part of postseason play. Just under a year ago, a 945 APR was the average for men's basketball players. Should a school not meet its benchmark, they could be denied scholarship benefits.
Keeping Graduation Rates High
How do the graduation rates measure up? The Washington Post posted this week results of a study by the University of Central Florida's Institute of Ethics in Sport, ranking NCAA graduation rates in the style of a Big Dance scoring bracket.
Studying male basketball students who are expected to complete a college degree within six years, the institute found that 67 percent did graduate, a 1-percent improvement from 2011.
Eight universities cited in the study experienced a 100 percent graduation rate amongst its basketball players. Those include:
Western Kentucky University
Brigham Young University
Duke University
Davidson College
Harvard University
Creighton University
Belmont University
Notre Dame University
Notre Dame, Brigham Young and Belmont each retained their 100-percent graduation rates compared to last year, according to a 2011 U.S. News report. However, U.S. News' University Directory states that if schools are  judged solely by their APR, then the University of Kansas, which has a 91-percent graduation rate, is slated to win March Madness.