How Mardi Gras Affects New Orleans Property Values and Mortgage Rates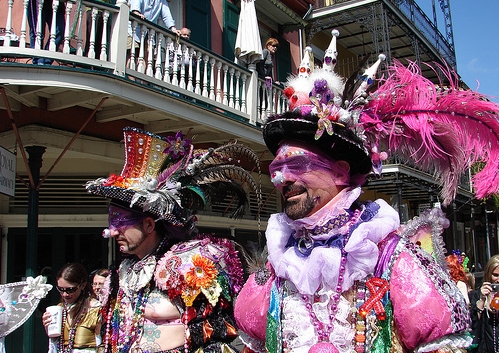 Booze, beads and babes: The perfect ingredients for a wild, unforgettable party. New Orleans will soon be hosting Mardi Gras, just about the biggest, craziest annual celebration in the U.S. Mardi Gras is known to pump millions of dollars into the local economy, but what does it mean for mortgage holders in the area? Do home values benefit in the same way local businesses do from days-long festivals like Mardi Gras?
The Economics of Mardi Gras
Mardi Gras is not a singular event, but more of a season marked by Carnival parades, parties and other festivities that lead up to Fat Tuesday. New Orleans serves as the epicenter of the celebrations, where hundreds of thousands of people travel from across the U.S. and beyond to hang out, eat king cake, drink beer and toss strings of plastic beads.
With tourists and residents alike spending money in costume shops, bars, hotels and more, the direct economic impact of Mardi Gras has been estimated to be anywhere from $144 million to more than $500 million, depending on who you ask. Regardless of the exact number, however, it's certain that the southern Louisiana economy would not be the same without Mardi Gras money coming in every year.
What Affects Property Value in New Orleans?
Of course, the things that make Mardi Gras such a great time are not necessarily the same characteristics you would want to find in the neighborhood you plan to live in for the next 30 years or longer. Big events such as Mardi Gras attract large crowds of out-of-towners and create an environment conducive to increased criminal activity.
For example, thebestofneworleans.com reported that in 2012, 1,056 8th District "arrest actions" (actual arrests as well as summonses) were made during Carnival season. Additionally, drug arrests increased 200 percent over 2011, and 33 guns were found by police.
Crime and property values do not mix, with heightened crime numbers often leading to lower home values. Even so, New Orleans homeowners don't have to worry about this annual event putting a damper on their property values.
Property Valuation in New Orleans
Real estate blogger Peter G. Miller points out that the housing market in New Orleans is quite unique. In a post on ourbroker.com, he explains "A mansion with huge oaks can be on the same block as a small home that looks ready for demolition. Uncut grass grows in empty lots where homes once stood, victims of Katrina or just old age and little money."
Miller adds that the architecture in New Orleans is unlike any other city, as well, with deceptively small, cramped homes stretching along long, skinny lots, giving way to high ceilings and generous square footage — "shotgun" architecture, as he calls it.
All of these factors make property valuation in the city complicated. Even so, New Orleans remains a highly-desirable place to live despite residual Katrina damage — perhaps even because of it, since much of the rehabilitation efforts in the city have brought new buildings and new jobs to the area. Home values are reflective of this, and Mardi Gras celebrations only help, supplying money and jobs needed to continue rebuilding New Orleans.
A January 2014 report by the New Orleans Metropolitan Association of Realtors found home prices in the New Orleans metro area continued to rise through 2013, with some parts of the city experiencing jumps as high as 15 percent. In fact, 2013 prices in all of New Orleans were up 8 percent from 2012 for an average $325,348.
Mardi Gras and Mortgage Rates
Zillow shows that mortgage rates in New Orleans are competitive with the national average. Following the national trend of sharply rising interest rates following a period of historical lows, the graph below shows that we at least know Mardi Gras hasn't made it any more expensive to finance property in the city.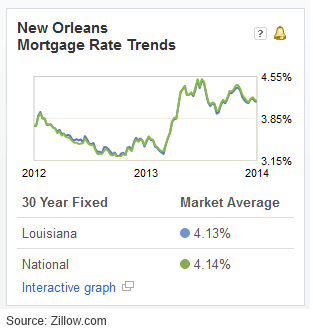 While major festivals often cause cities to lose money, Mardi Gras is a big money maker for New Orleans and that prosperity translates to property values as well. Homeowners can breath a sigh of relief, as the wild antics and increased crime associated with Mardi Gras festivities do not impact their home values negatively, and if anything, make the city of New Orleans an even more desirable place to call home.
Photo by Mark Gstohl