How Much Is Your Dollar Worth Around the World?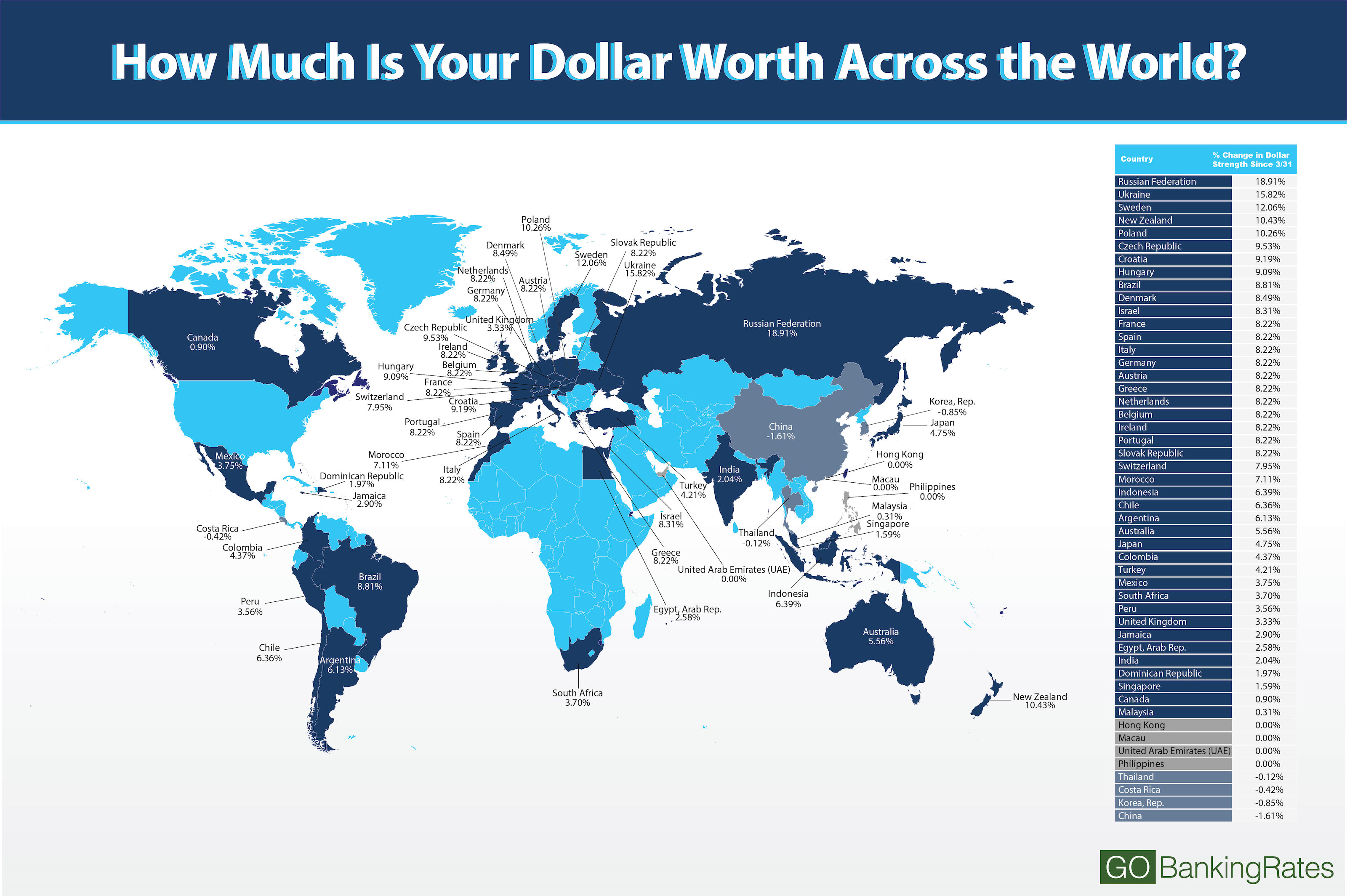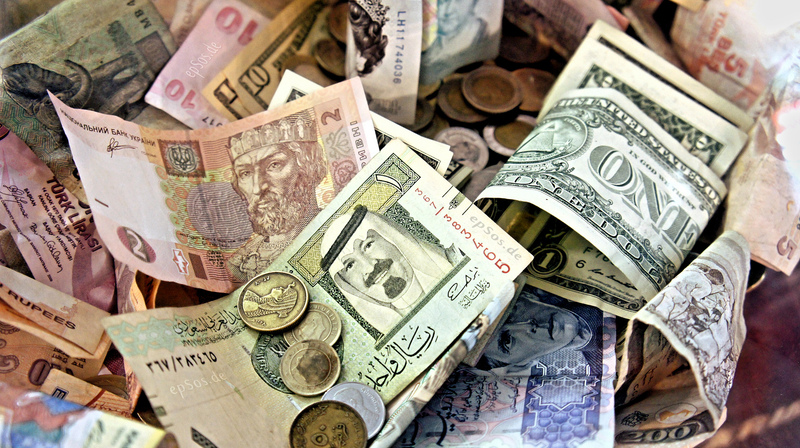 When traveling internationally, a major cost that can be overlooked is the conversion rate between countries. Depending on your length of stay and travel plans, the amount of money you need to convert can vary widely, as can the amount of money you could lose simply by doing so. According to CardHub.com, on top of exchange rate, financial institutions and money converting services often also charge fees; for example, the two biggest banks with the worst expenses are SunTrust and U.S. Bank, which charge $10 conversion fees.
After already saving up for a vacation, purchasing the plane ticket, booking your lodging and devising your travel budget, the last thing you might think of is the cost associated with being able to spend money abroad. To help those planning a vacation during the upcoming holiday season, GOBankingRates looked up the exchange rates for the 50 most traveled international destinations by Americans. Conversion rates are accurate as of Oct. 24, 2014 and are subject to change.
Related: 7 Steps to Secure Your Finances Before a Long Vacation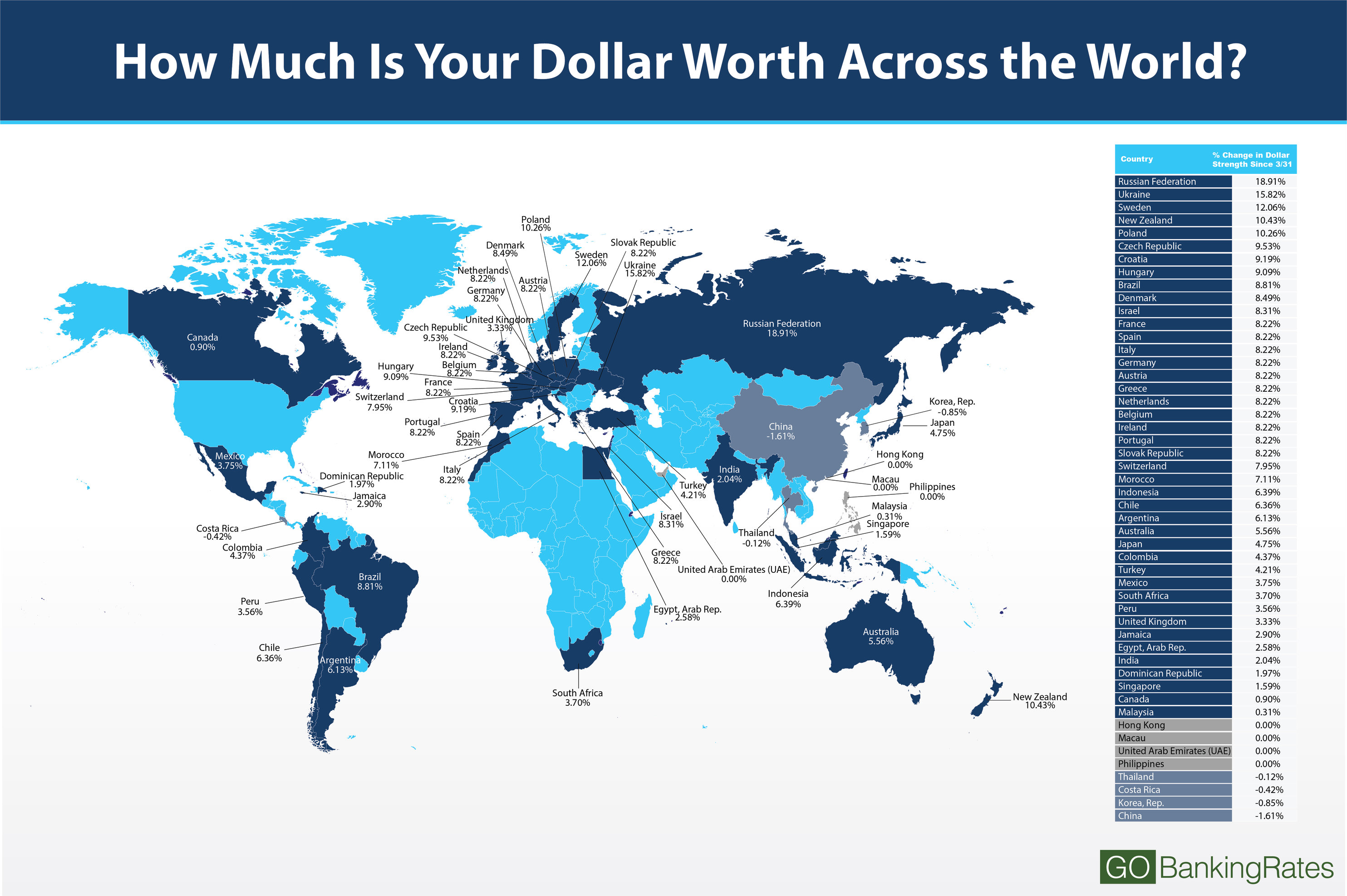 Below are details about the top 25 travel destinations. Maybe a country with a great exchange rate was never on your radar; or you never thought to visit a country you'd actually really enjoy.
Keep reading: The 6 Best Summer Vacation Savings Accounts
Countries With The Best Exchange Rates
Austria
Tourism is on the rise in Austria, which saw record numbers of visitors over the summer, a great sign for the nation's economy. If you're one of 24 million tourists visiting Austria each year, don't miss Schönbrunn and Belvedere Palaces in Vienna, or the city's Vienna State Opera.
Belgium
This country offers a similar feel to Paris but with far smaller crowds, pulling in around 7.6 million visitors yearly. Don't miss the Musical Instruments Museum, Cathedral of St. Michael and St. Gudula, or the comedic Manneken-Pis — a small bronze sculpture of a little boy urinating in a fountain.
Brazil
The 2014 FIFA World Cup greatly boosted Brazil's exposure, despite huge costs topping $11.5 billion. The upcoming 2016 Olympics in Rio De Janeiro will be another huge draw for tourists along with Brazil hotspots like Christ the Redeemer and Copacabana. With the country only pulling in $6.9 billion from tourism in 2012, it could use the extra revenue from travelers.
Croatia
Dubrovnik in Croatia recently became familiar to many viewers of HBO's "Game of Thrones" as the shooting location for King's Landing. The country also boasts sparkling beaches and 1,244 islands along its Adriatic Coast. In this year alone, tourism from North America to Croatia increased by 17.5 percent.
Czech Republic
Prague is one of the most popular destinations in Europe, with majestic landmarks like the Charles Bridge, Prague Castle and astronomical clock, as well as a bustling and low-cost night life. The 9 million tourists who visit the Czech Republic each year bring $8 billion with them, helping strengthen the country's expanding economy.
Denmark
Americans probably don't associate Denmark with sandy beaches, but this feature draws many European tourists from neighboring countries to Danish shores. The fairytale country receives 8 million tourists a year, and its most popular attractions include the Rosenborg Castle, Tivoli Gardens and Ny Carlsberg Glyptotek art museum.
France
France sees the most tourists of any country in the world, welcoming 83 million travelers in 2012 and enjoying an influx of around $60 billion in tourism dollars each year, second only to the U.S. Paris is home to the Eiffel Tower, Louvre and Palace of Versailles, but other big draws are the French Riviera coastline and the country's pastoral countrysides.
Germany
TripAdvisor released its travel trends for the 2014 holidays season, and Berlin made the list of the top 10 most searched-for destinations this winter. Visitors can see Berlin decked out in holiday lights, as well as visit the Brandenburg Gate, Reichstag and site where the Berlin wall stood. Germany also boasts famous castles like the Heidelberg and Neuschwanstein.
Greece
Greece sees about 15 million international visitors a year, a boost for its still-struggling economy. Tourism makes up 20 percent of Greece's GDP and 700,000 jobs. Classic tourist attractions include the Acropolis, Parthenon and Knossos, but Athens is also a favorite for its booming nightlife.
Hungary
Popular tourist spots in Hungary include Budapest's Chain Bridge and state opera house, as well as the country's famous Hungarian spas. Tourism generates $6 billion for the country each year.
Indonesia
Bali is a favorite of travelers those who live nearby in Asia and Australia, and the country tends to get between 7 and 8 million arrivals a years, with an upward trend in tourism in the last three years. Income from tourism brings in over $9 billion a year. Popular tourism spots include the Bali Safari and Marine Park, Ubud Monkey Forest, and temples like Borobudur and Pura Luhur Uluwatu.
Ireland
Ireland offers a number of natural points of interest, from green lush fields to the Cliffs of Moher or the Giants Causeway. Dublin is the most popular tourist spot, with points of interest such as Dublin Castle, Spire of Dublin, the Book of Kells and the Guinness Storehouse. Ireland took in $3.3 billion from tourism in 2013, according to a survey from Deloitte and Oxford Economics, and a third of all international visitors to Ireland come from North America.
Israel
Approximately 2.8 million travelers from all over the world make the pilgrimage to the Holy Land each year, spending around $6 billion in Israel. This tourist destination weaves ancient and modern events, spiritual significance and culture into a unique and immersive travel experience.
Italy
Rome, Venice, Florence, Tuscany — it seems every inch of Italy offers romance and culture to visitors. American tourists alone spent almost 4 billion euros ($5.4 billion) and the number of arrivals from the United States is expected to rise into the holidays.
Morocco
Enchanting Morocco is Africa's top tourist destination and was named by the UN World Tourism Organisation as the third most tourist-friendly country in the world, seeing a 7.2 percent increase in visitors from 2012 to 2013. Djemma El Fna Square, Majorelle Garden, Koutoubia Mosque and the D'Zoud waterfalls are all popular stops in Marrakesh, and travelers can go beyond to find dunes, the Atlas Mountains and kasbahs unique to the country.
Netherlands
Amsterdam was also named a top winter 2014 destination by TripAdvisor. Visitors might get a chance to ice skate on the city's canals if they freeze, but if not they can still visit famous museums like the Rijksmuseum, Hermitage or Van Gogh, or get a behind-the-scenes look at Heineken's brewery.
New Zealand
The epic backdrop for films like "The Lord of the Rings" series, the islands of New Zealand offer astounding biodiversity and breathtaking views. The country is also on track for an 11-year plan to double the contribution tourism makes to its economy, be pulling in $41 billion by 2025.
Poland
Warsaw is a gem of a city rich with architecture and culture, and sites like Auschwitz and Krakow have a lot to offer history buffs. Poland co-hosted the UEFA Euro 2012 soccer championship, getting a big bump in tourism.
Portugal
Portugal sees more than 7 million tourists each year, and each spends an average of €104.23 ($130.13) a day while visiting, according to Portugal's National Institution of Statistics. Tourist hotspots include Portugal's sunny beaches and world-famous surf locale, Nazaré. Lisbon remains a popular draw with beautiful sights like the Jeronimos Monastery, São Jorge Castle and Belém Tower.
Russia
The Red Square in Moscow is home to some of the most iconic Russian landmarks like the Kremlin and St. Basil's Cathedral. Tourism to Russia has been on the rise in recent years, as hosting the Sochi Winter Olympics and the upcoming 2018 FIFA World Cup has generated a lot of interest in Russia as a travel destination.
Slovak Republic
The Slovak Republic offers a number of famous and impressive castles like Devín, Bratislava and Bojnice. The High Tatra Mountains are also a big draw for tourists, offering skiing, hiking and other outdoor activities. Slovakia gets between 5.5 and 6.5 million tourists each year, and tourism made up 2.7 percent of the country's GDP in 2013.
Spain
With 57.7 million visitors in 2012, Spain's tourism industry pulls in fewer visitors than France, but the country rakes in similar tourism revenue of $63 billion a year. With Barcelona on the Mediterranean Sea, the Alhambra fortress in Granada and the capital of Madrid, tourists will find plenty of chance to relax or go sightseeing.
Sweden
Tourism only accounts for 2.9 percent of Sweden's GDP, but it is still a popular destination for winter sports like riding reindeer and dog sleigh, skiing, and ice fishing. But the summer is also a great place to visit — the country saw a record 25 million visitors during June, July and August of this year.
Switzerland
Home of the famous Matterhorn and the Swiss Alps, Switzerland is a famous spot for skiing and other winter activities. Nestled in the Alps, Zurich also offers a number of wonders to visitors, inluding Fraumünster and Grossmünster churches and nearby Lake Zurich. Switzerland gets around 8.5 to 9 million international tourists a year. The industry is important to Switzerland, with tourism revenue making up 5.7 percent of the country's GDP in 2010.
Ukraine
From Kyiv, often called the Paris of Eastern Europe, to sprawling Crimean beaches and winter resorts in Lviv, Ukraine has a variety of experiences, beauty and charm to offer tourists. Travel to Ukraine, however, has been hit hard by the worsening conflict with Russia and pro-Russian separatists. But western cities like Kyiv, Lviv and Odessa are far from the Russian border and generally safe for travelers.
Disclaimer: Currency conversion rates are accurate as of Oct. 24, 2014, and were obtained from the X-Rates database. GOBankingRates cannot guarantee the accuracy of the conversion rates listed above, as the nature of currency conversions can change regularly. Before making transactions, you should confirm current rates and how potential conversion changes could affect your transaction. Yearly visitors and tourism revenue was obtained from The World Bank.
Edward Stepanyants contributed to this report
Photo credit: epSos .de