Myrtle Beach Ranks No. 1 for Affordable Summer Travel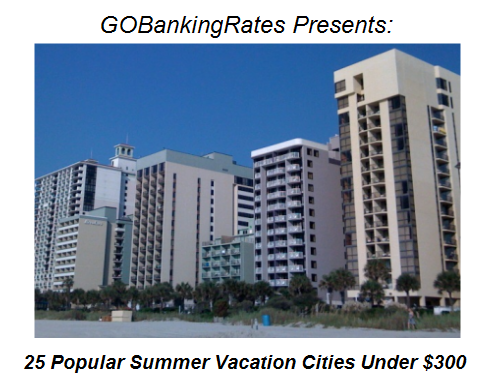 With the summer months fast approaching, many savers are looking for an affordable destination for a summer trip. After all, summer vacations can rack up quite a pricetag; a 2013 study from American Express found that 31 percent of adults plan to spend more than $1,000 per person on their trips.
To help savers get the most out of their vacations, GOBankingRates surveyed the most popular summer travel destinations in the United States, ranking the 25 cheapest; coming in at No. 1 was South Carolina's Myrtle Beach.
>>>Read the complete results of the study here.
According to CheapOair, the average round-trip cost for a flight to Myrtle Beach International Airport (MYR) is just $234.57 per person — undoubtedly one of the reasons nearly 15 million people visit annually.
Whether travelers are flying solo or packing up the family, Myrtle Beach proves a fun and affordable travel spot for all ages. From all-inclusive oceanfront resorts to motels priced as low as $25-45 per night, visitors can choose an accommodation that will work with their savings account. There are also an abundance of dining options ranging from casual eateries to gourmet dining experiences.
Free and Low-Cost Activities
Additionally, the Myrtle beach area is home to 60 miles of shoreline for water sports and summer beach activities. For travelers on a tight budget, Myrtle Beach often has free summer festivals and events, concerts, fireworks and movie screenings, as well as free entry to a wildlife exhibit and art museum.
Visitors to Myrtle Beach can also enjoy a number of activities and deals for under $30 per person. This includes admission to the popular Family Kingdom amusement park ($26.95 plus tax) or the Splashes Oceanfront water park ($21.95 plus tax). Tickets to Brookgreen Gardens, a national historic landmark, are $14 per person, with additional discounts for seniors and children.