Celeb Chefs Paula Deen, Guy Fieri Share Top Ways to Save Money on Christmas Dinner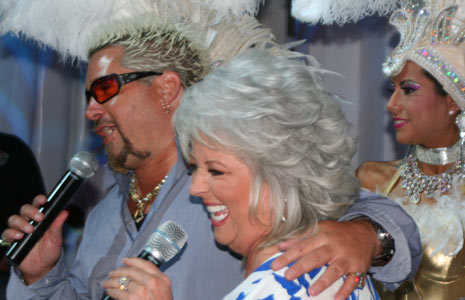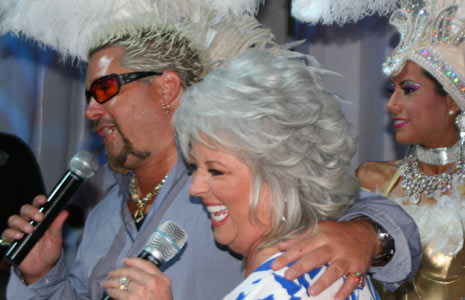 One of the best things about celebrating the holidays, besides spending time with friends and family, of course, is all the great food. However, if you're the one tasked with hosting a holiday meal, you may be worried about what all those delicious dishes will do to your budget (and perhaps your waistline, too). But not to worry, it's possible to save money on cooking  meals sure to be approved by top foodies like Paula Deen, Guy Fieri, Emeril Lagasse and more.
Below are some of these celebrity chefs' top ways to save money on preparing a Christmas meal.
Paula Deen's Top Ways to Save Money on Preparing Christmas Dinner
One of the toughest tricks to making a great meal for Christmas is saving money in the process. Some recipes call for an extensive list of pricey ingredients that make it nearly impossible to cut corners on spending. Luckily, Paula Deen has provided some great tips in the past to help make your Christmas meal (or any meal throughout the year) a bit less expensive:
1. Create a Shopping List
The first tip Paula provides is creating a shopping list. As we all know, going shopping while hungry or without a list can be disastrous to our bank accounts. Paula recommends writing down every essential item needed, including milk, bread, eggs and butter. By having the correct items written down before entering the store, we may feel a bit less tempted to purchase any and everything we see.
2. Shop with Specials in Mind
Whether you're clipping coupons or taking advantage of a discount day at your local grocery store, shopping with specials in mind can not only help you find the items you need to make your recipes come to life, but help you save a ton in the process. Take time to look through your weekly ads, find out when your grocery store's discount day is and even consider signing up for a loyalty card to help you save big while putting your Christmas recipes together.
3. Plan Everything
Creating a grocery list and clipping coupons are two great ways to plan, but you can take it a step further by planning for extras like plates, forks, cups, platters, etc. Think about where you can find them that could cut costs for you (like a dollar store), so you won't find yourself making last-minute purchases at your neighborhood convenience store.
Also, don't be shy about shopping for generic products, particularly when purchasing salt, pepper, flour, sugar and items that most likely won't alter the flavor of your meal. If you plan carefully enough, you can enjoy your recipes at a fraction of the cost.
Budget Christmas Recipes from Paula Deen, Guy Fieri and More
So have you been looking for some fantastic recipes that can excite your Christmas guests without breaking your bank? You're in luck! Below are some great recipes from top chefs that will make your gourmet dreams come true:
Crispy Herb-Roasted Chicken (Emeril Lagasse)
Emeril Lagasse is known for creating some fantastic recipes and his Crispy Herb-Roasted Chicken is no exception. This chicken recipe makes a great main dish and it won't hurt your wallet, either. Some primary ingredients include a half chicken, kosher salt, white pepper, lemon, butter and garlic. The total time to create the meal (prep and cook) is nearly an hour and a half, but the time spent will be well worth it.
Wayne's Beef Macaroni and Cheese (Paula Deen)
This spin on traditional macaroni and cheese from Paula Deen will make a fantastic side dish for your Christmas dinner this year. The meal takes a total of 40 minutes to prepare (prep and cook time) and serves 8-10 people. The ingredients are very inexpensive, including basic salt and pepper, elbow macaroni, grated cheddar cheese, ground beef and canned tomatoes, with an outcome that is sure to make your taste buds smile.
Tangy Almond Garlic String Beans (Dave Lieberman)
Dave Lieberman is known for offering eager recipe seekers quick, easy and inexpensive meals. His recipe for Tangy Almond Garlic String Beans makes the list. The recipe's ingredients include string beans, sliced almonds, garlic, ginger and red wine vinegar. The meal takes a total of 18 minute to prepare.
Chocolate Pots De Crème with Cherry Whip (Claire Robinson)
Claire Robinson is popular for her show on the Food Network called 5 Ingredient Fix, and she certainly  has not failed us with low-cost recipe that will serve as a tasty dessert for your guests. The recipe calls for only bittersweet chocolate, heavy cream, sugar, egg yolks and cherry jam, but promises to have all of the complexities of a 15-ingredient dessert.
Gingerbling Christmas Drink (Guy Fieri)
If you're looking for a reason to get a bit tipsy, but don't want to serve thick eggnog, The Food Network's Guy Fieri has a fantastic alternative: Gingerbling. This yummy and inexpensive recipe calls for an apple slice, sugar, ground ginger, nutmeg, cinnamon Schnapps, vodka and ginger ale. Follow the directions and in five minutes, you'll have a drink that will create some exciting scenes at the Christmas table.
As you can see from the recipes above, there are great ways to save money on preparing Christmas dinner. So whether you use just one or all of the recipes offered by these top chefs, you're sure to have a Christmas dinner to remember.
Image: britabroadinusa.blogspot.com