We're Proud Recipients of the 2013 Plutus Award for Best Use of Social Media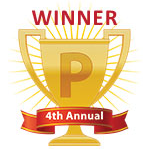 The personal finance blogging community selected GoBankingRates for Best Use of Social Media in the 2013 Plutus Awards on October 17, 2013 in St. Louis.  We want to sincerely thank all of the people who voted for us to win and all who dedicate their time to putting on the Plutus Awards each year.
This year marks the fourth annual Plutus Awards, created and organized by leading personal finance blog Consumerism Commentary. Winning the Plutus Awards is an honor given to companies that offer community-friendly services and products that reflect core ideals of the personal finance blogging community. GoBankingRates is honored to be held in the same regards as major players in the space: Ally Bank, Bankrate, Experian and Mint.
We look forward to continuing our efforts to reach out and deliver customers with the best banking rates and personal finance information available, via social media platforms or otherwise.