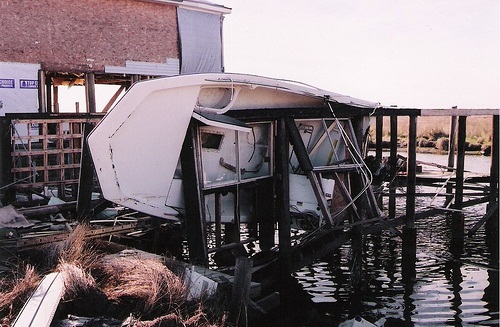 With hurricane Sandy making headlines this week, Americans are reminded that natural disasters like tornadoes, hurricanes, floods and fires affect millions of people each year, and developing an emergency preparedness plan ensures they're ready for the worst.
But while it's smart to create a disaster preparedness kit stocked with batteries, a radio, flashlights, water, first aid and nonperishable foods, it also pays to create a plan that addresses your finances and savings. A natural disaster can happen at any time, and you won't have time to organize your money matters after the fact.
The time to prepare your finances is before a natural disaster occurs — so Go Banking Rates has determined the five most important steps to getting your finances ready for a natural disaster before one hits.
1. Evaluate Your Insurance Policy
A standard homeowner's insurance policy protects your property and belongings in the event of a fire, theft or a tornado. The policy covers the cost to replace your belongings, as well as the cost to rebuild your home. However, most policies do not cover floods and earthquakes.
If there's a high risk of flooding or earthquakes in your area, you need a supplementary policy that will cover gaps in your existing homeowner's insurance policy. Talk to your agent about flood and earthquake insurance. This reduces your out-of-pocket expense and helps you recover financially after either disaster.
Additionally, familiarize yourself with details of your insurance policy. What are you coverage amounts? What is your deductible? Does the policy cover the cost of temporary housing? If you've made upgrades to your house or simply feel that you have inadequate coverage, talk to your agent and increase your coverage. The better the coverage, the less you pay out-of-pocket.
Are you a renter? If so, you have options, too. Obtain a renter's insurance policy as soon as you sign a lease. You will need your own policy to protect your belongings in the event of theft or damage to the property.
2. Keep Digital Records
For insurance purposes, walk around your house and take pictures of your personal belongings like electronics, jewelry and furniture. Also, take photos of the back and front of your house, as well as picture of upgrades to the house.
A good place to store these photos is in a fire-proof safe along with your insurance policies and other important financial documents (bank statements, credit card statements). But if forced to evacuate in a disaster, or if your home is completely destroyed, it can be difficult to retrieve this information.
Keep original copies of important documents in a fire-proof safe, but store digital copies of the same information on a cloud server. Create an account with any cloud server, such as DropBox or iCloud. Scan copies of your documents and then upload these documents to the cloud. Your information remains safe and secure on the server, and you can access the documents from any computer in the world.
3. Don't Rely on an Emergency Savings Account Alone
When preparing for a disaster, always consider the possibility of leaving your home and evacuating to a distant area. You may only evacuate for one or two days. Then again, you might evacuate for an entire week or longer. In this happens, you need access to cash, so start stockpiling it.
Set aside a percentage of each check and create a disaster preparedness fund. This money can pay for transportation, hotels and food. Usually, the bank is the safest place for this money, but in the event of a natural disaster, power outages can affect your ability to withdraw cash from an ATM. With this said, find a secure location in or near your house to store your emergency cash.
4. Protect Your Credit in a Natural Disaster
Regardless of the fact that you're dealing with the aftermath of a natural disaster, your creditors will want their money. Understandably, your credit card bill is likely the last thing on your mind, but if you want to keep your credit in tip-top shape, alert creditors to your situation.
As part of your emergency preparedness plan, keep a record of all your creditors, their phone numbers and your account numbers. You can store this information in your disaster preparedness kit, inside a safe or on your cloud server (at your own risk).
If you're out of work because of a natural disaster and can't make a payment, contact your creditors before your due date. In all likelihood, your creditor has some type of disaster relief program that temporarily suspends payments for one or more months. Interest may still incur, but you avoid late fees and negative remarks on your credit report.
5. Keep a Credit Card Cushion
In a perfect world, your emergency savings account will completely sustain you in a natural disaster. But if you don't have enough saved, credit cards can come to your rescue. Always leave a cushion on your credit cards and keep at least one credit card with your emergency kit.