11 Ways to Save Money When Booking Last-Minute Holiday Air Travel

From American Airlines to Southwest, here's how you can save money on last-minute flights.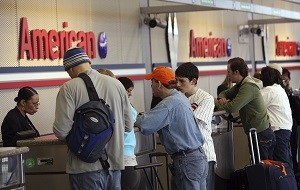 With the holidays quickly approaching, procrastinators leaving town are in a panic to find deals on last-minute flights. And this year, the demand for flights is high.
"It's going to be a record-breaking number of passengers this year in the [airline] industry," said Thomas Spagnola, senior vice president of supplier relations for CheapOair, a fare comparison website. "Thanksgiving is going to have 25 million air passengers from Wednesday through Sunday on just U.S. flights. Christmas will be record-breaking as well."
Typically, the best airfare prices are found 30 to 60 days before the departure date, said Scott Wainner, CEO of flight and hotel search engine Fareness. "You're generally going to save money if you book sooner," he said.
But still, many people drag their feet when it comes to booking airfare. And with the high demand of the holiday travel season, airlines know that travelers are willing to get where they need to be — regardless of the cost.
If you're worried about not being able to afford airline tickets because you waited to long, don't fret — there are a few ways you can still save money on holiday travel and find last-minute travel deals.
Related: 10 Costly Holiday Travel Mistakes You Might Be Guilty of Making
1. Comparison Shop With the Best Sites for Last-Minute Flights
You might be in the habit of using airlines' websites to book flights during the holidays. But if you're trying to save money on a last-minute flight during the holidays, your best bet might be an airfare booking site instead. Some websites you might consider using:
Not only will some sites help you compare airfare prices among airlines, but some of them even offer discounts on flights. CheapOair, for example, regularly offers discount codes, said Spagnola.
2. Vary Your Trip Length
"There are all these rules that people have, like 'Book on a Tuesday' or whatever it may be," said Wainner. "But one of the ways we find that consumers can save money is if they vary their trip length."
Let's say you want to travel from New York to Los Angeles during the Christmas holidays. Instead of staying in Los Angeles for five days, you might score cheaper airline tickets if you stay for seven instead. Or, perhaps it's the other way around; you'll save more money by cutting your trip down from five to seven days. It really just depends on the airline.
"By saying you want to go for five days, or six days, or seven days or eight days, your ticket price can go from $400 to $800," said Wainner. He added, "You really need to be able to see what the prices are for every different possible travel date — even if you're booking last-minute." You can do this be using a site like Fareness.com, which lets you view the lowest-priced round-trip airfares based on your trip length within a certain month that you specified.
3. Shop for Deals on Black Friday and Cyber Monday
After Thanksgiving is over, airlines are expected to offer deep discounts on airline tickets for the holiday season. "I would tell anybody right now, if they're looking to try and buy a ticket for Christmas, wait until Friday," said Spagnola. "We have Black Friday — and Cyber Monday as well — which we're expecting to be for CheapOair one of our biggest days of the year. There will be some very aggressive pricing, very attractive fares that the airlines will be putting out on those special days."
4. Look Out for Flash Sales on Flights
In addition to Black Friday and Cyber Monday, you might also see some flash deals on airline tickets as Christmas approaches. "I think within the seven-day period before the actual Christmas holiday, you will start to see these one-day-only flash sales that come into play," said Spagnola.
He added that these deals "might only be for certain markets." For example, a flight flying from New York to Los Angeles might be full, but the returning flight on Christmas Day or the day after might be very light. So, the airline might have a special price on that returning flight. "Definitely, you will see some very last-minute promo fares," said Spagnola.
5. Subscribe to Airline E-mail Alerts
With time running short, it's important to keep a pulse on promotions being offered by various airlines. E-mail alerts can help clue you into remaining last-minute flights at discount prices. While the selection of flights between cities is, at times, minimized on these promotional rates, travelers might strike savings gold by being aware of these flash deals.
6. Keep Baggage Fees in Mind
When traveling on a budget, it's especially important to ensure that you don't get hit with additional, unnecessary fees. Saving money on baggage fees can go a long way to reducing the overall cost of your holiday trip, so don't bring your entire bathroom cabinet along for the ride.
For a list of major airlines' baggage fees, see below:
Baggage Fees for Major Airlines
| | | | | |
| --- | --- | --- | --- | --- |
| Airline | 1st Bag | 2nd Bag  | 3rd Bag | 4th Bag |
| American Airlines | $25 | $35 | $150 | $200 |
| Delta Airlines | $25 | $35 | $150 | $200 |
| Frontier Airlines | $25 or $30 | $30 or $40 | $75 | $75 |
| Hawaiian Airlines | $25 | $35 | $50 or $100 | $50 or $100 |
| JetBlue Airlines | $20 or $25 | $35 | $100 | $100 |
| Southwest Airlines | $0 | $0 | $75 | $75 |
| United Airlines | $25 | $35 | $150 | $150 |
| Virgin America | $25 | $25 | $25 | $25 |
Please note: Baggage fees are for domestic flights. All fees are subject to change at any time at the airlines' discretion. Always call the airline or visit its website for the most up-to-date baggage fee information.
Save yourself cash and frustration by bringing only essential clothing, and even consider purchasing travel-sized toiletries at your destination to reduce baggage weight and risk having to pay more for extra bags.
7. Book Alone
You won't get by with a little help from your friends when it comes to last-minute travel, as booking a large group in such a short period of time is not only hectic — it's nearly impossible.
Airline availability tools search for seating that can hold your stated party number, and plane seating can range by about 10 different price points. Depending on where the most available seats are for your large group — likely the area of the aircraft that's most expensive at this point in the game — you might see ticket prices soar.
Agree to part with family members and friends temporarily during the flight to save money, and meet at a predetermined location afterward.
8. Use Your Frequent Flyer Miles
According to ConsumerReports.org, about 100 million consumers belong to at least one frequent-flyer program. If you've accumulated frequent flyer miles during your home visits away from college or while on business trips throughout the year, now is the time to reward yourself by saving money on peak holiday travel prices. Turn in your frequent flyer miles for an airline ticket, and pay less out-of-pocket during one of the most expensive times to fly in the year.
Read: 4 Best Airline Credit Cards for Frequent Flyers
9. Fly Out of a Popular City
Sometimes, location is key. Spagnola predicts that during the holiday season, airlines will offer more seats in heavily populated markets, as well as more competitive pricing on those seats. "Based on the market of where you're at — for example, the New York area — you might find some better pricing because there are more seats [airlines are] trying to sell," said Spagnola."
So for those who happen to live in a city like New York or Los Angeles, you might find affordable airfares throughout the holiday season.
10. Book Through Cash-Back Websites
To save money when booking last-minute holiday air travel, try to reserve your spot using a cash-back website like FatWallet.com or Ebates.com.
Simply search for the airline or travel site of your choice on each website, and identify which site offers the highest cash-back percentage on purchases. Once you've determined that, click on the airline or travel site's link provided on the page, and book your desired flight. Don't forget to use your frequent flyer credit card or debit card to further reduce costs on future airfare as well.
11. Avoid Big Airlines
If flying on a major airline is something your finances simply can't stomach this season, consider avoiding big names in lieu of smaller airlines. According to Michael McColl, publisher of TravelInsider.com, "checking smaller, low-fare airlines seems most promising" for last-minute flights for less.
Allegiant Air is an example of a smaller airline that offers affordable deals for procrastinating travelers. A departing flight from Los Angeles to Boise on Dec. 24 costs $113, and the returning flight on Dec. 30 is only $162.50. In total, this last-minute trip will only cost $275.50. If you booked through Southwest Airlines, your total would jump to $401. And when looking at American Airlines flights on these dates, the lowest fare GOBankingRates found was $640 for a round-trip ticket.
3 Cheapest Airlines for Traveling on a Budget
McColl warns about added costs, however. "It is wise to watch out for hidden fees, no matter who you fly," he said.
"The low-cost carriers have the very low initial price that they offer, which is very attractive," said Spagnola. "But then they have their ancillary fees," such as baggage fees.
Keep reading: How to Save Money During the Peak Travel Season
Scrambling to find out how to save money on last-minute travel can be stressful. But by implementing these simple strategies into your air travel search, you can prevent inflated airfare costs from being a turbulent factor in your budget.
Sydney Champion contributed to the reporting for this article.