Hardcore Moviegoers Are Saving Money Seeing All the Academy Award Best Picture Nominees Today for Just $60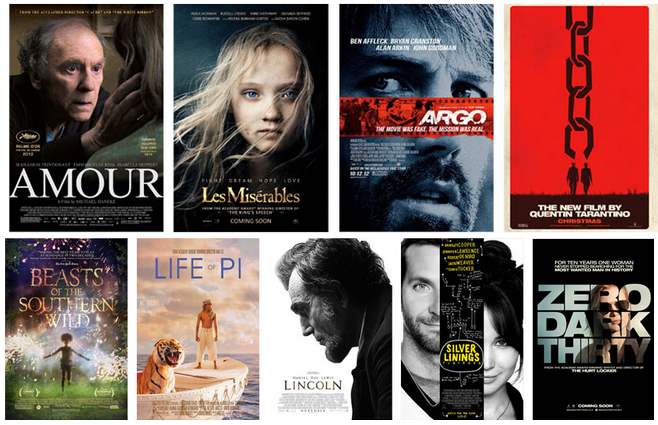 Maybe saving money hasn't been a priority and you do not have enough in your emergency cushion. Growing your savings account requires sacrifice, and you may need to cut out many of your favorite activities — but if you're a movie buff who wants to see all the Best Picture nominees before tomorrow night's Academy Awards, you don't have to sacrifice a trip to the movies.
With the AMC Best Picture Showcase, you can see all the films in one day and save money at the movies at the same time.
What is the Best Picture Showcase 2013?
For the seventh year in a row, AMC theaters is hosting its AMC Best Picture Showcase this weekend. Just in time for the Oscars, this event features all nine Best Picture nominees in a two-day event, as well as a 24-hour marathon. The perfect weekend event for movie lovers, this showcase is an excellent way to catch up on movies before the Academy Awards, or relive some of the year's best movies, and for a fraction of what it would cost to see them all in the theaters individually.
The nominees for Best Picture 2013 include:
Amour
Argo
Beast of the Southern Wild
Django Unchained
Les Miserables
Life of Pi
Lincoln
Silver Linings Playbook
Zero Dark Thirty
Plan Your Weekend at AMC
The showcase takes place over two weekends — AMC theaters presented four movies last weekend on February 16 and will show the remaining five movies today, February 23. Here's the lineup for today:
Beast of the Southern Wild
Life of Pi
Lincoln
Silver Linings Playbook
Zero Dark Thirty
However, if you didn't catch the start of the event last weekend, don't worry — select theaters will also host a nine-movie marathon today, beginning at 10 am and lasting 24-hours.
AMC Best Picture Showcase: Pricing
How can this showcase save you money?
movie ticket deals
, you enjoy more films for the money.
Watch five films today for $40, or for the best savings, attend the marathon viewing and watch all nine films for only $60.
Other Perks
If you're an AMC Stubs member, buy a marathon pass and you will receive a $10 credit added to your Stubs card. This credit can be used toward concession purchases on the day of your movie — popcorn, soda, candy nachos (and let's face it, you're definitely going to get hungry). This way, you not only save on the ticket price, but also food.
There are currently 332 AMC theaters throughout the United States. However, the Best Picture Showcase 2013 will only be shown in about 100 theaters, and only 12 theaters will host a 24-hour marathon. For more information on participating theaters and showtimes, visit www.amctheaters/bps. Join the festivities and you'll be ready for Oscar night on Sunday, February 24th.
With the AMC Best Picture Showcase, why pay full price for movies? Wait for the showcase each year and you'll save big on movies.