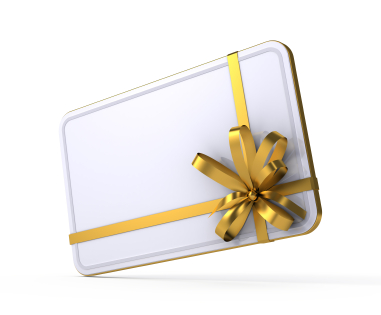 Now that Christmas has passed, you probably have a number of holiday gift cards from co-workers, Secret Santas and family members. You've probably already used some of the cards, but others you just don't know what to do with.
There are a few options out there that allow you to sell your gift cards over the internet and in person. But is selling the card a better option than keeping it or are you losing too much of the value of your card? Let's explore the options out there to see how you can get rid of your unwanted cards.
Consumers Love Gift Cards
Gift cards have been a popular choice among consumers for years. For many, they offer the perfect giving-giving solution in that they allow the recipient to purchase what they like with the security of being able to track and possibly replace them if they're lost–something that can't occur with money.
According to a TowerGroup research firm study released in Nov. 2010, gift cards have increased in popularity in the past year. In fact, sales totals for the cards were expected to increase nearly 5 percent, to $91 billion, in 2010.
Even more, sales are expected to continue increasing in the years to come. By 2012, the firm believes yearly sales for the industry will hit the $100 billion mark.
There's no doubt that, due to their popularity, you are likely to receive at least one gift card in your lifetime, especially the holiday season. But while many are welcomed by recipients–especially those released by major credit card issuers that can be used almost anywhere–some you may not be so thrilled to receive.
For instance, if you receive one that's retailer-based and the retailer is one you don't shop with, what do you do? Should you give it away or use it? These options are definite possibilities to choose from, but some don't know that you have another option, which is to sell it for money.
Cashing In Your Gift Cards
If you have already received some gift cards that you're itching to get rid of then you may be closer to your goal than you think. Many companies are sprouting up that offer services to help get the card out of your hands. Here are just a few to choose from that allow you to sell gift cards or participate in a gift card exchange:
Swapagift.com: This website partners with cash advance and check cashing locations throughout United States to provide cash for unwanted gift cards. By checking the website for locations in your area, you could simply pay one a visit and cash in your card. The site also gives the option of mailing in your gift cards for cash. What percentage of the card's value you'll receive varies per vendor.
Monstergiftcard.com: This site allows you to sell your unwanted cards for cash. It offers a price guarantee that says it will match all competitors' published prices and will also give you five "Monster Bonus Points" that can be used to purchase other gift cards through the site.
Cardpool.com: CardPool.com is considered "the eBay for gift cards." It has the backing of major media like CNN, ABC, CBS, NBC and The New York Times and allows you to sell your gift cards for cash while earning up to 92 percent cash back.
Plasticjunkie.com: Like Card Pool, this site allows you to sell your cards and receive up to 92 percent cash back on the sale. It even allows you to receive instant cash via PayPal after selling your card, making the process even more enticing.
It's evident that there are plenty of options out there to help you cash in on your gift card, some offering a very reasonable percentage of the card's worth. But are there options for those who don't want to lose any money on the card's value?
Ways to Get Rid of Unwanted Gift Cards without Losing Value
If you're only interested in receiving cash for your unwanted cards then the above options could work very well for you. But if you want to trade cards or don't want to lose any card value, the below options could work even better:
CardHub.com: This site allows cardholders to "trade up" from a less desirable card. It's said to be very effective if you trade from a very popular store like Apple to one that's less popular or well known. For instance, you may be able to sell a $100 Apple gift card for $90 then purchase one you actually want for $110 using the $90 you received. In essence, this helps you avoid losing on the value of the card.
eBay: Another option to consider is selling your gift card on eBay. This option gives you freedom to set your own price. But before diving in, it's good to check the site's gift card policy to make sure you follow its rules to a tee.
Craigslist: Selling your gift card on Craigslist is also a popular option. But since this route does not offer any financial or physical safety for the seller, it's good to exercise extreme caution before taking this route.
It's such fun to think that you could sell gift cards online or even trade them in to not waste something that would have otherwise expired and lost its value. So to answer the question of whether you should take part in the process, depending on the option chosen, many people would answer yes.
To determine what's best for you, it's good to take a look at the options out there. You might be able to sell your card, take the cash and store in checking account–or even better, place it in a high-interest savings account–to watch your money grow over time.