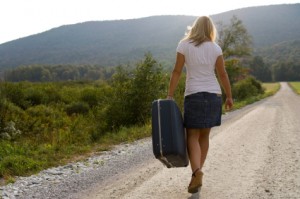 Does it seem right to you that the federal government insures student loans? What would keep a lender from approving a big fat student loan package to a young adult who has likely never had a serious job while in high school? Whether this is right or wrong can be debated later, what's important is to know the facts:
Facts about Student Loan Debt
Filing for Economic Hardship Deferment can postpone making payments for a short period of time, but the debt remains and interest continues to accrue.
Wages can be garnished and tax refunds intercepted in the case of student loan default.
Student loans are the only debt, other than back taxes, that can't be forgiven through bankruptcy.
Leaving the country has become another "strategy" for people trying to get out of paying student loans.
Wait – what was that last one?
Yes — the stress becomes so unbearable that some feel like moving to a different country will allow them to avoid paying back student loans. That's not just thinking outside of the box — that's thinking outside of the BORDER!
Would You Leave the Country to Avoid Student Loan Debt?
I would never recommend someone try to run away from their debt. Avoiding difficult financial situations and hoping they will somehow mysteriously go away will not solve the problem. Changing citizenship status to Timbuktu will not eliminate student loan debt, and it would still be here if they were to ever come back.

They have the opportunity to earn more money
Their family is supportive of the move or temporary separation
They are serious about paying off the student loans
How to Get Out of Student Loan Debt and Keep Citizenship
Leaving the country to get out of paying your student loans should be the last thing to consider (not to mention that we would miss you dearly). It would be wise to make sure you did everything possible to get out of student loan debt before you pack all your belongings and give your pets away. Here are some things to try first:
Earn more income with a 2nd or 3rd job
Refinance student loans to get a better overall interest rate
Consolidate student loans (also to get a better rate)
Apply for an Income Repayment plan
Cut household expenses wherever possible and throw the increased cash flow at the debt!
Only two of these options actually helps you to pay off the debt, the others just slow them down or postpone them. Can you guess which ones?
Crazy Ways to Pay Off Student Loan Debt Without Expatriation
Want some inspiration to help come up with ideas on how to kill the debt instead exporting yourself? There are some crazy things people do to cut expenses or create income:
Sell your house – Hey, you were planning on leaving the country anyway, so this shouldn't be a big deal.
Take on a renter or two – It still won't be as cramped in your house as living in Monoco or Singapore, which have 200+ people per square mile!
Clean and maintain cemeteries – It's great if you can moonlight and nobody cares what time you start.
Work as a pet waste technician – Somebody gave "picking up after pets" a nifty name!
Wash windows – Seriously, this job can make you money and it doesn't take much capital to start.
Bartend – You get paid to hang out with people in a bar, which can earn you money per bottle sold rather than charge you $6.00 per bottle if you were there as a customer. It also might land you a contact for the big job!
What are some of the crazy things you've done to pay off student loans?