Tips for Tackling Your Taxes as a Couple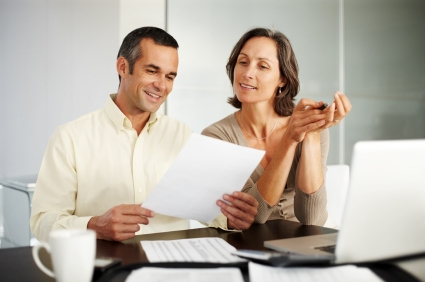 Tax season has begun and many couples are waiting for all their paperwork to come in. Some are expecting refunds, others are worried to find out how much they owe this year and a good majority have no idea of what to expect at all.
If you're newly married or you just want to make filing taxes less stressful, here are some tips for being better prepared to file taxes as a couple and making it a great year for your finances.
How to Prepare for Your Taxes
While you're waiting for all of your W-2s to come in, use this time to get everything ready.
Update Your Name with Social Security (If Applicable)
If you changed your name when you got married, you will need to change your name with the Social Security Administration. It's easy–just download, fill out and send in a name change form. You don't want your taxes to be held up during processing because your name doesn't match what's on record for your social security number.
Use the Correct Filing Status: Married Filing Jointly or Separately
If you're legally married on December 31, 2011, then you're consider married for the year in the eyes of the IRS. When filing your returns, it's typically (but not always) best to choose married filing jointly vs separately.
The right filing status on your taxes can make a big difference in your tax liability. If you have an unusual situation, call a tax professional to get more information or call the IRS to speak with one of their agents.
Know What Tax Forms to Expect
After being married for 5 years, we've developed a system for our taxes. We use tax preparation software to handle our home and business, and as the papers come in, I enter the information. Once marked, I put them in the tax drawer.
I tried getting all of the information done in one sitting before and it is brutal.
It's not that our taxes are terribly complicated, it's just the we get a lot of paperwork this time of year. Know what tax forms to expect can help you keep organized. You don't want to miss out on tax deductions and credits that you're qualified to receive.
W-2
Most people are familiar with receiving a W-2 from their employer. You should receive it at the beginning of the year. This document has a record of your total income for the previous year, as well as your federal state and local taxes paid.
If you contributed to an employer-sponsored retirement account last year, like a 401(k), you should also see that amount recorded. Double check your W-2s to make sure the information is accurate.
1099 (-INT, -DIV, -B, etc.)
Wages earned from jobs isn't the only source of income for many couples. 1099 forms record money earned from investments, interest earned from savings and contract jobs you've worked. If you're self employed, compare the 1099s you receive with your business' books. You don't want to be missing anything when filing your taxes.
Plan for Next Year's Taxes
Once you're finished with your finances for 2011, it's time to focus on 2012. With just a little bit of effort, you can make sure you're handling your money smarter to make taxes next year a cinch.
Adjust Your Withholdings
When people receive tax refunds, they often forget that they are essentially receiving their own money back. Some couples prefer it while others don't appreciate waiting to get their money.
Discuss as a couple which will work out better for you: Slightly increasing your paychecks throughout the year or waiting until you file your taxes to get a bigger refund. If you do decide to have slightly bigger paychecks, make sure you transfer a portion of that into savings or direct that money toward another financial goal (like getting rid of credit card debt).
Speak with Human Resources
If you haven't already, sit down with someone from your Human Resources department find out what tax advantage plans you can sign up for that can lower your taxable income. If you haven't already, look at contributing to your 40k(k), especially if they offer a match.
Compare your health insurance coverage to see if it makes financial sense to be on the same plan. Run the numbers and look at opening a Health Savings Account or a Flex Spending Account through your job.
Consult with a Certified Financial Planner
The goal of meeting with a certified planner is to make sure your finances are squared away now and to give you ideas on how to optimize your finances for family goals such as buying a house, starting a business or having a baby. Look for a fee-only advisor who has great references.
I'd love to hear your thoughts on how you're preparing for taxes this year. How many of you are filing your taxes this month? How are many of you think you'll owe taxes this year? How many of you are think it's going to be a refund this year?