The 4 Best Books About Finance You Need to Read This Year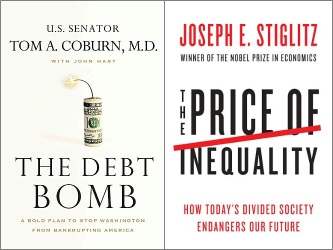 Given the particularly troublesome state of the economy today, finding reliable, accurate and truly helpful financial advice and assessment can be a difficult task.  So many of the books on offer today provide "flash" analysis and rely on faddish, trending ideas; how can one know which books to trust and which ones to disregard?
Luckily, we've narrowed the list down for you, providing a sampling of some of the best financial books currently available (and one that's sure to be worth your time in 2013).
1. The Price of Inequality (Joseph Stiglitz)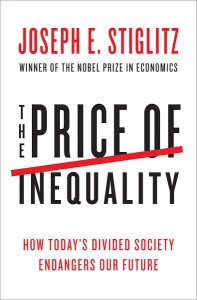 The New York Times calls Stiglitz's newest read "the single most comprehensive counter­ argument to both Democratic neoliberalism and Republican laissez-faire theories."
Part of what sets this book apart from other finance pieces is the author's new (and revolutionary) approach to the cause for the collapse of the U.S. Economy in 2008. Best suited for the politically-minded finance expert, those who closely followed the Supreme Court's 2010 decision in Federal Election Commission v. Citizens United will especially enjoy this book.
Stiglitz, a renowned economist, claims that the root cause of a divided economy (one in which the poor are severely disenfranchised and the middle class are struggling to hold on) are political parties and political decisions which benefit only the top 1 percent.  Those who follow decisions like Citizens United know that this is no one-way street; the wealthy also have the means to support the people who make decisions which lower competition and increase profit. Stiglitz goes on to argue that any benefit this type of system grants is only temporary, and an economic/political system that favors only a few is ultimately harmful to everyone, saying:
"The relationship is straightforward and ironclad: as more money becomes concentrated at the top, aggregate demand goes into a decline. Unless something else happens by way of intervention, total demand in the economy will be less than what the economy is capable of supplying — and that means that there will be growing unemployment, which will dampen demand even further."
This read may not be for finance novices. However, the message is important for all, and the upcoming election might drive some readers to their nearest bookstore for this find.
2. The Debt Bomb: A Bold Plan to Stop Washington from Bankrupting America (Dr. Tom Coburn)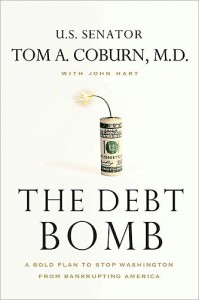 With a national debt crisis approaching $16 trillion, Dr. Thomas Coburn's newest book, released in April of 2012, couldn't have come at a more opportune time. In the book, Coburn ruminates on the real cause of America's debt crisis. Coburn blames the poor, and selfish, decisions of Congress for the debt crisis — and the numbers he lays out in the book in terms of debt will make your jaw drop. Take this excerpt from a recent interview (watch the video below) in which Coburn laments:
"If you use generally accepted accounting principles, our unfunded liabilities right now that your kids, my kids, and our grandkids are going to have to pay for us is $131 trillion. That's a million dollars per child born today in this country."

Coburn — a Republican Senator from Oklahoma — stresses that this is not the result of one politician, nor of one political party (rather, he places blame on both Democrats and Republicans). One advantage of Coburn's book? Coming from a political background, his writing is easily understandable and well-suited for the finance novice.
3. A Nation of Moochers: America's Addiction to Getting Something for Nothing (Charles J. Sykes)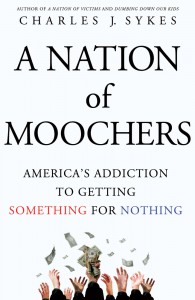 In light of the recent bailouts for several major U.S. Corporations, Sykes most recent book analyzes what exactly makes us a nation of "Moochers." Sykes examines whether we, as Americans, have come to depend too much on the generosity of others rather than sustaining ourselves on our own means.
According to Sykes, the answer seems to be yes. We are very close to that point if we have not already crossed the line says Sykes. Sykes doesn't just point out problems with corporate greed, however. He also points to problems with government subsidized benefits to people on the other end of the spectrum. Sykes' main goal seems to be defending the responsible middle class. He writes:
"This recession hit hardest those who played by the rules and sharpened the gap between the two Americas: those who had 401(k)s, owned a home they intended to pay for, and worked in the private economy, versus those who lived on government entitlements, deadbeats who defaulted on debts, and companies that benefited from bailouts or massive pork subsidies."
While this book, more so than others on this list, is sure to spark debate, it is an excellent read nonetheless.
4. The Best Stocks You Can Buy for 2013 (Peter Sander and Scott Bobo)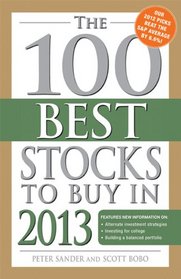 Adding in new considerations following a weakened U.S. economy and the European fiscal crisis, authors Peter Sander and Scott Bobo highlight the smartest investments you can make in the stock market for 2013.
Sander has authored numerous books on investments. Says one reader in an Amazon review of his 2012 edition: "I have always liked that the book gives 10 years of earnings data on every company as well as compounded growth rates in both earnings and dividends. It's a very effective tool for putting a solid portfolio together."
As an added bonus, the book also has tips on balancing your portfolio. Ideal for those relatively new to the stock market, the book is available for pre-order and is slated for release on November 18th.
These four books represent the very best of current reflection and analysis of today's global economy and marketplace.  The four authors in the list above are widely regarded as reliable, trustworthy guides to both understanding the current economy and navigating it profitably.
This article was written by Ryan Devereux, a financial blogger who revels in the surplus of excellent financial literature on the market today. Mr. Devereux encourages financial literacy in all its forms, including understanding how to read a credit score chart.