Dairy Queen, Orbitz and Other Retailers Help Your Savings Account Blossom with First Day of Spring Freebies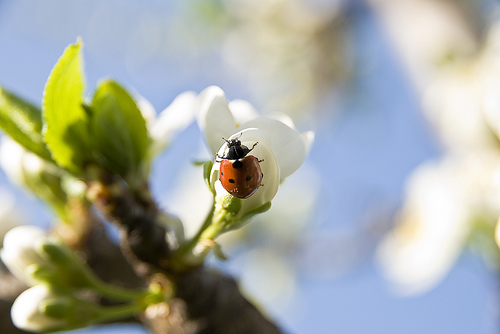 The first day of spring 2013 is right around the corner. There's no better feeling than finally being able to shed the winter clothes and make adjustments to your home that reflect the seasonal changes set to occur.
While people love to celebrate the beginning of spring, many retailers like to celebrate, too. The great news is their celebrations sometimes mean being able to keep money in your savings account via great freebies and discounts!
Happy First Day of Spring (Vernal Equinox 2013)
Did you know that another name for the first day of spring is vernal equinox? The word equinox comes from Latin and means "equal night," acknowledging that days and nights will be approximately equal everywhere on this day.
The vernal equinox 2013 falls on March 20th, which is only a couple of days away. As you prepare for increasing daylight, warmer temperatures, the regrowth of trees and flowers and lots of rain, why not also take advantage of great deals retailers are offering to celebrate the season's change?
Dairy Queen and Other Great First Day of Spring Deals
So far, one retailer has announced official first day of spring deals for 2013 at all locations: Rita's Italian Ice. The nation's largest Italian ice concept will be celebrating its 21st year of giving away free ice in a limited edition cup. Locations are found in 20 states and the District of Columbia.
Some other great deals that are available through the first day of spring include:
Dairy Queen: Dairy Queen locations in Southeast Michigan have confirmed free ice cream cones on March 20th between 11 a.m. and 10 p.m. Last year, Dairy Queen locations offered a buy one, get one free Blizzard to celebrate spring. To confirm if a special is being offered in your area, check with your local chain.
Orbitz: Save 15 percent on hotel stays via Orbitz.com. Hotel must be booked by March 20 with travel by March 31, 2013. Promo code: SPRING15.
Outback Steakhouse: Through March 25, 2013, get a coupon for $10 off two entrees by signing up through Facebook, Twitter or email through the restaurant's website.
Dunkin' Donuts: Get a free 16 oz iced coffee at any time on March 20th. No purchase necessary. At select locations; check with your local Dunkin' Donuts.
Cranmore Mountain Adventure Park: Enjoy a $25 2-Hour Tubing/Mountain Adventure Park combo for walk-in reservations only in Conway, NH by March 20, 2013. The website offers an e-coupon.
FunJet Vacations: Funjet is providing discounts of up to $150 on trips to Florida or Arizona to cheer on your favorite baseball team as they get ready for the season. Use promo code BASEBALL1. Vacation must be booked by March 20, 2013.
Frozen Peaks: Visit one of this New Jersey-based frozen yogurt shop's locations on March 20th between 4 and 7 p.m. to get five ounces of frozen yogurt for free.
While these offers haven't been confirmed for 2013, it doesn't hurt to contact locations in your area to find out if they're repeating these specials. And if you know of any other equinox deals in your area, feel free to share them below!
(Image: Paul Peracchia)