Warren Buffett Is Helping Floyd Mayweather Turn $100M Into $1 Billion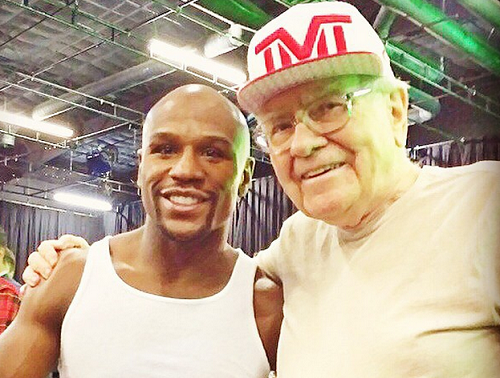 Champion boxer Floyd Mayweather is teaming up with billionaire investor Warren Buffett to turn Mayweather's millions into billions.
Mayweather posted a couple of photos on social media of him and Buffett together, including one in which he is facing off against Buffett as both men were held back, apparently ready to fight. "Me and Warren Buffett at the gym," Mayweather captioned the photo. But though the photo looks confrontational, it was a friendly meeting and Mayweather said the two talked about investments.
Warren Buffett Joins Mayweather's The Money Team
"Warren Buffett the 66.9 Billion dollar man joins The Money Team," Mayweather said in a tweet.
— Floyd Mayweather (@FloydMayweather) Aug. 26, 2014
"I had a great meeting with the $66.9 billion dollar man, Mr. Warren Buffett," Mayweather wrote in another photo's caption. "We talked about how we could turn a $100 million of my assets to $1 billion. Mr. Warren Buffett is the original founder of The Money Team, he's just one of my billionaire buddies."
Floyd Mayweather Remains Highest-Paid Athlete
Floyd Mayweather is once again the highest-paid athlete of 2014, having earned $105 million from June 2013 through June 2014, according to Forbes. This $105 million was paid out for only two matches, making Mayweather's effective pay-rate $1.45 million per minute, or just over $24,000 per second.
The past year stands out as wildly successful for Mayweather, however. Forbes reports that his total career earnings is $400 million since turning pro in 1996, and more than a quarter of that was made in the last year alone.
It looks like Mayweather is playing it smart by trying to take his boxing millions and figure out how to make them last. Money from matches can't roll in forever, and eventually Mayweather will have to retire from boxing. With a proven track record, he's trusting the advice of champion investor Warren Buffett to turn his $100 million into $1 billion.
Photo Credit: Floyd Mayweather via Instagram