How Warren Buffett Made Berkshire Hathaway Stock Worth $200,000 a Share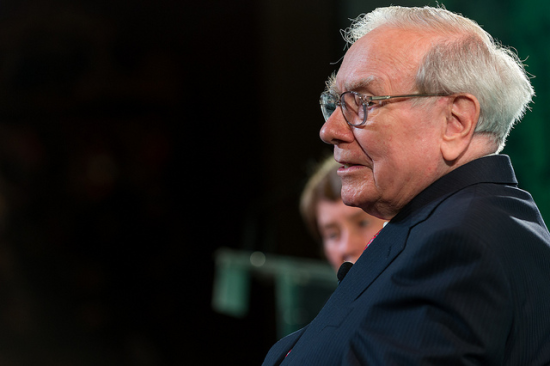 Since becoming a majority shareholder of the firm in 1964, Warren Buffett has lead Berkshire Hathaway to success that is not only impressive, but unparalleled in the investment world. Buffett led his investment firm to a per-share stock valuation of over $200,000 on Thursday for the first time, reports The Wall Street Journal.
Berkshire Hathaway Is the Most Expensive U.S. Stock
The stock was up 1.8 percent yesterday, or $3,500, reports Reuters, with a closing price of $202,850. Berkshire Hathaway is valued at $333 billion and is the most expensive stock in the U.S., and likely the world, in terms of absolute value, according to Yahoo Finance.
To put this in perspective, consider that only one other non-Berkshire Hathaway stock, Ricoh (RICO.L) is currently over $100,000 per share, and Berkshire Hathaway is one of only nine stocks with a retail price north of $20,000 as of Aug. 15.
How Warren Buffett Pushed the Value of Berkshire Hathaway Stock Over $200,000
There's no doubt that Warren Buffett is one of the greatest business minds of our time, earning impressive and steady returns with his streak of smart picks. Using his investing acumen, Warren Buffett  has increased the value of Berkshire Hathaway stock from $19 per share in 1964 to over $200,000 today.
The stock has multiplied its value by more than 10,000 times in the 50 years it has been under Warren Buffett's watch. If you invested just $1,000 in Berkshire Hathaway in 1964 when Buffett took the helm, today you'd have stocks worth $10.5 million, as estimated by Business Insider.
Berkshire Hathaway has been a standout stock for decades, beating out the the S&P 500 in 43 out of 44 years from 1969 to 2013, according to Business Insider.
But the real reason behind the $200,000 price of Berkshire Hathaway stock is that Warren Buffett never split it. Most companies split their stocks when they reach north of $500 a share, which doesn't change the valuation of a company but can make the shares more attractive to investors.
For Warren Buffett, however, the short-term boost in trading isn't worth splitting his stock.
"I don't want anybody buying Berkshire thinking that they can make a lot of money fast," Buffett said, according to The Wall Street Journal. "They're not going to do it, in the first place. And some of them will blame themselves, and some of them will blame me. They'll all be disappointed. I don't want disappointed people. The idea of giving people crazy expectations has terrified me from the moment I first started selling stocks."
Photo credit: Fortune Live Media