Why Does Jane Lynch Care So Much about Student Loan Debt?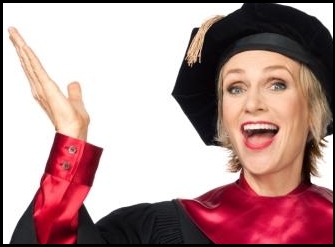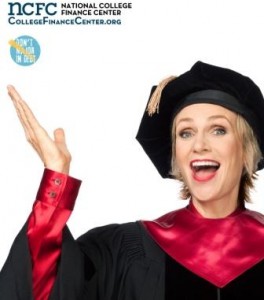 In Fox's TV musical comedy "Glee," Jane Lynch plays a high school cheerleading coach who speaks her mind. Now the actress is speaking her mind in real life, too, but instead of picking on people, she's helping them — pay for college that is. Lynch is a part of the New York Public Interest Research Group's "Don't Major in Debt" campaign, which educates college students and their families about student loans and how to pay off debt.
In July, the group launched the National College Finance Center and a website at www.collegefinancecenter.org. The goal? To help educate students, prospective students and families on how to pay for college and how to graduate with less student loan debt.
Why Student Loan Debt Is a Big Deal
As the cost of a college education continues to climb, student loan debt is looming ever larger for prospective college graduates. In 2010, the average student walked away with $25,000 in debt, according to estimates compiled by FinAid.com and Fastweb.com.
Back in 1993, less than half of students left college with outstanding loans; by 2008, two-thirds of students were majoring in debt. And as Pell grants for low-income students face cuts and pinched state budgets cause cutbacks at public colleges, that mountain of student debt is expected to grow. In 2011, it outpaced credit card debt for the first time ever.
"I really jumped at the opportunity to support this initiative because it is something that has affected my family. I have a ten-year-old daughter who will be going to college in eight years as well as nieces and nephews who are dealing with student loans right now," Lynch said at a National College Finance Center press conference in July.
Cost Isn't the Only Factor in Loan Growth
The National College Finance Center's focus is education and putting prospective students on the path to making smart, affordable choices. A survey by nonprofit group The Invincibles found that 65 percent of students were "surprised" by their student loans. Two-thirds of those who took out private student loans didn't understand the difference between private and federal options. The same number were shocked by their loan repayment terms, monthly payments or interest rate.
Clearly, many college students choose to take on debt without really understanding  how it works or what it's costing them. The result is often a rude awakening upon graduation, when they're stuck struggling to make sky-high monthly payments on an entry-level salary. When it comes to managing student debt, therefore, the NCFC says that "what you learn is what you earn."
Debt Isn't the Only Option
Another key aim for the NCFC is to help ensure that students look beyond borrowing and begin by pursuing financial aid, such as grants, scholarships and federal work-study employment opportunities. Applying for these requires persistence and hard work, but they're worth the effort because even though they're unlikely to cover all the costs, these are funds that don't have to be paid back. And, while loans will still cover the balance for many students, it's important that students understand the importance of keeping their borrowing to a minimum.
"There are very few grants these days, so the loan is the way to go. You just have to go into it with your eyes open," Lynch told MSNBC morning show Morning Joe.
The Better Way to Repay
The National College Finance Campaign and website also has a strong focus on debt repayment, including giving students the ability to answer questions and develop a personalized repayment plan. According to a survey by the Consumer Financial Protection Bureau that analyzed student complaints about loan repayment, the major problems borrowers face include insufficient income to repay their student loans, lack of repayment options on private student loans, difficulty with lenders and confusion about the difference between private and federal student loans.
NCFC aims to help educate students so that they can avoid the worst student loan traps and help those with debt access the resources available to them and repay their loans as quickly and inexpensively as possible.
Lynch told Bloomberg that by understanding their loans students can avoid overwhelming debt after graduation. This includes understanding the terms, interest rates and repayment options on any loans they take out
Jane Lynch may not act always act in students' best interest in her role as Sue Sylvester in "Glee," but she's stepping up to the plate in real life and battling student loan debt. High college costs are not going away, but what can change is students' choices about how they pay for it.